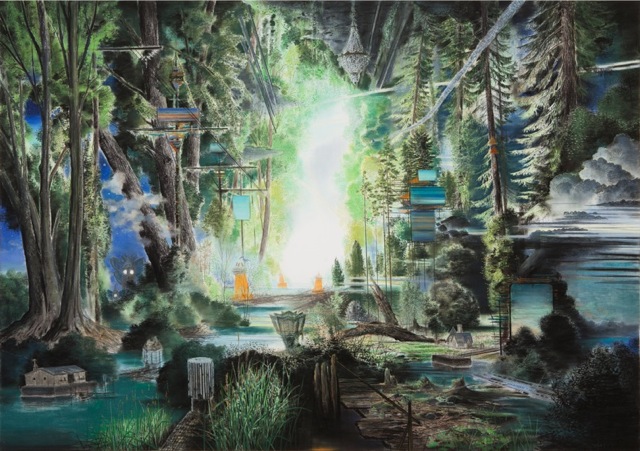 Courtesy Man&Eve Gallery: Wieland Payer, Tunnel II, 2013, pastel on paper on MDF, 140 x 200 cm

Courtesy Nettie Horn Gallery: Sinta Werner, Untitled III (Folds Unfold), 2012, paper and acrylic paint, 36.5 x 45 cm
NEW BRITISH 2013 – group exhibition 4th July – 12th September 2013
Art at Lloyd's Club is pleased to announce its latest exhibition – New British 2013 – showing new and emerging artists practising in the UK. Currently, the disparity between the blue-chip galleries and the emerging market is greatly pro- nounced. Through New British 2013, the curators' goal is to offer an opportunity for artists and galleries at the younger end of the market to exhibit with a collaborative approach.
Organised by Patch – a London-based curatorial collective (led by Katie Heller and Annabel Cary) – New British 2013 will transform the unique, four-storey Georgian town house of The Lloyds Club into an exhibition of the highest calibre of burgeoning new talent. By inviting an elite group of young galleries to curate individual rooms, alongside independently practising artists, the curators aim to create a dynamic exchange between gallery, curator and artist.
Participating galleries include: Man&Eve, Nettie Horn, PayneShurvell, Ceri Hand, Hannah Barry and Sumarria Lunn, who between them will showcase Wieland Payer, Kim Rugg, Aidan McNeill, Henny Acloque, Marcus Kleinfeld and Yun Kyung Jeong amongst others. Independent artists include: Michele Fletcher, Mat Chivers, Ralph Hunter-Menzies, Elizabeth McDonald, Ha Young Kim, Mark Beattie, Sunju Lee, Ernesto Canovas, Holly Stevenson, Ann-Marie James (courtesy of Karsten Schubert) and Dai Toyofuku (courtesy of CL Projects).
Patch will also celebrate the inaugural launch of a competition open to art students graduating in 2013. The overall winner, selected by a judging panel composed of the participating gallery directors, will exhibit their work within the exhibition. They will subsequently be offered further opportunities to exhibit in Patch's wide-reaching exhibition programme.
Categories
Tags