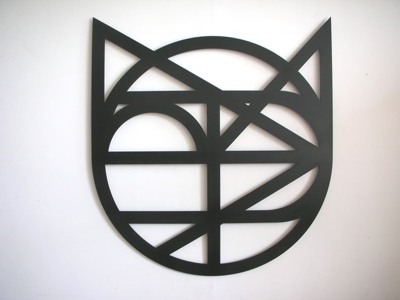 7th July – 12th August 2012 Private view: Friday 6 July, 6-9pm
Working in a classical sculptural lexicon, Dexter Dymoke's practice explores the correlations and tensions between objects, materials and their engagement in space – he describes his work as an engagement with a discrete but rigorous conceptual enquiry into the symbolic and metaphoric role of materials. Through a wide range of sourced, transformed and crafted materials, his practice recalls the notion of inter-relationality – an exploration of the concepts of opening, appropriation and communication relative to intersubjective
(1) values. Dymoke's instinctive and material-oriented process of creation leads the viewer onto a mental journey where metaphors and other improvised narratives smoothly intertwine to open a new logic while reinvestigating the symptomatic image. The viewer is invited to think about the underside of visual representation as well as the idea of representation as a mobile process that often involves substitution and contradiction
(2). Forms, textures and images are all deployed without prejudice in a restless exploration questioning the way in which we read what we see.
Intersubjectivity is a philosophical concept developed for the first time by Emmanuel Kant in the Critique of judgment. It evokes the idea that human beings are thinking subjects who are able to take into consideration the other's thoughts in their own judgement. Intersubjectivity therefore creates a theory of communication.
See Confronting Images: Questioning the ends of a certain history of art, Georges Didi-Huberman . Penn State Press. 2005.
Dexter Dymoke lives and works in London, UK.
Exhibitions include Creekside Open (selected by Phyllida Barlow), APT Gallery, London (2011); Proteo, NETTIE HORN, London (2011); Rapidform Sculpture, Sackler Centre, V&A museum, London (2010); 'Architect', installation for Festival of Architecture, Canary Wharf, London (2010); 'Bench', Friends of Battersea Park Annual Sculpture Award, Battersea Park, London (2010); RCA Group show, Weissensee Kunsthochschule, Berlin (2009); Creekside Open, (selected by Jenni Lomax), APT Gallery, Deptford, London (2009).
Categories
Tags