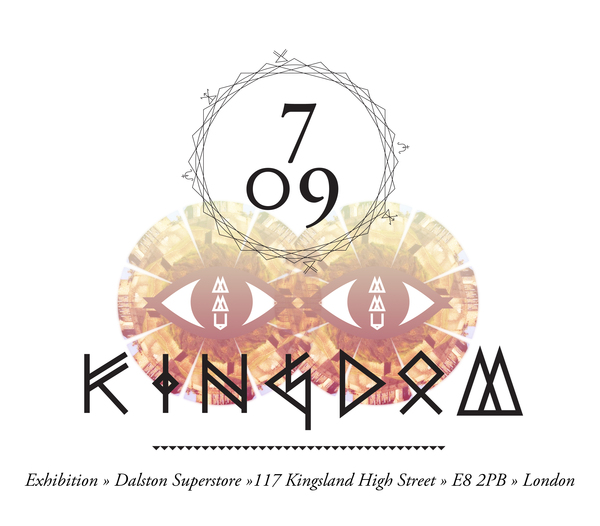 8th Sep – 16th Oct at Dalston Superstore
Artists: Noel Basualdo, Anna Burder, Daveen Chi, Joanna Johnson, Tomas Lewis, Jolene Lin, Alex Noble, Pinky, Moses Powers, Anna Trevelyan, Rai Royal, Scott Webster, Cordelia Weston, Saskia Wickins, Martin Wollerstam, Emma Gibson
"Welcome to our Kingdom; sit on the throne of my dreams and be my King".
"I will show you our territory, walk you through our empire and expose our possessions. This is our kingdom: our realm of action and control. Our beliefs, our obsessions, our thoughts, our way…"
MMU signifies a higher consciousness of love and enlightenment, adverse to status and materialistic values. Stay true to yourself, embrace your passions, don't judge and don't question yourself. Learn from tragedies, accept torment and embrace enchantment. We open our minds to all new experiences, and to generate our dreams into existence.
MMU stands for an awareness and understanding of bringing artists together with the vision to amalgamate our passions and fantasies. We believe in alchemy, we believe in altruism and we believe in making art to teach and to cultivate freedom of expression.
We represent our childhood dreams; finding yourself with open hearts and minds through new unworldly magical experiences. We are MMU.
Our mission is to bring people together, to nourish their potential and to set themselves free.
'Note from the Dalston Superstore curatorial team' 'Kingdom' is the debut exhibition from MMU, a collective of artists from many different
backgrounds, ranging from illustration, installation, fashion, photography, sculpture, painting and styling, collating to produce works under the concept that is Kingdom.
Keeping close to passion, spirituality and optimism, MMU are introducing another way of looking creatively at the world, raising awareness for an alternative path to future utopian hopes.
Categories
Tags