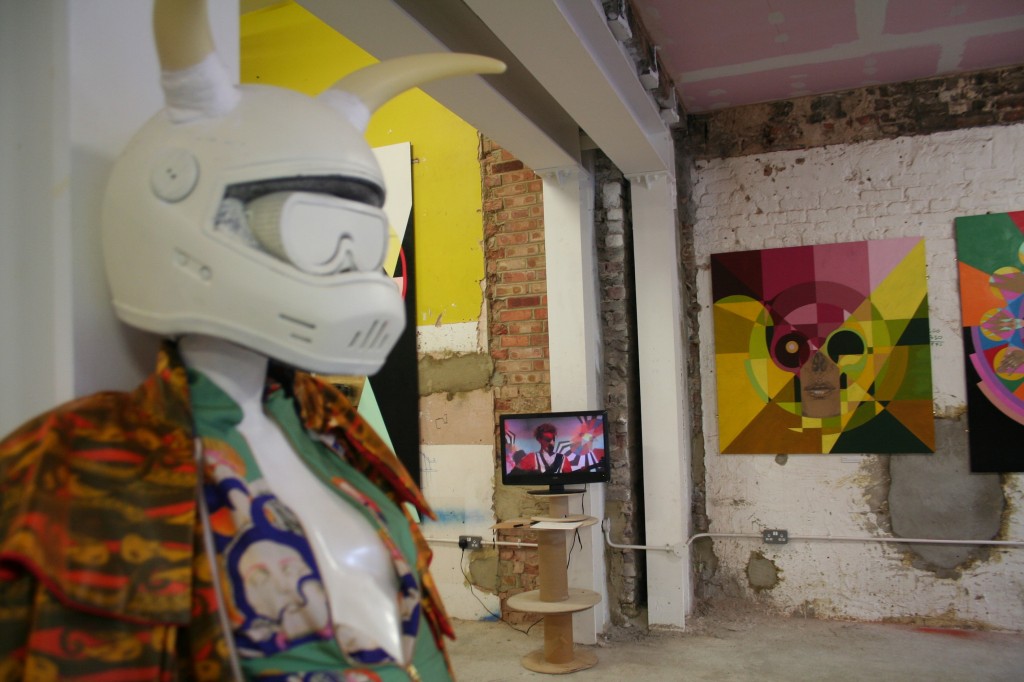 "My whole exhibition is about this journey and transcending to this other place, whether there's something there or there isn't" – Alex Noble
I met Alex Noble, in Soho, at his latest exhibition 'The Showroom Alive', an extension of his well-received 'Creatures From The Kaleidoscope' show that, recently took over the Londonewcastle Project Space, in Redchurch Street. As we began the interview,'The Showroom Alive' was drawing in the Carnaby Street crowd, like moths to a flame, but in this instance, it was more like butterflies to a fire. A rollover of fabulousness and colour, one can imagine the trip from Shoreditch to Soho as a travelling circus. I envisage an overflowing bus filled with technicolour, creatures, fabrics, kaleidoscopes, illustrations, cat suits, gas masks, hands and telephones! Welcome to Alex Noble's surreal utopia.
The exhibition space is essentially an old shop. The interior is in a 'distressed' state. Wallpaper has been haphazardly ripped from the walls and the floor is made up of a jumble of textures. It sounds horrific but its very much in vogue and is effective: the condition of the space, makes Noble's work "POP".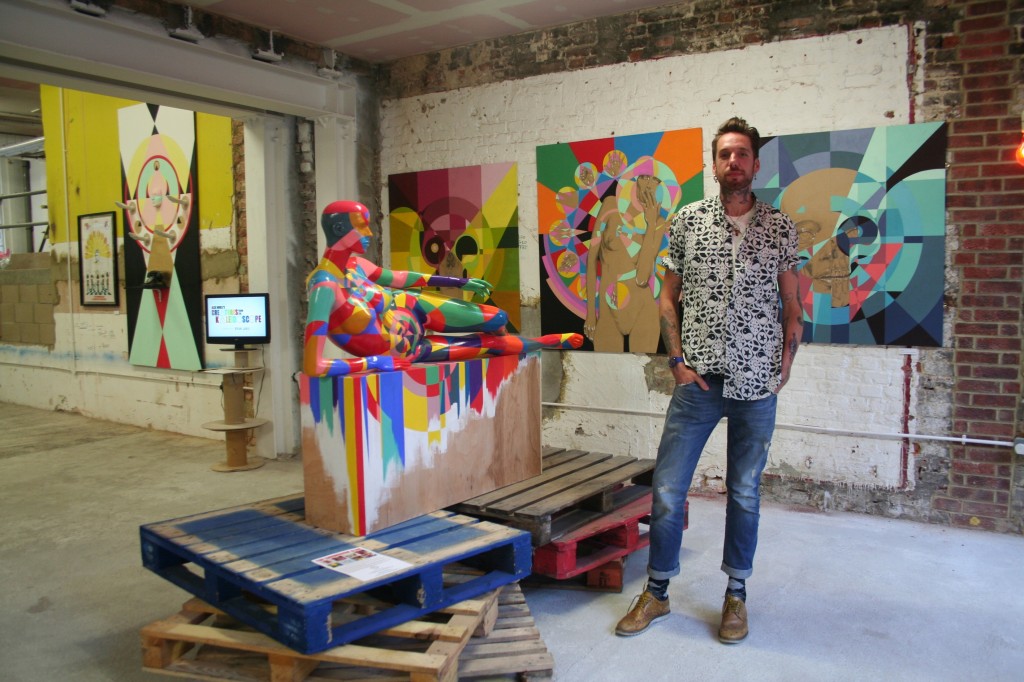 Passersby, the butterflies if you like, are initially tempted into Noble's showroom by a reclining multicolour mannequin, her name is Eve. She is, as Noble puts it, "owning that plinth". Eve – and another mannequin featured in the show, Pandora – are a manifestation of the first women on Earth. Eve and Pandora's bodies have been painted with a fragmented kaleidoscopic pattern, which Alex explains symbolises the women's "energy and spirituality and existence" and, more specifically on Eve, "the pattern is emerging from her womb, her heart and her brain".
Noble's work often uses mannequins. He began a relationship with man-made models whilst working at Selfridges, he isn't interested in the mannequin's association with the commercial side of fashion. He sees his connection as being different from other artists, who may see themselves as having ultimate control over the figure. His approach is entirely oppositional, not as a misogynist, but as wanting one to view his elegant powerful women as an object of worship, like a statue or God. He says "for me it's not about perfection, it's more a kind of manifestation of a soul or an idea and something to look up to." Noble first became infatuated with human form when a young boy. His mum used a mannequin hand to keep all her rings on. "I was totally obsessed with it!" he enthused.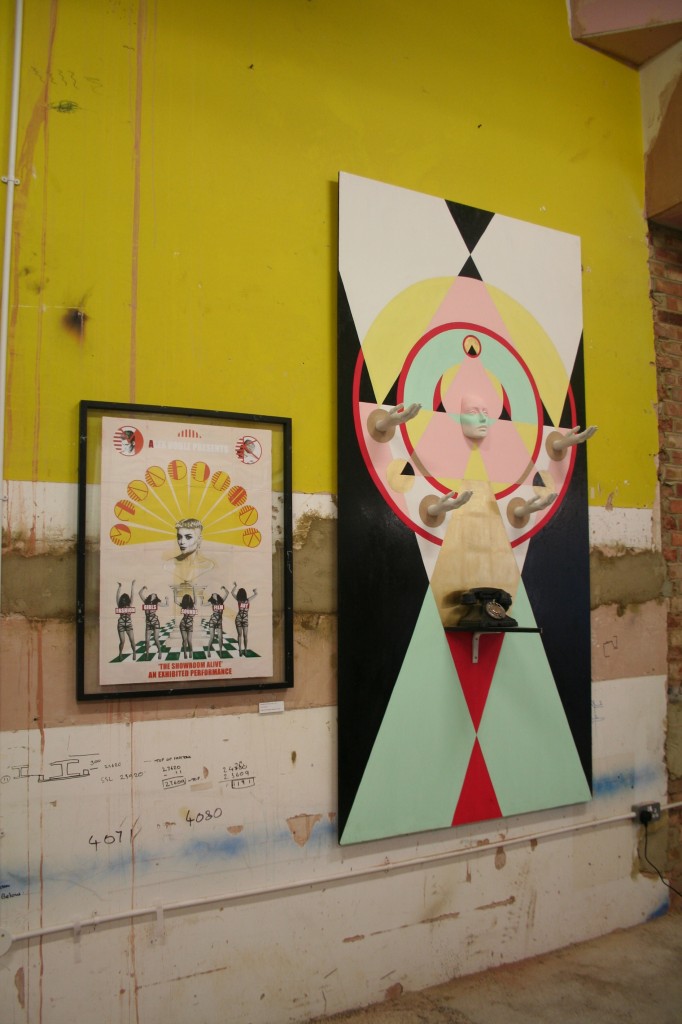 As I am guided around the show I realise that Noble's work straddles notions of fear and strength.  His colour palette gives us a sense of hope, and breathes superiority into inanimate objects. The audience is active here – we are asked to consider life choices through surreal display. Take 'Motherboard', a 3-D picture that includes the first of three telephones in the show. 'Motherboard' features a telephone placed amongst dismembered parts of a mannequin. Noble says that this piece is about going to an image of worship or a goddess and possibly to make that call to the other side.
In Noble's Londonewcastle show he wanted to connect art to the idea "of existing and transcending, and taking risks." At the end of the exhibition there were two exits, what Noble called "The final risk". One exit was painted completely black and led to nothing whilst the other door took you into a room full of colour. Again his placement of a telephone by the two exits invited the visitor to take part in the display. Noble uses familiar, 'normal' objects to awaken our spiritual consciousness.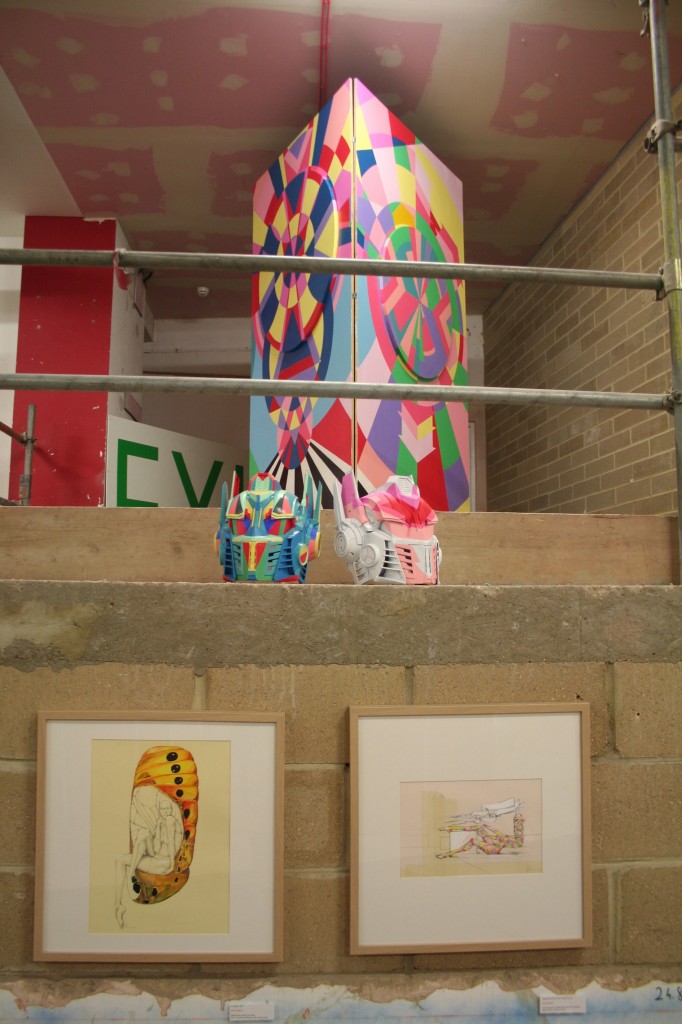 The final piece in 'The Showroom Alive' is called 'The Grande Lumière'.  This piece doesn't feature any body parts or earthly objects. It is a complete departure from the physical. Noble's patterns and colours symbolise "a great light, the light at the end of the tunnel, you're there, the body's gone, it's just energy at the end!"
Alex is currently writing a science fiction slash graphic novel. With its Nature vs Technology premise it will explore the ideas that humans will need to reconnect with the earth again to survive. All his work explores earthly anxieties about the future. Although Noble isn't himself religious his work offers security in the spiritual. His work often uses religious iconography, with his representations of a statue or altar, whilst his use of everyday objects asks us to question who we are: a gas mask filled with flowers, needles on a beautiful corset and roller skates at the end of the world all make us think a bit deeper about the treacheries of life, but with a smile on the face whilst adding a bit of colour to the soul.
Tory turk for FAD
Photographer – Alexia Marmara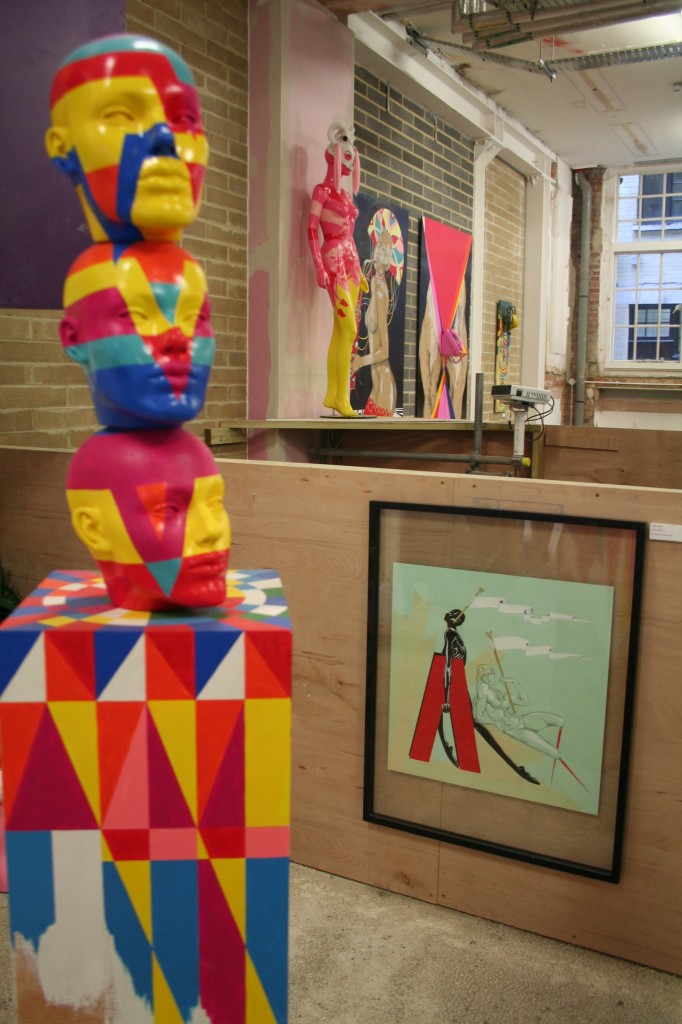 Categories
Tags