Nearly a year ago I came across an article in The Independent by Roger Tredre. I didn't simply stumble upon this piece; I was starting a body of research for a forthcoming exhibition A Street Style Journey. The exhibition is the finale of a year of 25 celebrations for streetwear label Boxfresh, who are commemorating their 25th year, and I was on the hunt for people who have been influential during this quarter century period. The piece -"The hip place for hipsters: If you want rubber tops or yeti trousers, go to Sign of the Times, the trendiest spot for street fashion" – was originally published on the 23rd January 1993 and over 20 years later I was reading it online and simultaneously tweeting Fiona Cartledge, the "Retailer of genius". Fiona and I quickly became friends and this, one of the easier interviews I have done, gives insight into the Acid House display that will feature in A Street Style Journey, opening on the 5th December.
Fiona's love of Popular Culture started as a child growing up in Russia and Iran. At this time, in communist states like these, popular music and fashion were either banned or restricted. Fiona would savour every record or piece of clothing she could get her hands on: Objects held "mythical properties", embodying a form of freedom and escape for her.
Fiona returned to the UK in her teenage years. She would listen to soul and disco shows on Radio Luxembourg, "under the bedcovers", and then progressed to worshipping the music papers including, NME, Black Echoes and Sounds. It was through reading these, and listening to John Peel's shows, she learnt about the embryonic Punk Scene starting in London at the time. In 1977, after watching the Sex Pistols swear on that infamous Bill Grundy show episode, she persuaded a gal pal to go to the Roxy Club in Covent Garden. It was here that she officially "got into Punk". She also added a love of Reggae to her repertoire, it was here that the legendary – Dread meets Punk Rocker – Don Letts was the DJ. Fiona was hooked, "looking back, I still can't believe what a special time this was", she recalls.
Fiona sees fashion as always being connected to music, "you would listen to the tunes and that would influence the way you dressed." The 1960s had seen teenagers' interests being commercialised but for Fiona it still felt like the start of youth culture and boutiques when growing up the 1970s. It was during this time that hugely influential places like Kensington Market popped up and Westwood and Mclaren opened their stores in London. "These spaces didn't just sell fashion but helped to create, or were part of, a scene. They really appealed to me, they attracted like-minded people, who were not from the mainstream but were filled with passion for music, clothing and new ideas."
By late 1979 Fiona "got out of Punk", many of the gigs were getting quite violent, so she moved on to the Rockin' scene. This Rockin' revival was a result of rare Rockabilly record finds – dug up in USA – which had been brought over to the UK. This underground scene appealed to Fiona, she would scour the markets and jumble sales for clothing and furniture and learnt a lot about 'vintage' in the process. Fast-forward three years and warehouse party The Dirtbox opened, it was here that Jay Strongman and Rob Milton started to play Funk and early Hip Hop. In 1983 Philip Salon started the Mud Club, where Tasty Tim, Jay Strongman and Mark Moore would DJ. These parties left a massive impression on Fiona, "they were very inclusive, straight, gay, black, white and often had mini fashion shows.  Philip Salon really laid down the blueprint for the club scenes we have now."
Another nightclub Taboo opened and its frequenters would really dress-up. Fiona sees the mid-80s as being an important time for British designers, with Body Map, Jo Casely Heyford, Nick Coleman, Pam Hogg, Galliano and Westwood gaining cult status. By the late 80s – after working at costumiers Bermans and Nathans and Twentieth Century Props assembling original vintage outfits for film and TV – Fiona went on to trading at Camden Market. She would travel to New York to purchase Hip Hop Jewellery and was buying huge quantities of American vintage clothing from warehouses to sell at Camden Market. Fiona was still revelling, regularly attending Wag Club, Delirium and the Mutoid parties. But, just as things started to settle down, the Acid House scene started in London: A movement that would spark a national youth revolution of sorts and another ten years clubbing for Fiona.
Fiona first went to the legendary Shoom in late 1987 and early 1988, when it was held in a Fitness Centre. She started to notice "something was up" when her vintage smiley badges were selling like wildfire at Camden Market, but now they were selling to a younger crowd, people very different to her usual 70s revival punters. For Fiona, and many others, Shoom was life changing. "Danny and Jenni Rampling created a positive, uplifting and euphoric space and after a night there you felt anything was possible – I only knew a few people there, as it was a younger crowd, but I quickly made friends and everyone was so encouraging – I had always had a dream to open a shop and Shoom gave me the courage to realise that."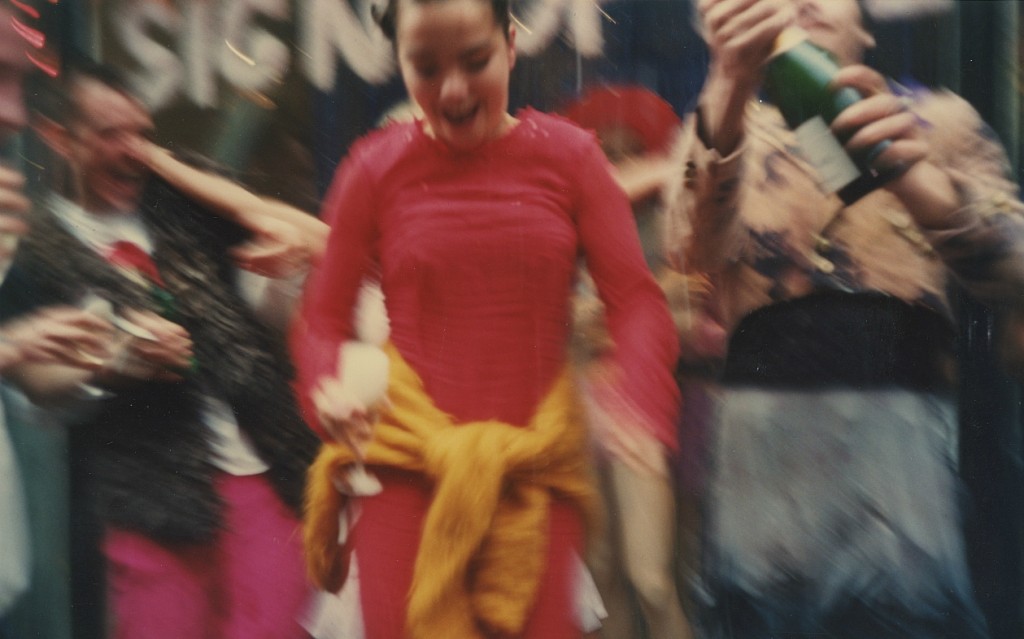 In 1988 Fiona started making clothes and badges under the name Sign of the Times, not mimicking pop star Prince's icon, but, a slogan which she felt reflected the "rapidly changing times". Fiona opened a shop under the same name in Kensington Market; the excitement she felt was similar to the feel of change that she had experienced during her Punk days. From the shop she sold clothes and tickets to raves and parties. They sold streetwear, young designer's clothes and accessories directly to the Acid House scene and also to pop stars, designers, stylists and bands that visited the Market – These included: Bjork; The Manic Street Preachers; Courtney Love; Nina Hagen; Katy England and John Galliano. By 1990 Fiona's address book was huge and she was able to use this network to orchestrate the crowd for her own parties. Sign of the Times eventually moved to Covent Garden and was even nominated for a British Fashion Award in the Streetstyle section, "not bad considering none of us in the shop had been to fashion college!"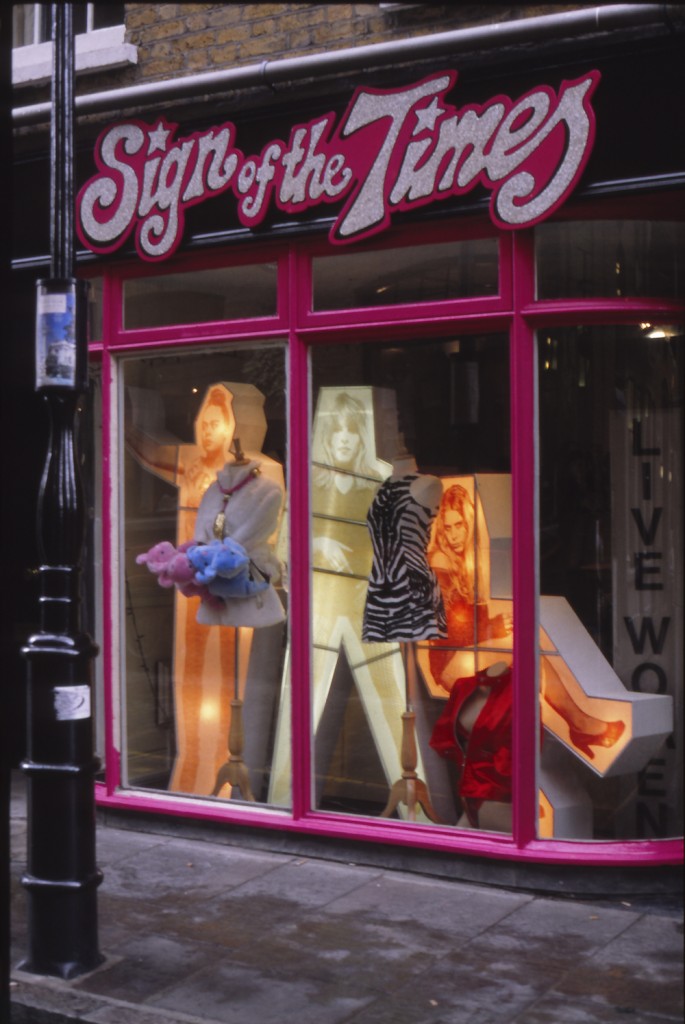 At the Sign of the Times parties Mark Moore was the regular DJ, others included: Harvey; The Chemical Bros; Paul Daly from Leftfield; Ashley Beadle; Terry Farley and Dave Dorrell and many many more. At one memorable party, in Mayfair, Leigh Bowery did a performance with Raw Sewage, the artist Donald Urquhart and Sheila Tequila, "we often had crazy cabaret and fashion shows – it was a culmination of all the clubbing experiences I had been through with the open-mindness that I had learnt from clubs like the Mud Club back in the early 80s."
In the early 90s Jeremy Deller came to work at Sign of the Times, something that Fiona feels very fortunate about. He wanted to take photographs of the parties, and rather unsurprisingly they ended up being fantastic. Along with Deller's portrayal of the time Fiona has succeeded in amassing a large archive of early to mid 90s photos and ephemera. "We also did an early shoot with Rankin in 1993 which I have now discovered was the first shoot he and Katie Grand worked on – exciting times!" It is no surprise that this treasure trove is to become a book in 2015.
Fiona's recent uncovering of her own history, something I have been fortunate to have been a part of, leads us nicely to her choice of outfit for A Street Style Journey. Fiona managed to hunt down a complete outfit belonging to Andrew Newman. Dave Swindells took a photo of Newman in the get-up at Shoom, which was featured in i-D Magazine's September 1988 issue. The look consisted of a Shoom tee shirt, Stephen Sprouse graphic jacket, a Judy Blame beret, board shorts and Vans.
Fiona's find is rare. It is very hard to find anything from the Acid House scene other than tee shirts, when there was a 'wear- it –out' and throw it out attitude. Fiona explained the entire look to me:
"The Stephen Sprouse jacket was not typical of the Acid House look but both he and Danny Rampling are known to have worn one to the club, it reflected the bold futuristic prints and colour of the time. The Judy Blame beret is also again not conventional but Judy's accessories were very big in the right clubs in London at the time. The original Shoom smiley tee shirt is very rare now. Most of the clubs printed their own tee shirts that were snapped up and worn by the crowd. The baggy shape was the opposite of the tighter look that was fashionable in the late 80s. The colourful board shorts were very common in the Acid House clubs and were a new trend; bringing beachwear onto the dance floor. They were perfect for dancing hard, the clubs were very hot and there was a lot of sweating! The Vans shoes, very casual compared to the designer shoes that were the fashion in the style magazines of the time, again perfect for the nightlong dance marathons!"
Fiona concludes our interview by poignantly adding: "The era was when the Underground became the Overground." She has noticed from people's social history recollections on Facebook that many of the people that started the Acid House scene had been influential in London and Manchester for many years before, involved in many of the underground movements such as the Soul scene. For her, the rave and Acid House scenes have been the most inclusive of the youth culture movements and has revolutionised mainstream culture, "changing everything from how we age, party, dress, holiday and work and even eat. Life has become more fun, free and flexible, people have become more fluid and open-minded and this attitude has now become global with raving seen as a normal pastime for the young and not so young."
See Fiona's Acid House display at A Street Style Journey, Londonewcastle Project Space. Runs 5th December until 7th December (12:00 – 19:00 daily)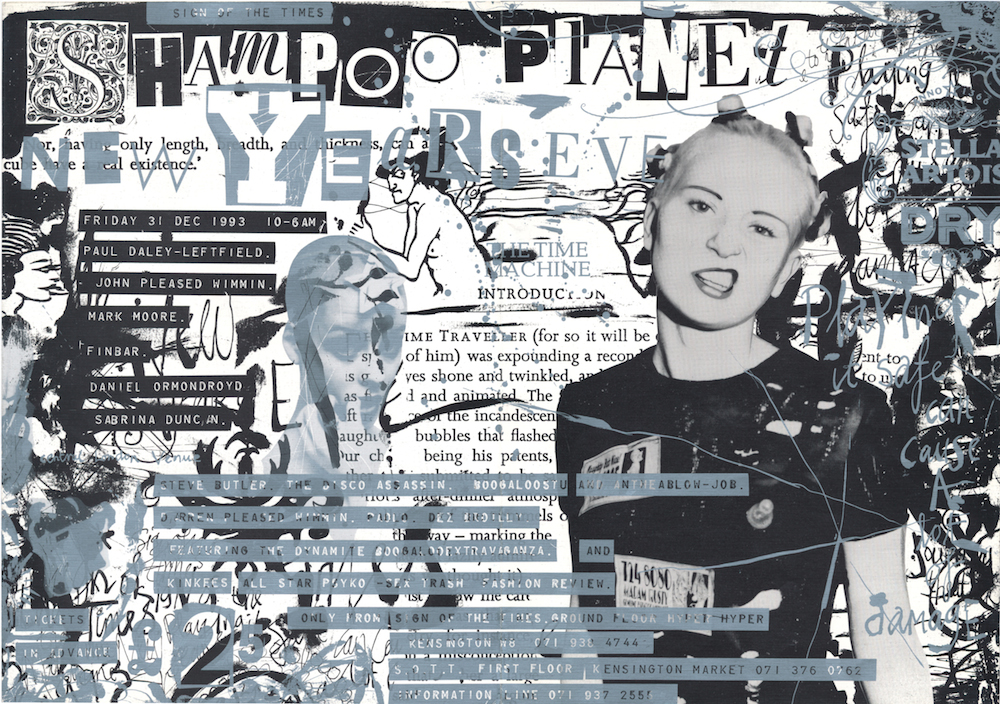 Categories
Tags