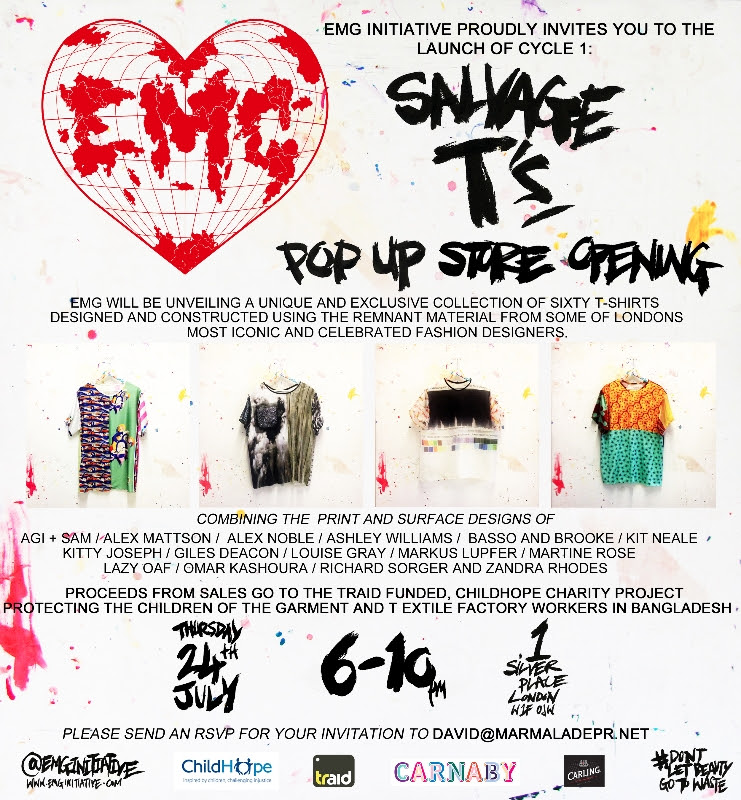 Exclusive 10 day event: Friday 25th July – Sunday 3rd August. Opening Times: Monday to Saturday 10am – 7pm / Sunday 11:30am – 6pm
The EMG (Everything Must Go) Initiative is the brainchild of London fashion designer and artist Alex Noble and is a project which will raise money and awareness for charities and causes including subjects impacting the fashion industry.
EMG (Everything Must Go) is an ethical initiative that sets out to reduce high-end textile waste through creative design and collaborations. Launching with their Salvage T's collection made from repurposed fabrics and prints by fifteen of London's most influential designers, the initiative's first cycle is raising money for a Traid funded Childhope project in Bangladesh, supporting children of garment factory workers.
Founded by: Alex Noble
FEATURING DESIGNERS: ALEX NOBLE , GILES DEACON, ZANDRA RHODES, KITTY JOSEPH, MARKUS LUPFER, KIT NEALE, ASHLEY WILLIAMS, BASSO & BROOKE, AGI & SAM, LOUISE GRAY, OMAR KASHOURA, MARTINE ROSE & MORE
Curated by: Ryan Lanji
Installation by: Bobby Patmore
Please join us in celebrating the launch of the Salvage T pop-up store brought to you by the EMG Initiative
Thursday, 24th July 2014 1 Silver Place London W1F 0JW RSVP for Guest List
EMG is set to become a pioneer of inventive sustainability through ethical fashion design in the higher end of the cultural market and will be continuing to support charities and raise awareness throughout each future cycle.
If you'd like to support the cause then head down to the pop-up store which opens on Friday 25th July, the store will be open exclusively for 10 days however don't fret – if you're not based in London or are unable to get down to the store then you can also purchase from online at www.emginitiative.com.
For further information, follow EMG on Twitter @EMGINITIATIVE.
Categories
Tags