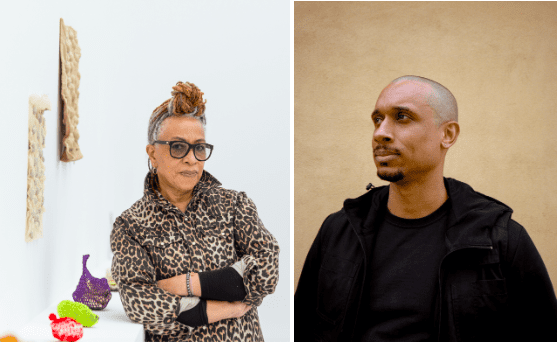 New permanent public sculptures by celebrated artists Veronica Ryan and Thomas J Price will be unveiled in Hackney, east London, on 1st October 2021 and 22nd June 2022 respectively. Details have also been announced of a major new public programme of creative commissions and community engagement, which will run alongside the commissions. 
The artworks, the first in the UK to celebrate and honour the Windrush Generation, are commissioned by Hackney Council and produced and curated by Create London. The Hackney Windrush Art Commission is made possible with Art Fund support, with additional funding from the Henry Moore Foundation. The public programme is supported by the Freelands Foundation.
Veronica Ryan's series of large marble and bronze sculptures, representing Caribbean fruit and vegetables, will be unveiled on 1st October 2021, near St. Augustine's Tower in Hackney. Ryan's work references narratives of migration and movement and draws on the artist's memories of visiting east London markets as a child.
Ryan said:
"The movement of fruit and vegetables across the globe historically exemplifies the way people have been part of that movement. Many fruit and vegetables have their origins in Asia, and Africa. The perception of origins and belonging to specific places is an extended part of the conversation." She added that the sculptures will provide people with "a sense of visibility, connectedness, belonging, and an ownership of history that is not taught in school."
Thomas J Price's artwork, sited in front of Hackney Town Hall, will be unveiled on National Windrush Day, 22 June 2022. Using photo archives, observations and digital 3D scans of Hackney residents, Price will create a large-scale bronze sculpture. This larger-than-life physical representation of people from the African Caribbean diaspora will be a bold celebration of the legacy and cultural influence of the Windrush Generation, while also seeking to address the disproportionate lack of statues representing black people in the UK.
Price said:
"This is an amazing opportunity to show how people connected to Windrush are part of the very fabric of this country. I feel honoured to be part of this celebration of its legacy, especially as my Jamaican grandmother came over as a nurse. I am very excited to work with the people of Hackney on this project, and it's my hope that this piece will challenge social perceptions and receive engagement from audiences that are often left out of traditional gallery environments."

Create and Hackney Council have also announced details of a new website, hackneywindrush.com; and a supporting public programme in Hackney.   The new Hackney Windrush website – designed by east London-based design agency Regular Practice and created by Hackney-based creative agency Blanguage – will launch on Windrush Day, 22nd June 2021.
The wider public programme, led by Create, will also launch on Windrush Day, with the unveiling of a new artwork at Vogue Fabrics Dalston (VFD) by artist Halina Edwards, and the gifting of a limited-edition tea towel by London-based fashion designer Martine Rose to Hackney's Windrush Generation. Titled Flags About Home, Halina Edwards' work celebrates the idea of home, and shows Hackney as a safe space for the creative and migrant community – namely, the Windrush Generation. 
"After a remark was made for me to go back home, it made me question what home is and means to me.…. Home is unique, and individual. With my dual nationality, it gives me perspective. My cultural upbringing, selfhood and identity is rooted in Caribbean culture and sensibilities. The UK gave me an education, and upbringing, friends, a way of life, a place for my family to settle. I have lived here for the majority of my life thus far, and I will always be grateful. Home is a place where I am able to explore what home means to me."

Halina Edwards
London-based fashion designer Martine Rose has created a gift to the Windrush Generation in Hackney: a limited-edition tea towel, designed using patterns taken from her AW19 collection. The prints pay homage to traditional Afro-Caribbean kitchen-alia and feature a popular ackee and saltfish recipe. The tea towels will be gifted to the members of the Windrush Generation, collaborators on the project, and the wider Hackney community.
In autumn 2021, Create London will collaborate on a series of community-engagement workshops with partners including Autograph ABP Gallery; and an Early Years Resource, created by Laura Henry-Allain.
In September, Future Hackney – an artist-led collective who document social change in east London – will unveil a free exhibition of large format images in Hackney, focused on the Caribbean and African communities living in and around Ridley Road, an area of east London which was an inspiration for Veronica Ryan's sculptures.  A dynamic symposium will be held in October 2021
"This is just the beginning of this stage of the Hackney Windrush project and we are so excited to continue engaging with the community. We have been incredibly lucky to hear such powerful stories from the Windrush Generation and the descendants who we've spoken to so far. It is our privilege to capture these moments and we're thankful for the response we've already received, we will continue to build on this programme with the community at its heart." 

Lewis Dalton Gilbert, Curator, Hackney Windrush Art Commission.
This project is produced and curated by Create London in partnership with Hackney Council and supported by Freelands Foundation. The Hackney Windrush Art Commission is supported by Art Fund with additional funding from the Henry Moore Foundation. The public programme is supported by the Freelands Foundation.
About the Artists
Thomas J Price 
Thomas Price (b. London, UK, 1981) works across media, encompassing sculpture, film and photography, is engaged with issues of power, representation, interpretation and perception in society and in art. Price has exhibited widely in the UK, including solo shows at the National Portrait Gallery (2016) and Yorkshire Sculpture Park (2014) and his first international institution show took place in 2019 at The Power Plant in Toronto, Canada. In 2020 Price was commissioned to create a work for The Line (London).
Veronica Ryan
Veronica Ryan (born 1956) is a Montserrat-born, New York-based, British sculptor. Acclaimed for her sculptural assemblages that respond to and reflect the natural world, Ryan's work makes reference to fruits, seeds and vegetables, as well as the modular trays in which they are stored. Ryan's major new solo exhibition 'Along a Spectrum' is now open at Spike Island, Bristol. She is represented by Paula Cooper Gallery (New York) and Alison Jacques Gallery (London). 
Halina Edwards
Halina Edwards is a designer and researcher based in London. Currently Lead Designer at The Black Curriculum, Jamaican born Edwards takes on a reflective approach to design, focusing on preservation and memory. The area of interest within her research focuses around the movement and mobilisation of the Caribbean diaspora, centring in image, moving image and audio. Her work has been exhibited at the 198 Contemporary Art & Learning Centre, in collaboration with Afropunk, and has been showcased at London Fashion Week.
Martine Rose
Martine Rose established her eponymous label in London in 2007. It has since evolved from a tightly edited collection to an internationally renowned and critically acclaimed brand. Rose is inspired by her Jamaican-British heritage and her deep interest and personal involvement in the music and high / low melting-pot cultures of London.
Categories
Tags