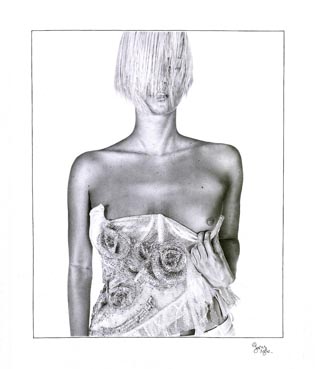 Q. Was art your favourite subject in school? If answered yes, why?
A. Yes. Because it was the only subject I could listen to music in and be messy.
Q. At what age did you decide you wanted to commit to being an artist? What trigged your interest?
18. As soon as I realized that I was creating shading with ballpoint that was as good as or better than can be created in pencil, I hadn't heard of anyone else in art using ballpoint either so I knew I could possibly be onto a winner.

Q. If you had to choose which gallery would be your ideal gallery to show your
work and why?
A. Would love to have a solo show at Black Rat Press, Shoreditch. Its big, cool people work there, good music always played, & they always have a good mix of artists and artwork on show.
Q. What materials do you like using to create your work and why?
Obviously ballpoint biro is my primary medium. Its black is a proper black as
opposed to pencil, it's permanent, you can create very intricate detail because of the small nib, and if you're patient great shading I now often mix ballpoint with other inks and paints.

Q. What inspires you to create art?
A. It's really always been an instinctual compulsion to create artwork. I'm further
inspired and given energy from contemplating 'deep' subjects, ideas, and concepts. A large source of this for me is Buddhism. I'm also inspired & influenced by more down to earth things like beautiful girls, music, and urban art.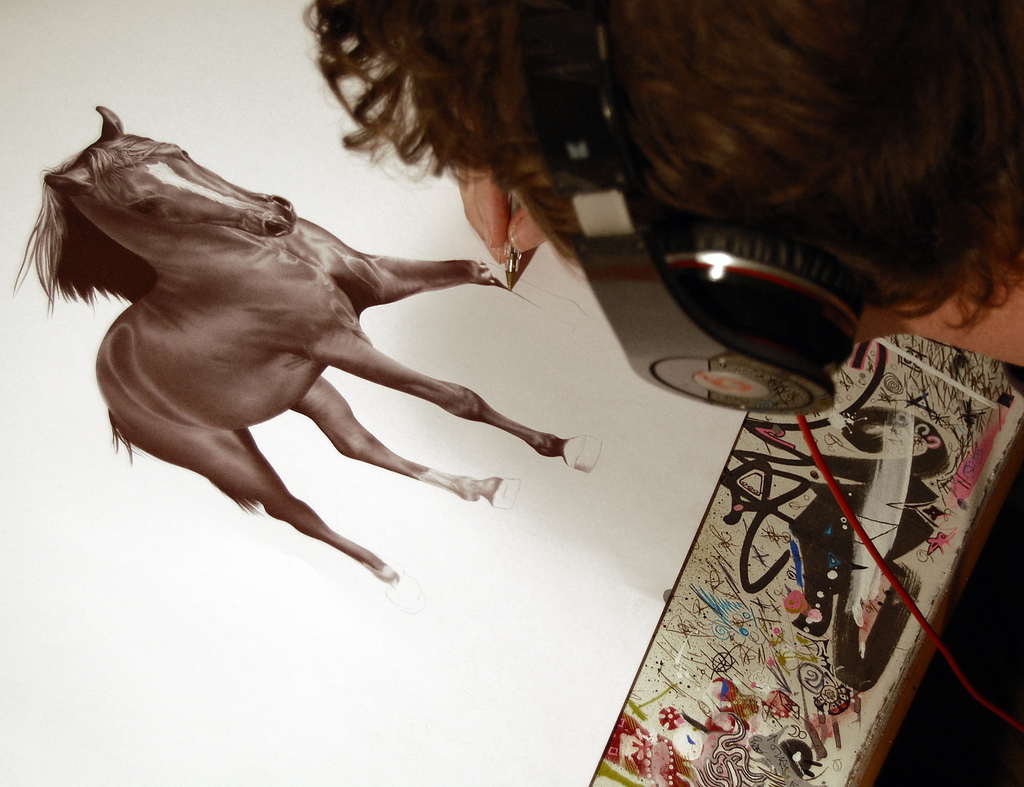 Q. What do you think about the current art scene in London?
A. It's either very alive and becoming more pervasive or I'm getting involved and
therefore aware of it more, probably both. I have a few mates who work in galleries etc and it really seems that "street art" is taking a healthy slice out of the standard contemporary art market pie. I also think attitudes are changing in general, people are becoming bored with shock value art and meaningless instillation works, they are looking for a return to technique and skill, Artwork that genuinely impresses them. Also street art is saturated, which is fine, cos I like it and therefore see loads of it about, but as a result I think buyers are becoming more selective so I predict that art which infuses elements of street culture with the fine art techniques will be" the next big thing".

Q . What is the best exhibition you have seen in the last year?
A. Last year's Moniker Art Fair. It had everything, for me. Looking forward to the next one coming October time, I think.
www.jamesmylne.co.uk/
www.urbancurations.com/
Categories
Tags