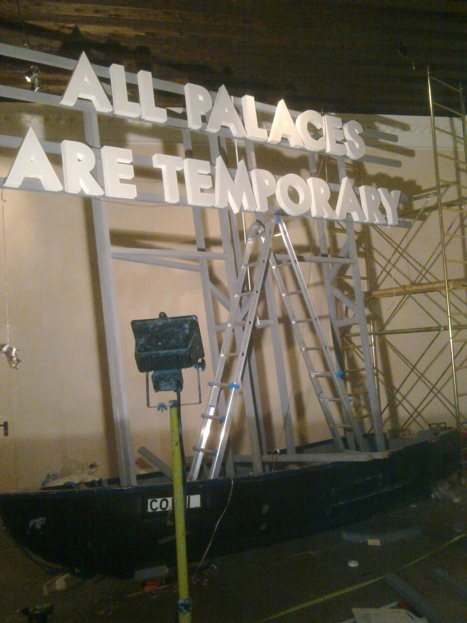 Image: All palaces are temporary – Robert Montgomery photo:Dave Dorrel
Robert Montgomery's work for our show Orientale* was originally intended to float in the Lagoon, moored directly outside the Palladio on Giudecca that houses our gallery-space. A 4 meter long skiff carrying a solar-powered sign that glows with the legend "ALL PALACES ARE TEMPORARY PALACES". A message perfectly in keeping with an appreciation of its sinking-city setting, the transience of power, nods to both Robert's Situationist credentials and John Ruskin's classic text on architecture and morality, The Stones of Venice.
It would have floated outside but for the fact that we were refused permission to use the Lagoon. Parking a floating Palace like Luna on the Lagoon is fine – if you're an Oligarch. Pointing out the impermanence of Palaces – not so welcome if you're an emerging artist. There is a double irony here as Roman's big boat is dwarfed by the Super Liners that carry thousands of tourists through Venice each day: their vast bulk contributes to Venice's Palaces sinking further into the Lagoon. Not that the local Venetian council can stop them: these Leviathans of the tourist trade are actually devouring their destination but only Central Government can pass laws to stop them…
Roman probably had his crew sail the boat in to Venice. Robert had to get his boat all the way from London to Venice, towed on a trailer behind his truck. The trailer collapsed twenty miles out…Robert and his partner Lucy then sourced a new trailer and started the three-day trip over. They suffered a break in and Lucy had all her luggage stolen, then Rob got his camera stolen from the gallery space. If I were giving out awards at La Biennale for perseverance and dedication to Art they would win hands down.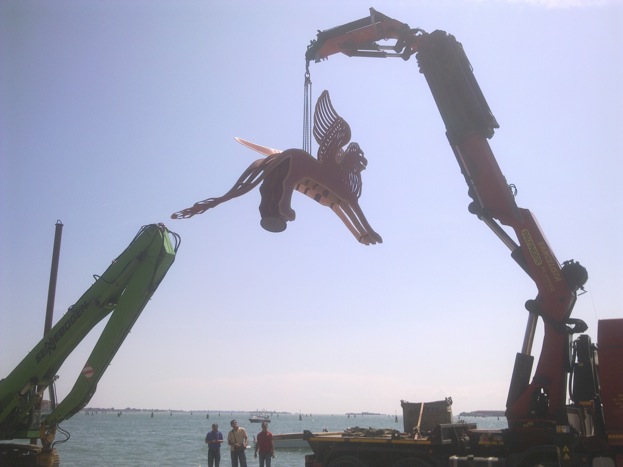 Image: Golden Lion Phot:Dave Dorrell
The Biennale's Golden Lion was awarded on Saturday to the German Pavilion and Christoph Schlingensief – an award both simultaneously contemporary and posthumous. Proof perhaps – considering the recurrence of the theme in so many shows – that 'Death in Venice' would have been a more fitting title than 'ILLUMInazioni/ILLUMInations' (if only because it would remove one more hidden 'nazi' from the World).
WhiteNoise Blog A Tale of Two Biennales David Dorrell #1
A Communion of intents… Dave Dorrell #2 from 54th Venice Biennale

Boats, Planes, trains of thought… Dave Dorrel #3 from 54th Venice Biennale
Categories
Tags