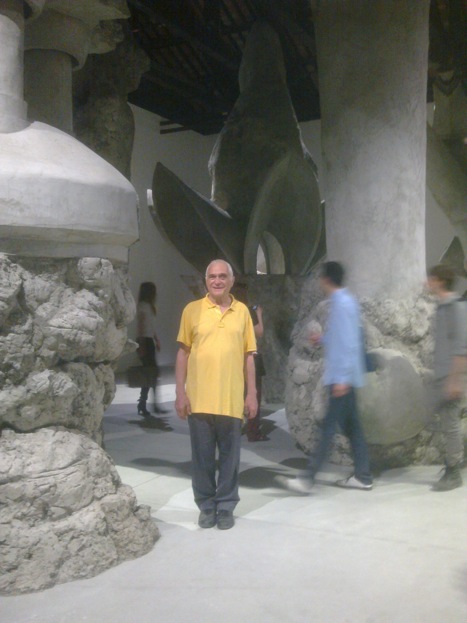 Image:John Giorno in Venice. Credit: David Dorrell
I'm off to the Biennale with John Giorno, we're lucky to have got passes for the Press Day – it's around 5pm and miraculously almost empty! We're 'blagging' our way in and to get past security – without the supposedly necessary back-up ID – I've persuaded John to play the role of my friend 'Sergei' (who's Press pass I've swiped). With his open face and shock of white hair John looks more like a 'Sergei' than me. Fortunately Security are taken in by our befuddled Russians act and we drift into a miraculously empty Giardini. We head for the International Pavillion and in what must be a super rare moment share a moment of calm in front of Tinteretto's vast Last Supper – Jesus and the disciples surrounded by Spirits. For a few minutes we are alone with this profoundly Venetian work – nothing to distract from this ghost in the Biennale machine but the aggressive posturing of the guards and Maurizio Cattelan's eerily still pigeons which cling to the rafters as a dead yet forbidding presence. Somehow this sets the tone perfectly for me.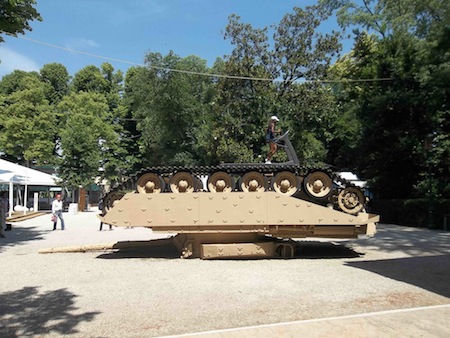 We visit the American Pavilion where the young Puerto Rican artists Jennifer Allora and Guillermo Calzadilla have stuck an upturned tank (sadly we miss the 'performance' – a 'jogger' using the Caterpillar tracks as a running machine) in front of the entrance. A cast statue lies on a sun bed in the foyer. A gymnast performs every so often on a perfectly sculpted hard wood copy of a first class seat from American Airlines (ironically the same carrier Giorno had flown to Italy) – using the sculpture as a pommel horse. Nationalism: and the human form. The true nature/cost of what lays beneath our feet/ our freedom…fake tan. Whites that would be brown, oppressing browns that would be white all wrapped in red, white and blue… Another tone is set: Imperialism. The Pax Americana.

Image:Mike Nelson: I, IMPOSTOR (2011) Installation, British Pavilion; Venice Biennale 2011. Photo by Cristiano Corte
Then it's off to see Mike Nelson's re-imagining of the British Pavilion as a dense assembly of rooms, seemingly re-located from an Istanbul slum…whirring fans, dusty rooms, a dark-room, photos hanging from lines…in the middle a beautifully rendered courtyard. Suddenly the sky above is Turkey and we are no longer in Venice. It's all perfectly executed but doesn't create the same feeling of oppression and the unheimlich that Gregor Schneider managed when he extended his Haus U R into the German pavilion a couple of Biennales ago…so we cross the way and go to the German Pavilion. Here the recently deceased artist, Christoph Schlingensief, has created a painful legacy, "Church of Fear". Part theatre, part Fluxus. A nod or two to Beuys – who is re-imagined perhaps as the hare on the altar – in this Mausolem. Schlingensief contracted cancer a few years ago and his battle continued through the making of the works for this Pavilion but the cancer won and he died – the still work incomplete – last August. Audio of his re-telling of a the fateful visit to the "smooth talking" doctor who tells him that "long term plans shouldn't be your focus for now" fills this sepulcher. He breaks into tears. I stem my own – conscious of death, and my own fear of cancer, of dying: of mortality.
We leave and head for the Swiss Pavilion. My soul full of holes. I'm not sure what fills Thomas Hirschhorn…but he has filled the Pavilion with the horror of the spectacle as an exploding plastic inevitability. To describe it is futile (I'm not even sure he can but see here for many images and many words: www.contemporaryartdaily.com/). There's a glimmer of hope in the title – "Crystal of Resistance" – but only a glimmer. The horror of it all is what you are confronted with. The dead, the wounded, the awful spectacle of war. Wounds that gape from every corner, the seemingly endless display of the horror of the World now. Mobile phones by the dozen, bound with clear tape to cheap garden furniture, mannequins with huge breasts wrapped in silver foil, the gaudy and cheap colours that swamp your line of sight in pound stores. It is overwhelming and by far the best thing I see in the Giardini. It completes a fascinating and terrifying trinity for me – Nelson, Schlingensief, Hirschhorn. We – they – are in this little Paradise of the English Gardens, Venice and yet…Et in Arcadia ego. Death in Venice is the message.
We leave the Pavilions behind and walk along the front. Tourists, views, the Lagoon, the boats. The boats are huge and the biggest is Luna and it is like a death star – displacing all around it – even pedestrians are displaced by the fencing, private guards and purchased police that surround the Abramovich super-yacht. It would take a platoon of Navy Seals to even get to the boat – never mind on to it. This is a tale of two boats. To be continued…
WhiteNoise Blog A Tale of Two Biennales David Dorrell #1
A Communion of intents… Dave Dorrell #2 from 54th Venice Biennale
Categories
Tags