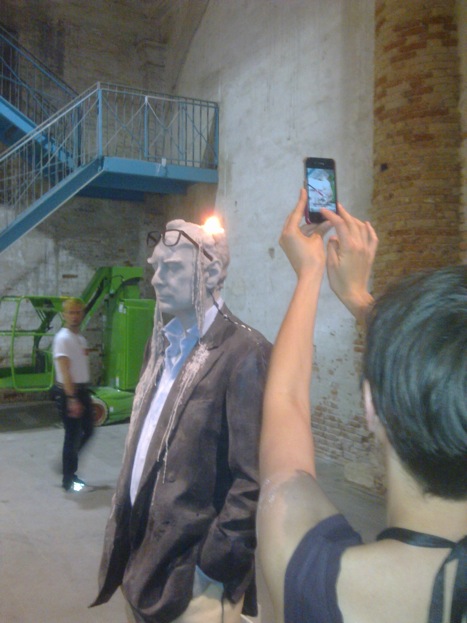 Credit: David Dorrell. Meltdown (Art: Urs Fischer: 'Untitled' in the Arsenale)
We were friends and we had a communion of intents and awoke from our slumber and held dreams of two shows… in Venice. A solo show centering on the work of John Giorno and a group show, Orientale* featuring new works from Jose Maria Cano, Ali Kazma, Robert Montgomery, Giuseppe Stampone and Matthew Stone. It would be a shared vision, vital; violent with our passions. In Venice. During La Biennale. We would put on two shows and put the World to RIGHTS. IN VENICE.
Now we're here – in Venice NOW. A dream realized but when I close my eyes everything feels as if it is afloat and moving. And not in a good way. Death in Venice seems like a real possibility to me right now…not just some wan fantasy by Thomas Mann. I am suffering palpitations, mind racing as I contemplate killing myself by jumping from the window into the alley below (no canal here to soften the blow) : it's 9.30 am, I've had only two hours sleep, and I've woken into a nightmare – one of our artists is missing.
Somehow, somewhere, something got lost in translation and the driver – sent to pick up the artist John Giorno from MILAN MALPENSA – had arrived late and at the wrong terminal. John had flown in overnight from New York. I'd promised he would be picked up…but…now, John Giorno – the legendary John Giorno, venerable poet, lover of Warhol and Rauschenberg, the sleeping beauty in Warhol's film portrait 'Sleep'. The 'star' of our inaugural WhiteNoise show – Star 69: Dial-A-Poem-Relics. The artist who single-handedly put the phone art on the map at Kynaston McShine's 'Information' show at MOMA has gone. We have no way of contacting him as he is a man with no mobile phone. And he's missing – somewhere between Milan and Venice. And I'm drowning in a river of despair.
The airport is searched thoroughly, lone males of a certain age are quizzed as to whether they are John Giorno…repeated announcements are made over the tannoy asking for John Giorno to report to the American Airlines desk. The police are asked to register him as a missing person. Has he flown back to New York in a huff? Is he trying to make his way in a cab? Or on a train? If he can get to Venice how will he get to 'Venice'? Whether you arrive by plane, train or automobile he'll be stuck – because there is a strike in the Lagoon and there is no Vaperetto service!! I picture him angry, alone, broke after the €400 taxi ride and without money for a water taxi (which will easily cost €150 on a day like today. If you can get one…I imagine him stranded. A refugee: unable to go forward or back.
Hours pass. I picture everything we've planned over the last few months sinking into the Grand Canal – with me chained to it…the skeleton of Stravinsky plays a Piano deep beneath the surface in this watery hell…Our hopes for a new art initiative dashed against the reef of language.
It's mid-afternoon by the time I find him. 24 hours after he left New York I find an exhausted and upset John Giorno asking for a room at the Bauer Hotel. Somehow he's negotiated the dreadful journey only to be told that there is no reservation in his name (which is true). I step to him as he boils toward some formidable eruption of anger and frustration. I expect him to punch me – he's much taller than I thought – and I approach offering my hand and my groveling apologies for the morning's disaster. He simmers but doesn't boil – the Buddhist in him prevails and somehow the End of The World is once more postponed.
wiki/John_Giorno
www.josemariacano.net/
wiki/Ali_Kazma
www.robertmontgomery.org/
www.giuseppestampone.net/
www.matthewstone.co.uk/
WhiteNoise Blog A Tale of Two Biennales David Dorrell #1
Categories
Tags