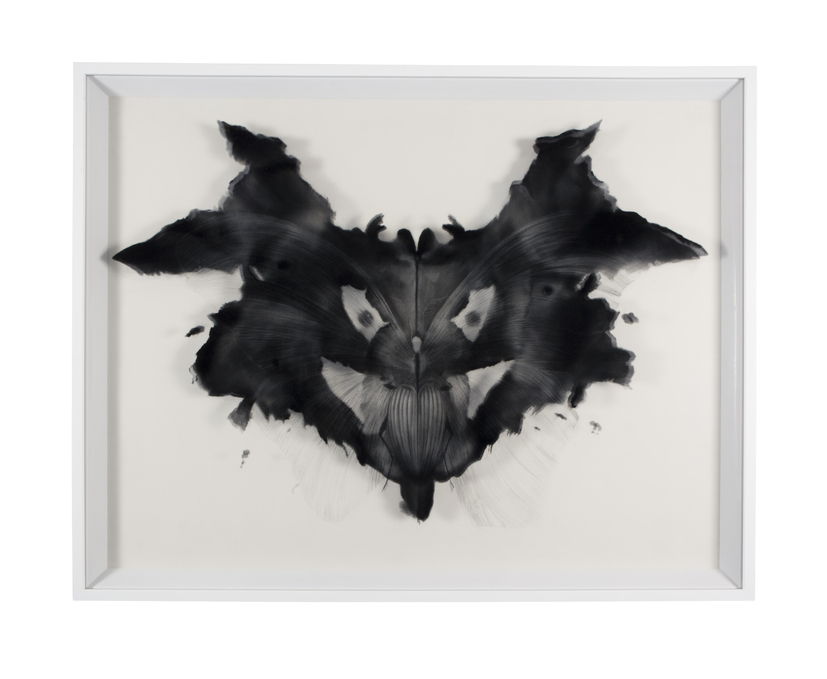 Hugo Wilson's work confronts organisational systems that attempt to insulate from an alternative of "chaos". Fascinated by "seemingly organised chaos" his attempts are destabilising in their mischievous subversion, striving to focus upon the functionality of such systems and therefore engaging in the very act that seems to loosen the lynchpins of ordered meaning.
Most recently contending with the controversial Rorschach inkblot test, Hugo's interest grew out of an observed similarity in shape between a sphenoid bone with shadow and the smudged black inkblots of the Rorschach. This conjunction of coincidences is illustrative of the arbitrary nature of such systems and the two pieces exhibited as part of the Vanitas exhibition at 33 Portland Place, part of a larger series of 10 Rorschach inspired works, destabilise the ascribed meaning of the Rorschach tests.
Speaking at the Absolut Aritists' Salon, Hugo traces the origin of the two Rorschach pieces, explaining how the test engaged with his ongoing interest in seemingly subjective systems of organisation and classification.
Hugo explained how his developing interest in the Rorschach pieces evolved and even the act of explanation seemed particularly pertinent for an artist whose self-professed interest congregates around other people's attempts at organising the chaos. Listening to the works and methodology explained enhanced the focus brought to bear as a necessary part of the process, a further interrogation of the inherent value of such strictly codified systems. Hugo worked backwards from the test's assumptions that such instinctive perceptions are indicative of certain disordered thinking.
In response to one of the Rorschach plates, he takes documented case studies as a point of departure, layering the original inkblot on Perspex over stark pencil drawings of the most commonly cited psychotic case studies. The viewing experience is at once unsettling and liberating, peering through the Perspex the viewer inexorably witnesses the documented "psychotic" responses, presenting them as, both objectively present in what the ink blot suggests but inherently a matter of perspective. The viewing of the piece is therefore what makes it dynamic, raising the question of what these systems do and eliding it with questions of how we allow them to mean through an acceptance of their value and, therefore, our complicity in them.
And after the viewing, Rorschach and all the associated, ascribed meanings are still there, the chaos hasn't set in, it's still sat safely behind the Perspex. The elided perspectives leave the viewer feeling a little less complicit and a little more involved in Hugo Wilson's subversive and mischievous, yet strangely liberating, game. The game which Hugo sees Vanitas playing, "it's a reminder of what it is to live, to die, to be mad to be happy, to be whatever, it's all the same thing, really"
Categories
Tags