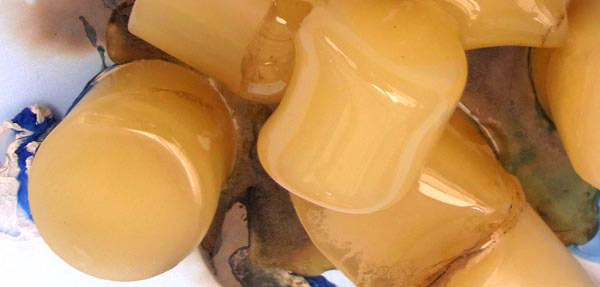 www.limoncellogallery.co.uk
Part of The punctuation programme
Foreign glue: an outsourced agent. Extraneous stuff that allows two actors to meet vicariously –
Glue is from bone, skin, and tendons. Cyanoacrylate, fish, starch, polyaminoamide, milk protein or casein. Blood plasma and amorphous silica.
This marrow is reconstituted into a compound that retains traces of its source but feels and smells synthetic.
Eoin Donnelly lives and works in London. Exhibitions include, 'No Soul For Sale', Forgotten Bar Project, Tate Modern, London (2010); 'Premiums', Royal Academy, London (2010); 'Idiolects', Brown, London (2008); 'Dog Years', V22 Ashwin Street, London (2006); 'Tonight', Studio Voltaire, London (2004).
Hannah Sawtell lives and works in London. Exhibitions include, 'Night Market Ingressor', Royal Academy Schools Show, London (2010); 'Entroludes', Serpentine Cinema, CINACT, (2010). 'Intervention', Hotel, London (ongoing from 2009); 'Display With Sound', International Project Space, Bournville (2009); '6 Artists, 3 Shows' Vilma Gold, London (2009); 'Novel', Anna-Catherina Gebbers', Bibliothesque, Berlin and Donlon Books, London (2008), 'The Death of Affect', Parade Space, London (2007)
Categories
Tags