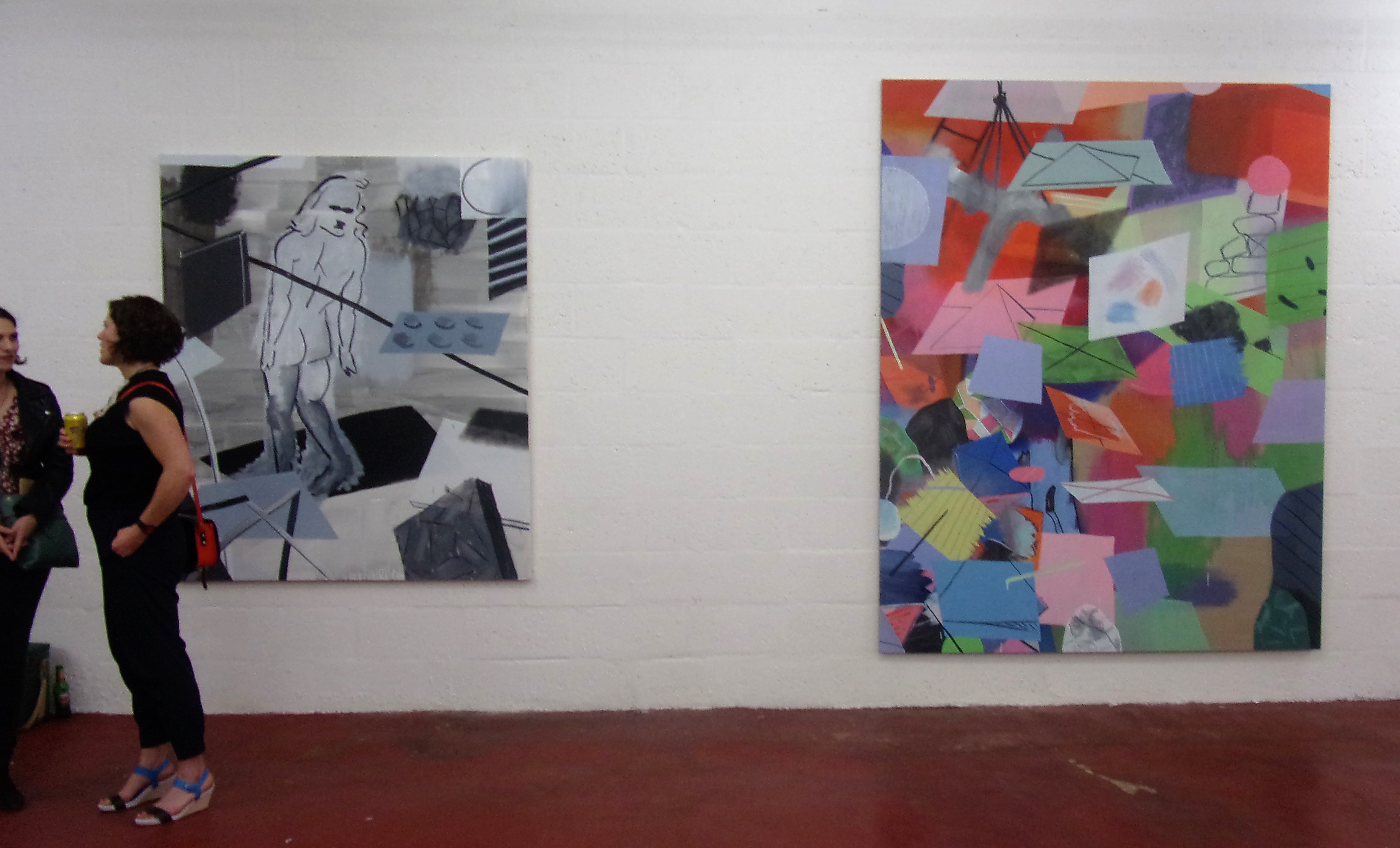 Why must people get in the way when I'm photographing paintings? Ah, I see it is Alice Browne herself, I guess that's OK
You have to stay alert to find the galleries at this time of year: several reopened in new premises ahead of Frieze. Limoncello is onto its fourth permanent space – the biggest yet, and though the address – Unit 5, Huntingdon Industrial Estate – sounds forbiddingly off-track, the gallery's is the first door you come to if you walk north from Shoreditch High Street Station. It has reopened with Alice Browne's big Dante-inspired paintings ('Forecast' to 5 Nov – see also https://fadmagazine.com/2016/10/05/225376/), which features abstract-looking views of the never-finished chaos of hell alongside paintings of futurologists whose heads are turned back to front so that, in Dante's account of their tortures, 'tears coming from the eyes / Roll down into the crack of the buttocks'.
Dalla Rosa, formerly in Clerkenwell, is now in Chalk Farm, where Jessie Brennan's socially engaged account of a community garden in Peterborough, told through testimony and cyanotypes (including a rather touching dead robin), also makes for a strong opening ('If This Were To Be Lost', 3 Leighton Place to 29 Oct).
Skarstedt (8 Bennet St) is only 200 yards from its former location, but has more room for one of the best shows in London, pairing David Salle and Cindy Sherman as if that were always meant to be.
Cabinet, after what seems (and probably is) years of building, have migrated from Clerkenwell to Vauxhall; Andor from Hackney to London Fields; Purdy Hicks from Bankside to Kensington; and Project Native Informant from Mayfair to Holborn Viaduct. And I dare say there are others…

Jessie Brennan installation at dalla Rosa
Most days art Critic Paul Carey-Kent spends hours on the train, traveling between his home in Southampton and his day job in London. Could he, we asked, jot down whatever came into his head?
Categories
Tags