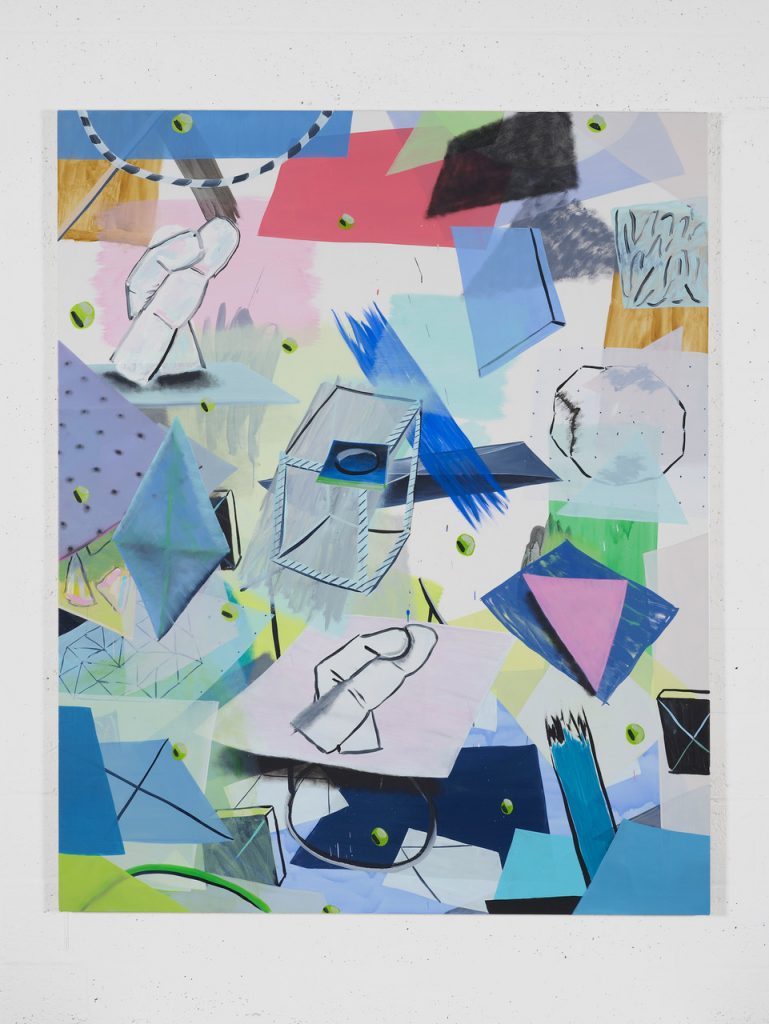 By Marcelle Joseph
Surrounded by large canvas filled with floating geometric shapes overlaying slashes and other transparent forms of colour, my eye is attracted to the drawings of the human figure contained within these otherwise abstract paintings – the body, crossed fingers, a head that appears to be looking backwards. The colour palette of this suite of new paintings by British artist Alice Browne is particularly appealing. Some paintings are exercises in a single colour – one neon green, another grey/black; others explore a more diverse palette from thin washes of pastel pink and blue to more opaque patches of magenta and purple. Scattered across the burnt red concrete floor of this former printing press is a collection of what the artist describes as 'photo-objects' – black-and-white images of indeterminate forms that reference the practice of cleromancy, the casting of lots as a means of divination, such as the rolling of dice.
Aptly titled, Forecast, this solo exhibition in Limoncello's new London location, questions mankind's desire to predict the future. Containing figurative depictions for the first time in Browne's practice, this new body of work was inspired by Botticelli's illustrations (c. 1485-1500) of Dante's epic poem Divine Comedy (c. 1308-1320), particularly the punishment given to the diviners, astrologers and magicians in Hell of having their heads on backwards. Forced to always look behind them, Dante's futurologists were physically prevented from predicting the future. In Browne's paintings, she magically expresses the anxiety of the unknown through beautiful layers of paint that together form a visual paragon of virtue. Browne need not cross her fingers for luck as this exhibition, her first since graduating from the Royal College of Art earlier this year, is more Paradise than Inferno.
Browne's paintings will also be featured this week at the Frieze London booth shared by Limoncello and Taro Nasu, a commercial gallery from Tokyo.
Alice Browne, Forecast (29 September – 5 November 2016) at Limoncello, Unit 5, Huntingdon Industrial Estate, Ebor Street, London E1 6JU.
About the Artist
Alice Browne (b. 1986) is a British artist based in London who completed her MA in Painting at the Royal College of Art, London in 2016 and her BA in Painting at Wimbledon College of Art, London in 2009. Selected recent solo and group shows include: Limoncello, London, UK (2016); OUTPOST, Norwich, UK (2015); Prosjektrom Normanns, Stavanger, Norway (2014); Limoncello, London, UK; annarumma, Naples, Italy; Fjord, Philadelphia, US; Interno 4, Bologna, Italy (all 2013); dienstgebäude, Zurich, Switzerland; Supercollider, Blackpool, UK (both 2012); APT Gallery, London, UK (2011); and A Foundation, Liverpool, UK; ICA, London, UK (both 2010).
Categories
Tags