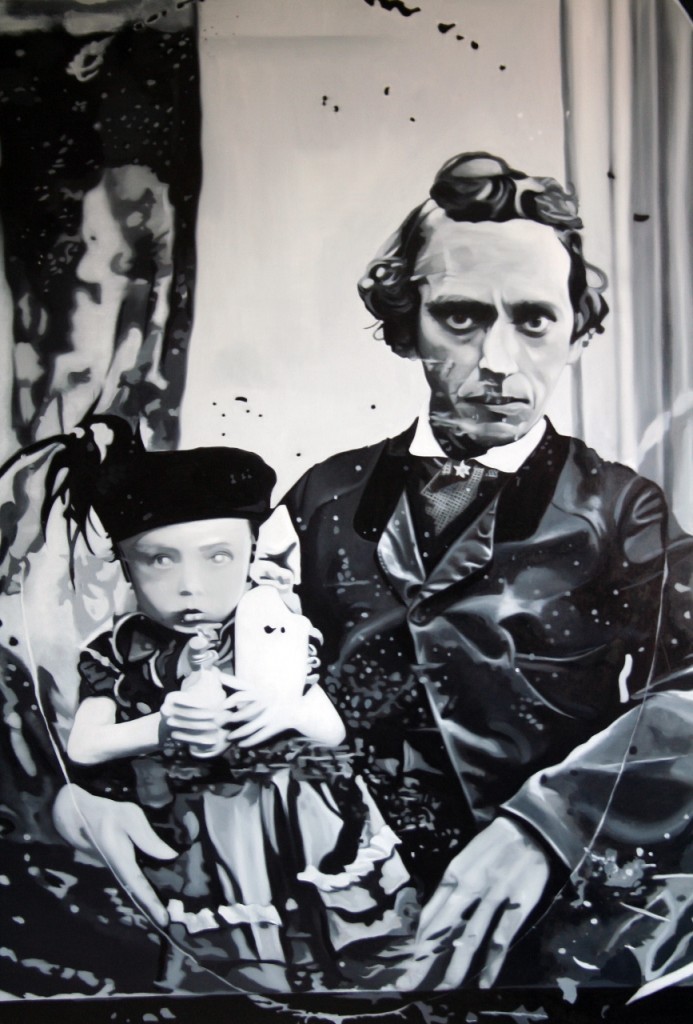 Image:'Man & Child' by Conrad Frankel, 2009. Oil on Canvas.
Independent gallery ART WORK SPACE will make an appearance in East London this spring in the form of ART WORK SPACE EAST – a temporary gallery on the Hackney Road, opposite Hackney City Farm and minutes away from Broadway and Columbia Road Markets.
Art Work Space East will be open from April 15th to May 9th 2010 at 338-340 Hackney Road (opposite Hackney City Farm),
www.artworkspace.co.uk/east
Art Work Space East will present a selection of work, as a group show from the four artists that have each had their debut solo exhibition at the main gallery since its launch.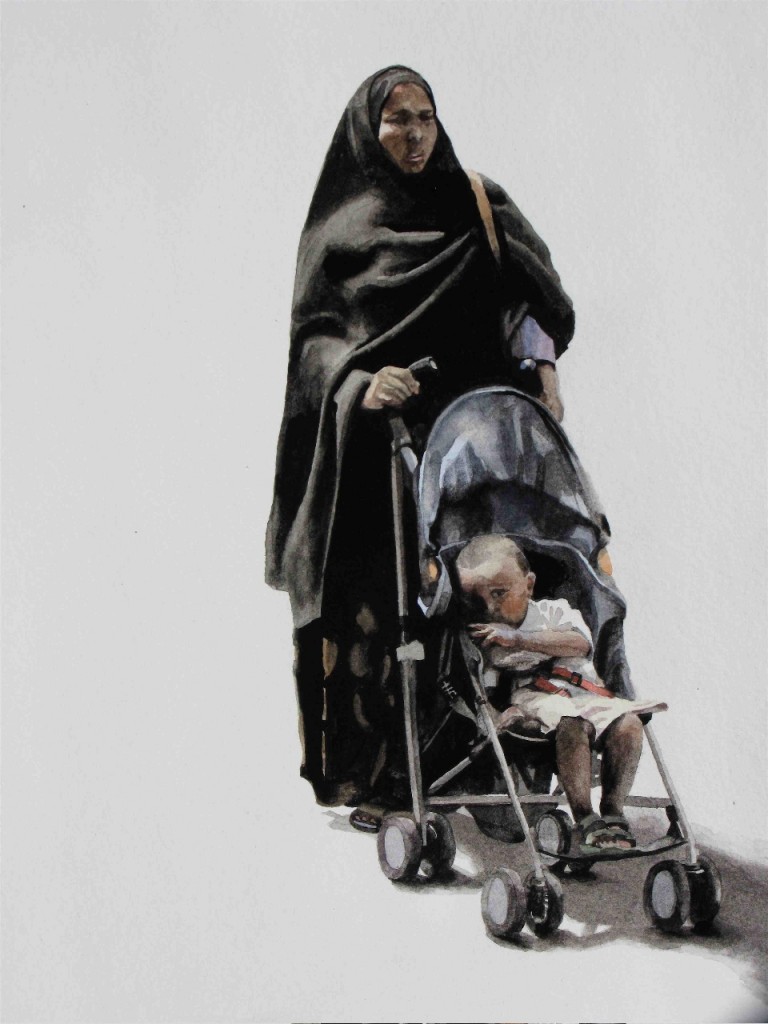 Image:'Muslim Pieta' by Haslam Fox, 2009. Watercolour on Paper
The first was HASLAM FOX, whose show of watercolour paintings, entitled 'A Tale of Two Towers', explored the Capital's architectural and social diversity by focusing on two of its contrasting tall buildings; the landmark that is the Lloyds of London building and the unexceptional but locally beloved Donnington Tower in Stockwell, and the people that live and work around them.
CONRAD FRANKEL's exhibition, 'The First People' was made up of a group of oil paintings and took its inspiration and subject matter from 19-century photographic portraits and the particular intensities and abstractions that occurred while the technology was still in its infancy

Image:'Bouillabaisse' by Yasmin Sandytia 2010. Watercolour and Ink on Paper.
YASMIN SANDYTIA's exhibition of illustrations, 'In Brackets', is the current exhibition at Art Work Space and consists of a series of one-off ink and watercolour drawings, alongside a selection of hand glazed ceramic plates. The work gives us an insight into the artist's vision of the world we live in and the characters that inhabit it and is inspired by her observations of daily life and encounters, whether they be the mundane chore or the grandiose ritual.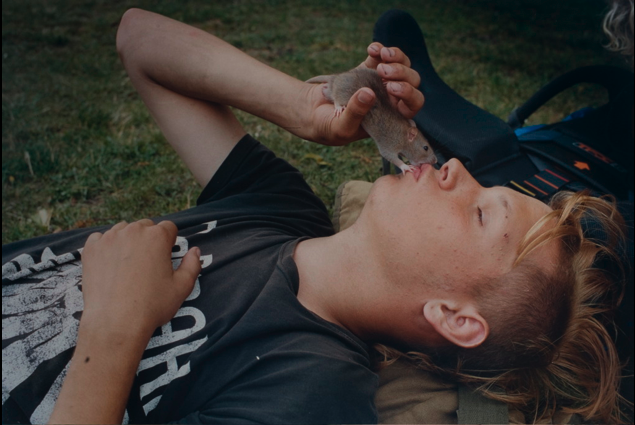 Image:'Xavier' by Niall O'Brien, 2009. Digital C-Print.
Photographer and filmmaker NIALL O'BRIEN's show, entitled 'Good Rats', marked the first substantial exposition of work from the 'Superheroes' series – an ongoing project that has seen O'Brien living alongside, and observing the lives of, a group of young punks from South-West London over the last three years. The exhibition received widespread critical acclaim and Art Work Space East is very pleased to be teaming up with BISTROTHEQUE to put on a special, free Q&A event with O'Brien on April 22nd. Hosted at their Wadeson Street restaurant, in their Cabaret Room, the Q&A will be led by journalist Justin Quirk, features writer for The Guardian and Esquire and Editorial Director for Soho House Group's House Magazine. A fan of O'Brien's work and having himself grown up in Kingston, he's the perfect person to help lead us through the adventures of the Kingston Brew Crew, who the photographer has so truthfully and sensitively documented.
ABOUT THE ARTISTS:
HASLAM FOX:
A brief and ultimately dull spell at Chelsea Art College managed to quell what had been Haslam Fox's school time obsession with painting and he ended up instead studying Art History at Glasgow University. Specialising in Abstract Expressionism and Chinese landscape painting for his Masters, his background and eclectic taste no doubt still inform his own image making. From university, an array of creative and practical jobs led him to travel extensively and finally settle in London.
Inspired by a meeting with the artist Brendan Kelly, Haslam Fox spent a year at London's Art Academy in 2005. Here he met a group of artists he looked up to and soon his love of painting found new direction. Keen to continue his development alone and intent on immersing himself in the art world, he has since then been working on private commissions whilst building up a comprehensive series to exhibit from his studio in Lambeth. His paintings have been showcased through various public competitions, last year exhibiting at 'The Discerning Eye' (Mall Galleries), '20th Century Watercolours' (Bankside Gallery) and winning the Young Artist award in the Sunday Times/RWS Watercolour Competition.
www.haslamfox.com
CONRAD FRANKEL:
Conrad Frankel was born and raised on a farm in County Cork, Ireland. Isolated except for from the people that worked in around the farm, he developed a strong interest in the stories of these characters, who seemed to come from another era. Frankel gained a degree in Biblical and Theological studies at Trinity College, Dublin, before moving to London to do an MA at City and Guilds of London Art School. During his time studying for his MA he received the Jerwood Prize for Drawing and the de Laszlo Prize for Portraiture.
www.conradfrankel.com
NIALL O'BRIEN:
Niall O'Brien studied fine art photography in the renowned Dun Laoghaire Institute of Art, Design and Technology.He has exhibited at a number of Irish and English shows and has many awards to his name, including the Irish Professional Photographers' Association Rex Roberts Medal and two main categories in the ICI Photographer of the Year Award. In October 2008 Niall was accepted into the top 20 portfolios in the International Portfolio Review, Bratislava. He continues to exhibit throughout Europe.
His commissioned work is of a gritty, contemporary style, which seamlessly blurs the boundaries between the conceptual and the aesthetic. His growing collection of intimate portraits concentrates on unusual subjects with whom Niall develops a close working relationship. Niall's long-term project "Superheroes" came from a film, which he made in 2006 and has been on ongoing photo documentary about adolescence and desire. Born in Dublin in 1979, Niall now lives in London. His fresh and innovative photographs and films work continues to draw both attention and acclaim.
www.niallobrien.co.uk
YASMIN SANDYTIA:
Yasmin Sandytia was born and raised in Jakarta, Indonesia, until moving to Salzburg at the age of 18 to complete her high school studies. She moved to the UK in 1999 to study art at the University of West England and then gained her BA Hons in Fashion design at Central Saint Martin's School of Art and Design. Since then she's worked for several British brands, as well as, as a freelancer with clients including Bjork,
Illustration has always been Sandytia's passion and in 2009, having been approached by Murtagh who was already aware of her work, she agreed that it was time to exhibit some of her illustrative work. Sandytia lives and works in London.
www.sandytia.com
ABOUT ART WORK SPACE & NAOMI MURTAGH (GALLERY DIRECTOR):
Naomi Murtagh was born in the small town of Kingscourt, Co Cavan, Ireland in 1979. An early interest in the Arts led her to study Fashion Design at Limerick college of Art and Design where she gained her degree.
Following long stints of travelling around the world, she returned to Europe, moving to Paris to pursue her career in Fashion. She spent several years working for various designers and labels including Sharon Wauchob, Aquascutum, Vincent Du Sartel and Hobbs as accessories designer.
In early 2009 the opportunity to create a gallery within the old restaurant space at The Hempel presented itself and Murtagh, who has always had a keen love of the Arts and interest in the industry grabbed it with both hands.
Gallery area = 120 m2 www.artworkspace.co.uk
Categories
Tags