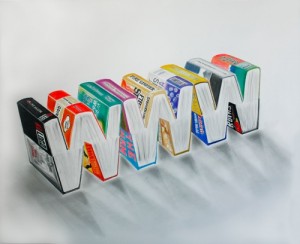 Image:WWW, Colour drawing on paper, 150x120cm, 2011
29th Aug – 25th Sept 2011
Add To My Library: Vol.II', is a major solo exhibition of works by established multi-faceted artist Christina Mitrentse.
The show consists of five interconnected parts produced over the last two years.
A series of large-scale graphite and colour pencil drawings created on paper through an innovative methodology that depicts books as the building-blocks of idiosyncratic institutions; 'STONEHENGE', 'WWW', 'NEW TATE', 'EMBLEM', 'RUINS I', will fill the main walls of the gallery.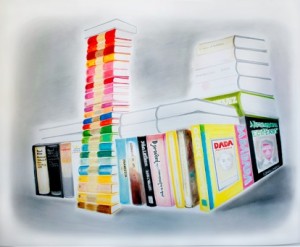 Image:STONEHENGE, Colour drawing on paper, 150x120cm,2010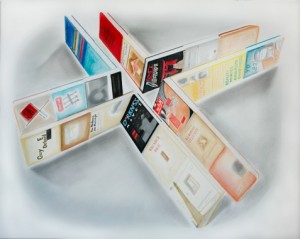 Image:EMBLEM, Colour drawing on paper, 150x120cm, 2011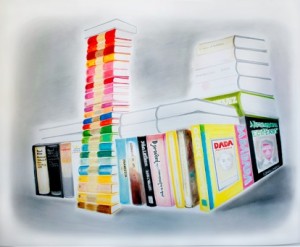 Image:NEW TATE , Colour drawing on paper, 150x120cm, 2011
An ON-LINE DATA FLOW of favorite book titles/authors, selected by invited, international, contributors from the art world. 'METABOOK', a plinth-mounted silk-screened book sculpture;'10 FLAGS/EMBLEMS', silk-screens extracted from METABOOK that form a wall-based installation and finally a spoken word performance by guest artist Douglas Park who will embody the Library's body of
knowledge as a living encyclopedia: THE MAN WHO BECAME A BOOK!
'Add To My Library Vol. II ' is dialectally related to the book practices of John Latham, and writer Walter Benjamin among others, inviting the public to re-interpret their own belief systems, and re-contextualise bibliographic experience. In a globalised environment increasingly dominated by the digital book market, e-learning and hypertext, Mitrentse's project alludes to a Meta-Library designed to provoke changes in the function of the material book, and the user's relationship with it, while deinstitutionalising it in the process. Being a critique on the book as sacred object and site of subjectivity the ensuing images are humorous, sardonic and nostalgic at the same time.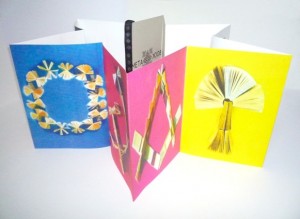 Image:FLAG/EMBLEM IV, EU , silkscreen on paper, 60x80cm, 2010
Mitrentse is increasingly known for her extensive commitment to drawing, as a
n
autonomous, yet rational, primary mode within her practice. Highly descriptive and
meticulous, her drawings as seen in 'Add To My Library: Vol II' marry aspects of Pop Art, abstraction and realistic representation, to underpin ongoing manifold site-specific productions, enabling cryptic narratives and discourses to be generated.
An analysis of the works by art critic Peter Suchin accompanies the exhibition.
Private View 7th September 2011 6.00 – 9.00pm (First Wednesday) Lower Ground Floor, The Hempel Hotel, 31-35, Craven Hill Gardens, London W2 3EA. Mon-Fri
www.artworkspace.co.uk, www.christinamitrentse.com
Categories
Tags