Anna Skladmann's new art space to display its first project in collaboration with the Brazilian artist Goia Mujalli. Biribà will be at The Arcade Project, in the Whitelys Centre, until the 5th September.
Anna Skladmann, a sparkling artist and resourceful curator, just embarked on a new project. After co-curating the show 'Adventitious Encounters' at the Whitelys Shopping Centre, she fell in love with the space. A few months after, Skladmann decided to turn the shopping destination into her permanent art-house. She took a small, dark room and converted it into an art space. The curator dismantled the grey, dull, moquette floor to discover some marble tiles lying underneath. After covering one wall with mirrors and changing the lighting the room was ready.
Called 'Arcade Project' it is not meant to be just another ordinary gallery. The space, in fact, will host any kind of art related happening. Poetry readings, film projections, edible installations (and much more) will be all part of the plan. Moreover, artists will be invited not only to put their work on display but also to use the space to expand their practice and go big with experiments.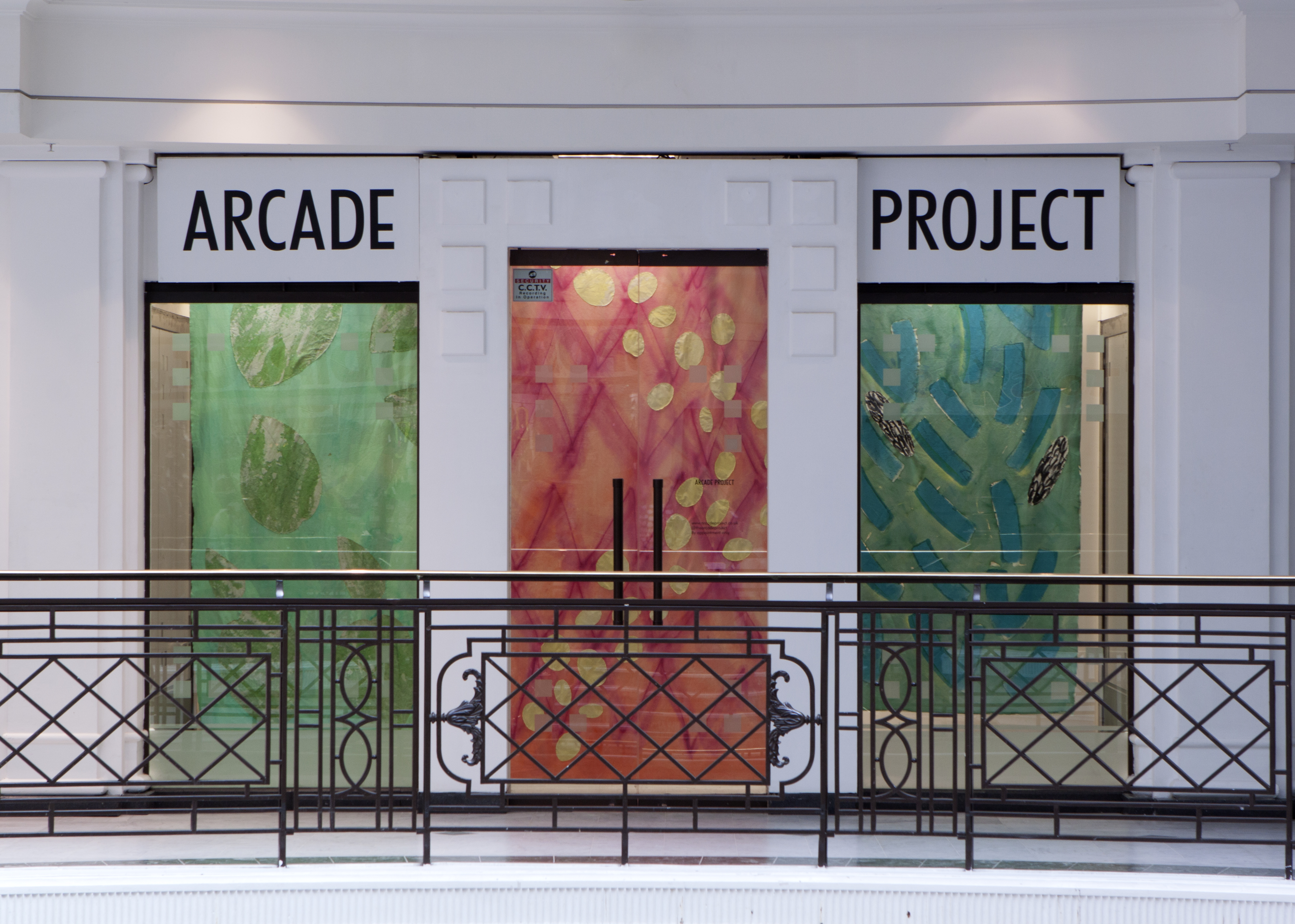 The first project presented by Skladmann is the show 'Biribá' which will present a series of new works from the Brazilian artist Goia Mujalli. After exploring nature, colour, and her Brazilian roots, Mujalli left for a residency in Dusseldorf, awarded by Artpiq. She will be having a vernissage on the 1st September showing her new works.
Here follows the interview with both Anna Skladmann and Goia Mujalli.
To open a gallery in a shopping centre such as the Whitelys, with its immense spaces and bygone golden aura, it's quite an unusual move. What inspired you about the Whitelys?
My main inspiration to open 'Arcade Project' at the Whitelys was the building itself. The architecture carries the glory of its past; however, currently, it finds itself in a vacuum of time. I had the great opportunity to co-curate the show called 'Adventitious Encounters' with Huma Kabakci on the 4th Floor in March in which we realised William Whiteley's dream to turn the top floor into a Victorian roof garden. We worked with twenty artists whose oeuvres revolve around the theme of nature.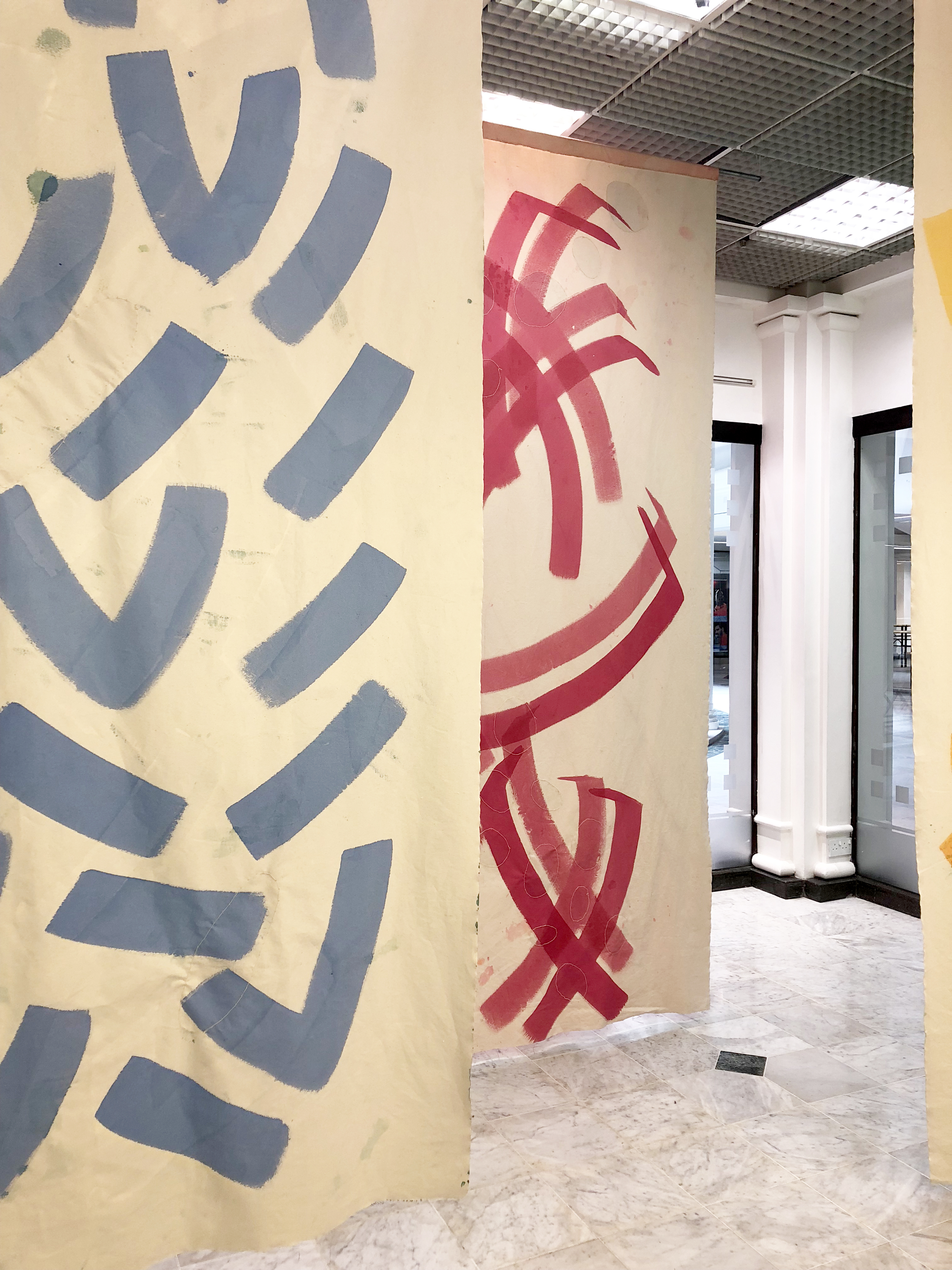 This brings us to the name of the gallery: 'Arcade Project'. It immediately calls to mind Benjamin's writings about the Parisian arcades. How do you relate to this?
I love the idea of combining art in a commercial setting which highlights the fetishism of this high-end commodity, and the allegory of seeing beautiful architecture unused and out of place. As Benjamin wrote 'it's a reminder of the passage of history, the passage of time, and human temporality.'
The fact that you called the gallery a 'project' makes me think it's not going to be just a space hosting conventional exhibitions. Can you tell us about your ideas for this gallery/project? 
The Arcade Project is a small unit converted into a contemporary art space surrounded by glass windows and a marble floor. I would love to inspire and encourage the artists to experiment and use this space to push their practice further and work within the context they find themselves in: an arcade inside of a bygone Victorian building intermingling dream and decay. The project revolves around the play between organic and inorganic matter/phantasmagoria and reality.
Goia, you are from Brazil but are now based in London. In the show 'Biribà', the colours that flow through your works are unmistakably tropical and recall your native lands. How much of your past is rooted in your present work?
I grew up in Rio, very connected to nature because I was surrounded by it. It is a city where you have the urban together with nature, especially the sea and the waterfalls. That eventually comes out in my work. There is a difference of light in Rio compared to London, and I have the intention of referencing memories of that vibrancy.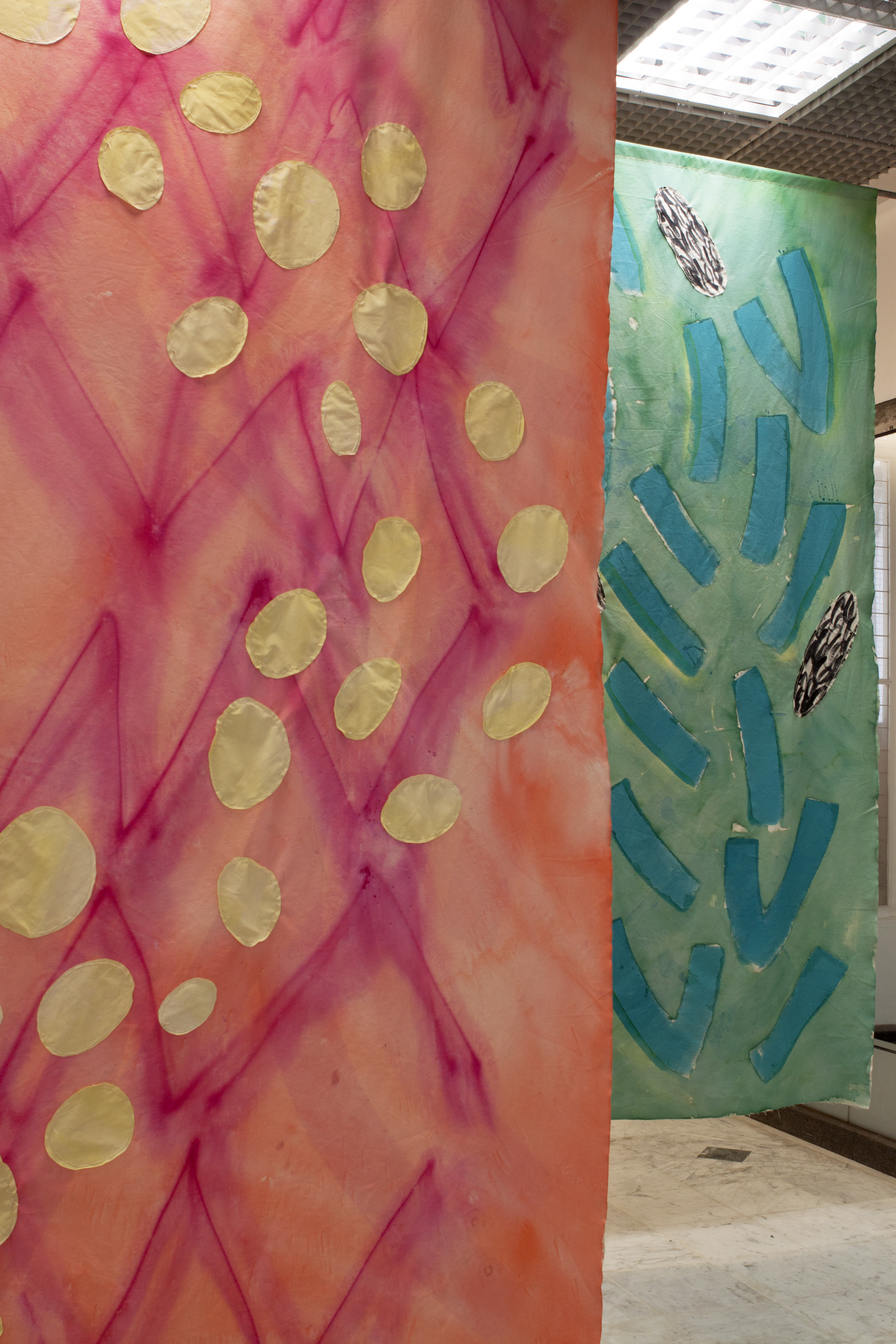 Most of the works shown at the Arcade Project are big, bright, and bold. They attract the visitors to get close, to explore them and get immersed in their different shades. At the same time, they maintain a nostalgic tone, detaching themselves from their dimension and the space around them. Did you envisage these works as complete ones or as part of an ongoing process of experimentation and discovery?
I made these works specifically for this space. It has been really good to work with Anna, who is also an artist. Both of us decided that this show would be a chance to push the work and experiment. For these pieces, I had done something similar last year and that idea was still in my mind. I exhibited at 'Adventitious Encounters' earlier this year at the rooftop at Whiteleys. I would have wanted to have done one of these paintings already, to see them hung from the ceiling. This show, 'Biribà' became the chance to make them. The idea of this exhibition was to bring elements of my studio, as I often find that artists studios are the place where you can really grasp the personality. I feel these works are part of my ongoing research and process.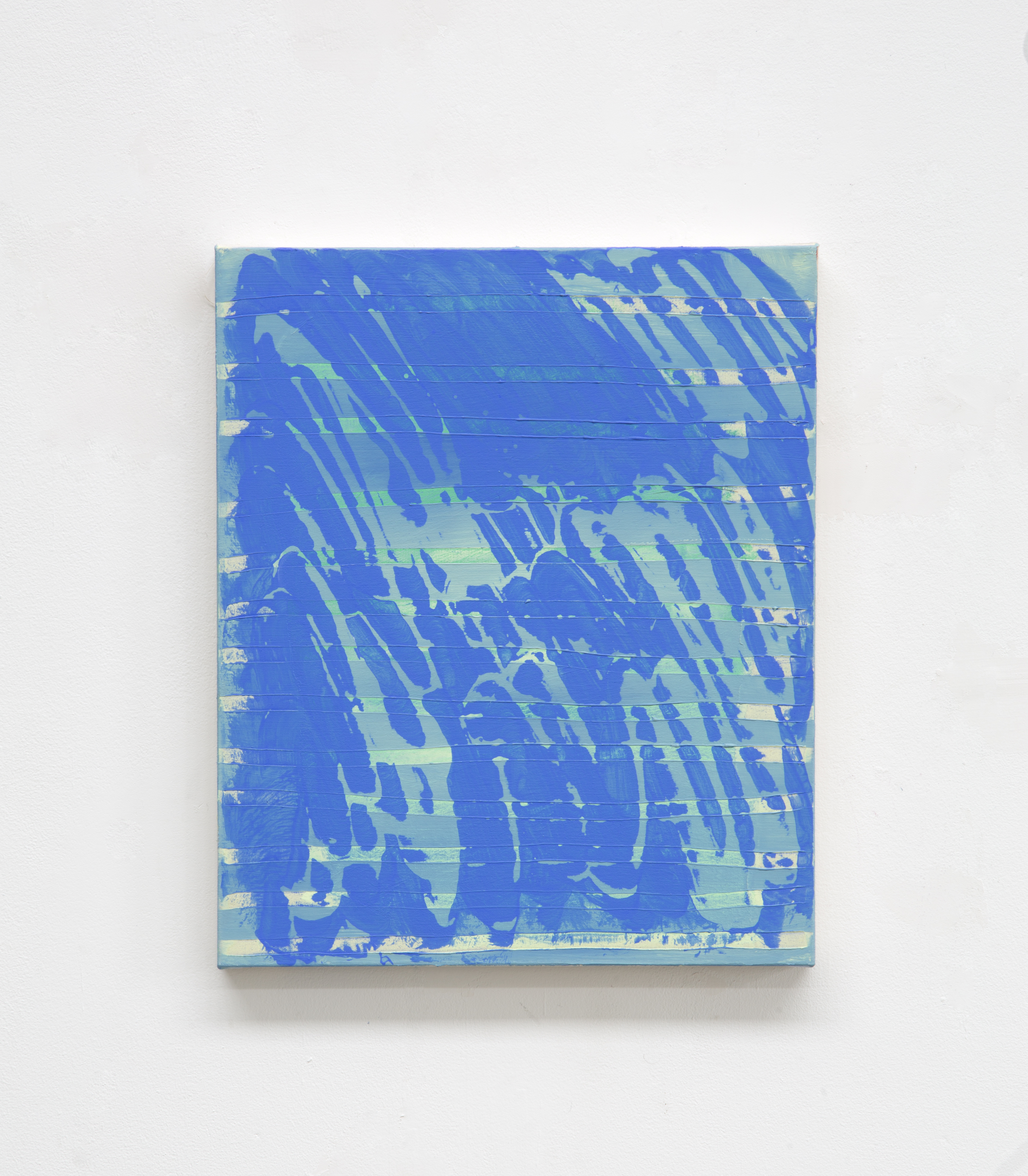 The titles you use are very evocative. I am thinking of Biribá, the succulent and creamy yellow fruit, or of the painting entitled 'Confused dreams'. Can you tell us a little about your inspiration? 
Biribá is a fruit from the region of the Amazon in Brazil. It is a very succulent, juicy and sweet fruit. I never managed to have it here in London, although I'm sure you can find them imported from Brazil. Each of the hung paintings has the intention of referencing a different fruit from Brazil. The idea for this show came from how colonisation causes some countries to appropriate the fruits and elements of other countries, in this case of Brazil. It also reflects on how certain objects are often appropriated by different cultures.
How do you proceed in your creations? Where do you take the inspiration from? What is your way of working?
My work is also very related to the process of painting and erasures. I often respond to what is on the canvas. For this show, I wanted to show parts of the process, such as the initial layers of a painting. And there is also the hand stitching, which is a sort of collage process that also happens through my process by layering motifs of colour.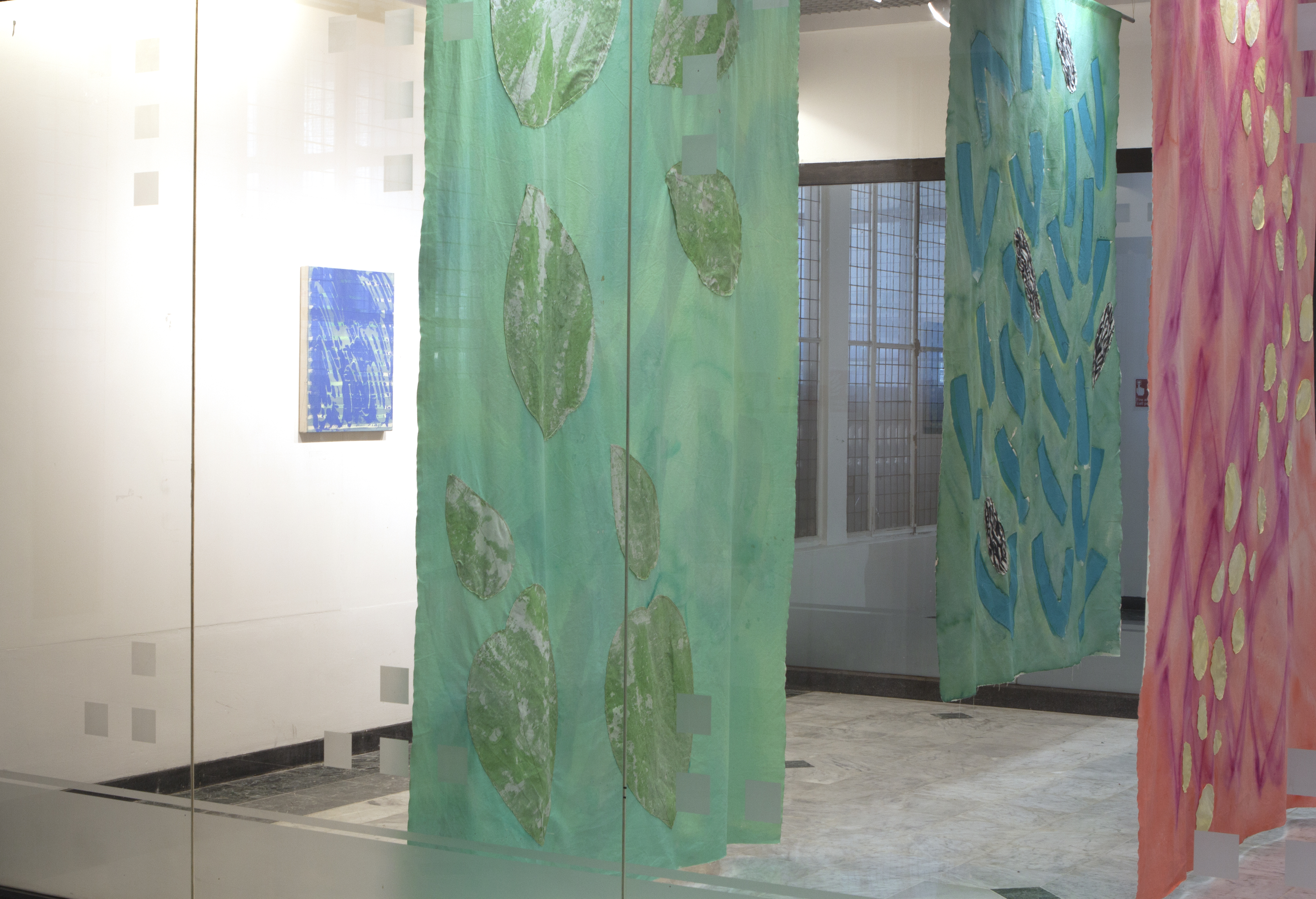 By appointment only
The Arcade Project, 1st Floor, Whitelys shopping center, Queensway, London, W2 4YN
on until 5th September
Categories
Tags