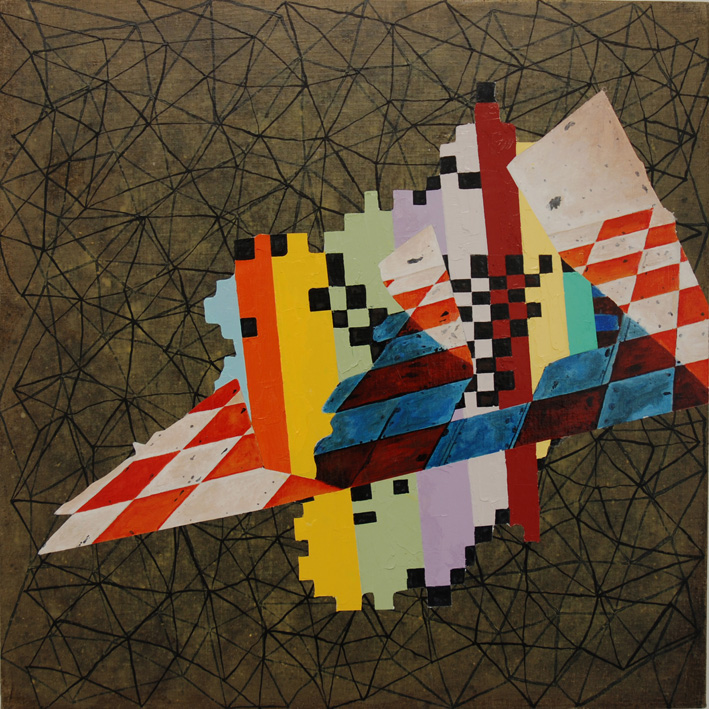 Image:Buy the Sky Oil on Linen 52 x 52cm
28th Feb – 1st April 2011, at Art Work Space.
'Collisions', an exhibition by Geoff Diego Litherland, this spring. Comprising several pieces from his 'Net-Paintings' and 'Digital Embroidery' series alongside recent larger works, this is the debut solo show in the Capital by the British Artist, whose work creates narratives relating to creation and other, utopian worlds.
Litherland's paintings are constructed of abstract motifs and appropriated images, distorted and vivified through the use of bright colours and grid structures. These are layered and painted in the
style of collage onto linens, which have been previously treated with washes of earthy tones.
Using paint ground down from pigment found by the artist in the British natural landscape, these bases ground the work, acting as physical and metaphorical prima materia – with works organically growing out of them, almost evolving as further paint is applied.
Through his paintings Litherland explores his interests in transcendentalism and immanentism, vast subjects which he makes broachable through his painterly techniques.
The work, although abstract, seems familiar to the viewer – his grids creating a structure that enables this exploration and freedom of thought, whether it be for a communication with a higher being, a god, an ethereal and universal spirit such as Qi or an internal knowledge.
Of his art Litherland says, "These paintings strive to make connections with other objects however nearby or distant they seem". With 'Collisions' at Art Work Space, he invites a new audience to be part of these relationships.
Categories
Tags