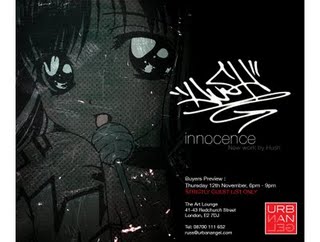 HUSH is one of the most significant street artists of the day, the demand for his paintings has become enormous with pieces now in prestigious Auction Houses/International Galleries around the world, and small runs of hand finished prints selling out in seconds.
His new show in London from 12th November reveals an exciting new collection of originals and prints. Prints are only available on the night or via the website from the day after the show but prints runs are very limited.
About the show – words by Hush
"The title of my show 'Innocence' comes from the deceptive expressions on the characters in my work depicted through manga/anime imagery.
The simple expressions and glazed eyes suggest purity and innocence whereas the provocative images of the female form suggest the opposite. The playful English titles of the works (eg Lotitia Lollypop) juxtapose the Japanese text ( 'I'm hot and horny', 'Young girl on heat', etc.) – the innocent images allowing us to accept their darker undertones.
The paintings also reflect street art aesthetics – with pointers to pop art, commercial printing and consumerism – through the use of screen printing.
The female nude is an ancient theme in the history of art. I have tried to give the work a contemporary edge through the use of Manga/Anime imagery as well as through tagging and graffiti."
HUSH October 2009
Urban Angel Art Lounge 41-43 Redchurch Street, London, E2 7DJ

www.youtube.com/watch?v=V4oqMIzBlYo

http://www.flickr.com/photos/nrme

hushstudio.blogspot.com
www.urbanangel.com
About Mark Westall