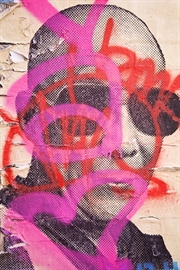 Now through July 23, artnet Auctions is presenting a special online auction of Urban Art from 1972-Present. The sale traces the evolution of Urban Art from the 1970s to today with a spectacular range of 175 artworks by 60 artists including Banksy, Jean-Michel Basquiat, CRASH, Faile, Keith Haring, and Mr. Brainwash.
Early New York Graffiti Art
Leading the sale is a collection of early works by some of the most influential New York Graffiti artists of the 1970s and 1980s. Among the highlights is Hot Dogs and Mustard, 1972 by Coco 144, a signed spray painting on canvas in the artist's classic style (estimate: $25,000-$35,000). Also featured in this group is the nine foot steel sculpture Abstract of the Letter A, 1982 by Phase 2 and Douglas Abdell (estimate: $140,000-$180,000).
Early works also include 15 masterpieces by ground-breaking graffiti artists DAZE (Chris Ellis), CRASH (John Matos), and DONDI (Donald White). CRASH began spray painting subway cars at the early age of 13. His virtuoso style is captured in seven stunning works including Hallucination #177 (estimate: $80,000-$100,000) and Arcadia Revisited, (estimate: $55,000-$85,000) both from 1987. CRASH's contemporary, DONDI became famous for his innovative style and elaborate pieces, including Children of the Grave, three whole New York subway cars painted from 1978-1980. The complexity of his work is evident in three rare 1983 acrylics offered in the sale, Reflections, Style Maneuver and Boy Graff (estimates: $12,000-$16,000 each).
Graffiti Art Moves Indoors
New York's crackdown on graffiti during the late 1980s drove artists such as Keith Haring, LA2 (Angel Ortiz) and Jean-Michel Basquiat from subway cars to art galleries, bringing graffiti art to the commercial mainstream. The sale features four prints by Keith Haring including Art Attack on AIDS, 1988 and United Nations – Fight AIDS Worldwide, 1990 which bear witness to the AIDS epidemic of the late 1980s (estimates: $2,500-$3,500 each). Also featured in this group are three works by Jean-Michel Basquiat executed between 1984 and 2005, including Jawbone of An Ass, 1985 (estimate: $20,000-$30,000).
Contemporary Street Art
Contemporary Street Art figures prominently in the sale, including ten works by the enormously popular stencil artists Banksy and Blek le Rat. Banksy has gained international notoriety for both his record-setting sales and headline-grabbing stunts. The sale showcases eight Banksy screen prints from 2004-2008 including Morons, 2007, which pokes fun at the art world (estimate: $7,000-$9,000). Also featured in this group is Desert Storm, 2007 by French artist Blek Le Rat, who is known as the godfather of stencil art (estimate: $5,000-$7,000).
Among the other contemporary highlights are 25 works by Shepard Fairey, Faile, Aiko Nakagawa and Hush who share common origins in stencil art and print-making. Ten works by artist's collective Faile from 2004-2008 include the classic Faile image Bunny Boy, 2004 (estimate: $9,000-$12,000). Shepard Fairey, who gained global acclaim for his 2008 Obama "Hope" poster is represented with six works from this period, including Peace Bomber (Red Edition), 2008 (estimate: $1,200-$1,500).
Rounding out the sale are recent works by Mr. Brainwash, Chris Johanson, Anthony Lister and Neck Face. Neck Face stands out due to his violent drawings of disturbing subjects such as the 2008 Untitled (Grim Reaper) (estimate: $800-$1,200 each) while Australian-born artist Lister exposes the dark side of street life in Magic Tricks, 2009 (estimate: $6,000-$8,000). In stark contrast, the prolific West Coast artist Mr. Brainwash is known for his ironic interpretation of contemporary pop subjects such as the candy-colored Michael Jackson, 2009 (estimate: $12,000-$15,000).
"We are delighted to present such a comprehensive collection of Urban and Street Art" said Hans Neuendorf, CEO of artnet AG. "This auction brings together seminal works by some the most influential Urban and Street artists of the past forty years."
Browse the sale at www.artnetonlineauctions.com
Categories
Tags