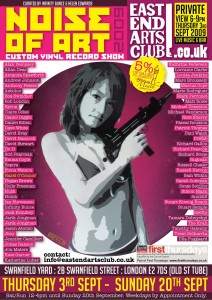 The Noise of Art' at east end arts clubThurs 3rd-20th Sept 2009 Curated by Infinity Bunce and Helen EdwardsAll aritsts have made unique customised work on a 12″ Vinyl .This show has come together from a gyrating mix of artists and musicians. All work is a kaleidoscopic mix of different materials placed on a 12" vinyl record, each piece bouncing from one to another.
From urban artists, fine artists, to graphic designers and musicians,all journeying through pulsating imagery of an electric mix of surface materials, scrunched, scratched, painted, sprayed and printed on a
record vinyl. The 12"vinyl that we once loved has been brought back to life and gives birth to itself in the name of art. You will never look at a vinyl like the way you did before. It's a jamboree not to be missed!
All artist have made customized vinyl artworks for this unique show
Includes :
The Krah, Hazel O Conner, Rugman, Prefab, Hutch Jason Atomic, Espira, Infinity Bunce, Stuart Semple, David Bray, Hutch, Hush, Ian Stevenson,Swifty, Lorraine Clark, Russell Herron, Marcus Cope, Bob London, Simon Naish, Russell Chater, Richard Stone, Jarik Jongman, Hutch, Hush, Ian Stevenson, Dr D, Pascal Rousson, David Hancock, Amanda Spawforth, Fulya Cetin, , John Maters, Edd Pearman, Katherine Lubar, Swifty, Tamara Dubnyckyj, Dave White, John Maters, , Marc Broussely, ,Jonas Ranson, Kate Garner, Boa Swindler Sardine and Tobleroni, Chiara Williams, Sarah Jane Coleman, Serge Seidlitz, Patrick Thomas Jack Brindley, Jonas Ranson, Jarik Jongman, , Dave White,Trent Sidharrta, Louisa Jenkins,Daniel J Diggle, Fiona Watson, Jboy, TimothyGatenby ,Richard Gallon, Phil Townshend,NessSherry, Mark Perronet, Sam Wilkin,Tamara Dubnyckj, Richard Peacock, Paul Walsh, Stuart Koenig-Roach, Snub Allan Deas, Jennifer Camilleri, Kathrine Campbell Pedersen,Ulla Puggaard, Holly Freeman, Anthony Peters, Andrew Johnson, Louisa Jenkins, Pascal Rousson, Michael Cranston, Michael Vanderson,,Alan Dempsey, Emma Coyle, David Stewart, Hogan Brown, Matt Rowe (Go Go Whippet),Paul Walsh, Daniel Edlen, Claire Coles, Marie Lois Rodriguez, Art House, Absoluv,Martin Kingdom, Michael Campbell.
Sat/Sun 12-4pm until Sunday 20th September
Venue Swanfield Yard (off Redchurch Street top of Brick Lane)
2b Swanfield Street London E2 7DS
Categories
Tags