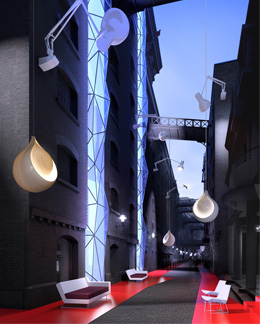 100% Design is not in the least bit bashful about showcasing some of the glistening talent about to enter the design world.  Indicated by offering Designer's Block a space of its own; "encouraging and enabling" young designers to realise their ideas however large or small.  Whether that be Joon and June's marketable green pins: a simple yet useful idea of fashioning drawing pins to resemble tender leaf shoots (Joon and June's flat light-bulbs were last seen at Tokyo Design week.)  Or another familiar piece Chichi the rocking piano by Sarah Davenport Design was an attention thirsty addition.  Designer's Block ensures that applied art with an element of the experimental is very much alive.
In the central space of the 100% Design exhibit distinguished work was on display from Stilvoll. A desk unparalleled in its versatility, with adjustable heights and levels, all manner of hidden draws and attributes were adroitly demonstrated. Pure in its appearance the Crescendo C2 maximus is a multifaceted addition to the artist's or freelancer's studio.  Another welcome appearance were the Designers in Residence at Northumbria University; Alex Underwood and David Irwin in particular are accomplished and certainly worth keeping an eye out for.
2009's exhibition demonstrated how 100% Design holds its finger firmly on the pulse while simultaneously appealing to the axiomatic side of a trade show for more established luxe furnishings.
http://www.northumbria.ac.uk/sd/academic/scd/oup/threedimension/designers/?view=Standard
Categories
Tags