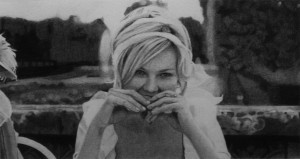 1 When did you start to make art?
I first started to take a serious interest in art when I was about 16. Of course I had always loved it before then, however it was at that point I decided to pursue it more professionally. However, I think I finally got the hang of making art, finding a purpose to it, when I was about 22.
2 How did you evolve into a professional artist?
It happened without me knowing it! I just took everything one step at a time and before I knew it I was here.
3 What drove you to make art as a professional vocation?
It was something that I always enjoyed doing and I seemed to have a talent for. It was a natural choice.
4 Explain your inspiration?
Film is my main inspiration and for so many reasons. It can transport you into another realm and really capture you. There is also something about the aesthetic of film that makes me want to explore it further.
5 In what way does your inspiration transform into ideas?
When I draw from film stills I instinctively pick the images that I find most captivating. When I do other work, experiments, I jot down my ideas as I go along. Something to refer back to and explore.
6 From ideas to production of art – how? And why?
I pick a selection of film stills. I then edit, organise and re-arrange them (constantly!). Then I begin to draw.
7 Could your ideas be portrayed in any other medium? If so which?
Definitely, that's one of the things that I like to experiment with on the side. Etching, embroidery etc.
8 Which artists would you most like to blatantly rip off?
None. There are artists whose work I love and would be so very proud if it had been my work. However there's a joy in celebrating other people's work and being challenged by them. Diversity is a fantastic thing.
9 Why is your art made?
Because it's something I need to do. I can get quite cranky if I don't produce art! It genuinely makes me happy and in turn I've discovered it makes others happy too.
10 What does being an artist mean to you?
It's just my way of life.
11 Are you happy with your reasons for making art? i.e Are there any trade offs that make life hard?
Although it can be a struggle, I'm so happy I became an artist, even though it doesn't have the stability of a 9-5 job I wouldn't exchange it for anything.
12 When does your art become successful?
I really don't know.
13 What is art?
A very broad term.
14 How do you start the process of making work?
The inital process begins with watching film trailers and picking out the ones I find the most visually intriguing.
15 Who prices your work? And how is the price decided upon?
It's something both myself and my gallery, The Alan Cristea Gallery, decide upon.
16 What is your next; move, project, show etc?
I have a fanciful Parisian series based in the 1920's and a masculine, slick "gangster" series based in the 1940's that I'm playing around with. I'm also part of the Royal Academy Summer Show this year.
17 What are the pros and cons of the art market?
I'm not informed enough about the art market to comment on it's pros and cons.
18 Which pieces would you like to be remembered for?
All of them. I try never to make a piece that I'm not proud of. Although I do have a few favourites!
19 Any routine in making your artwork? If so what?
In fact, I've recently got into listening to audiobooks. I used to listen to the radio but I found it massively reptitive. Now I'm completely absorbed into a gritty crime story and before I know it I've completed a days work! It also allows me to work more instincively.
20 What has been the biggest break in your career?
Probably BraveArt, which was a Scottish Graduate show that took place at the Truman Brewery. It was from there that I was invited to ARTfutures. I also came into contact with Alan Cristea there, who I'm now represented by.
21 Who has been the biggest influence on you?
I can't really pinpoint one person or media. It's such a mixed bag!
22 How many artworks have you given away and to whom?
My family have a few of my earlier works, however I haven't given away a piece of work in the last 6 years!
Categories
Tags