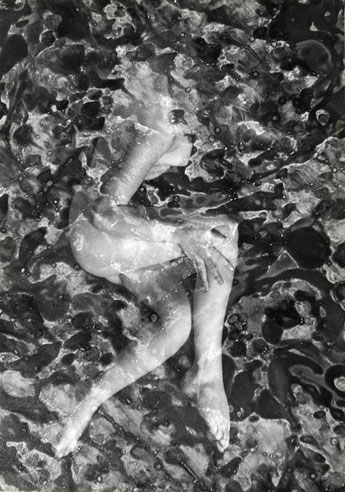 Emil Cadoo © SEXUS 35.56 x 24.77 cm, 1963 vintage gelatin silver print at White Space Gallery from March 27th.
A band of Russian women are making inroads into the capital's art scene this spring. The striking St Petersburg-born collector Nonna Materkova is evangelical, for instance, about the launch of her Calvert 22 venture in London's East End in May; it will be the UK's first non-profit foundation dedicated to contemporary art from Russia and eastern Europe.
"We open with a group show of works by five leading Russian contemporary artists including Haim Sokol and Leonid Tishkov (May 13-June 14)," says Materkova, who has run her own London-based corporate finance consultancy for the past 10 years. With plans for a Russian art library in the basement of the swanky new 5,500 sq ft Shoreditch gallery and an ambitious ongoing exhibition programme , Calvert 22 aims to introduce established and emerging artists from the former Soviet Union to UK audiences, says the gallery's artistic director Jane Neal.
Female Russian art entrepreneurs in the UK have spotted the potential of the Anglo-Russian art exchange. The London-based contemporary art fund, ARTiculate, founded in 2007 by a trio of women – marketing consultant Lyuba Galkina, curator Nana Zhvitiashvili and ex-dealer Lada Komarova – recently secured sponsorship from the German arm of the Russian natural gas giant Gazprom for a show of works by the conceptual artists Igor Makarevich and Elena Elagina held in London and Berlin.
Meanwhile, London dealer Anya Stonelake, who has introduced work by leading Russian artists such as Oleg Kulik and Antanas Sutkus to the UK capital at her West End gallery, White Space, was called on to give advice to a wide range of Moscow-based collectors at Frieze Art Fair in Regent's Park last autumn.
This flood of Russian buyers has prompted the Paris-based Volgograd-born dealer Ilona Orel to open a new gallery next month around the corner from Phillips de Pury "We'll show mainly Russian artists in London alongside international practitioners such as Ivan Messac of France and Stephen Shanabrook of the US," said Orel, whose inaugural exhibition "Grid and Greed" (April 22-June 12) features Andrei Moldokin, the ex-Soviet soldier and Boui-born artist who will represent Russia at the Venice Biennale in June.
Via (FT.COM)
Categories
Tags