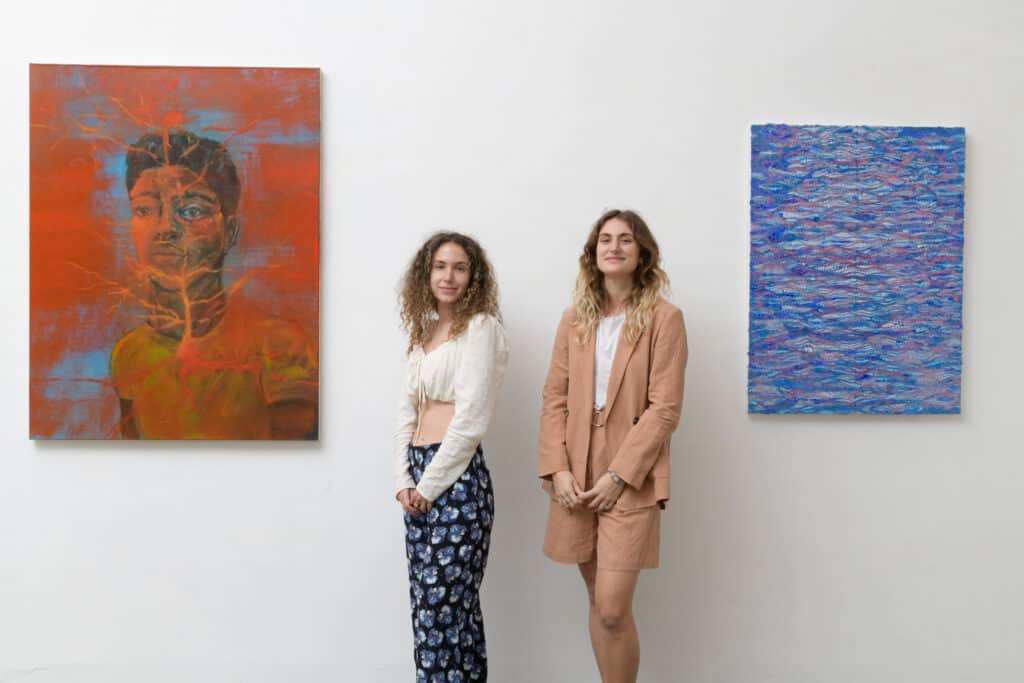 You're probably expecting the world-renowned Los Angeles Frieze art fair to be where you'll discover this year's hot artistic ticket. But those who don't venture outside the Frieze bubble risk missing out on some of the freshest, most exciting art in the city. 
Everyone knows that the weeks when the art world descends on London, Los Angeles and New York for Frieze are when new artists are applauded and established ones celebrated. For canny young curators, it's the perfect time to make their mark. What better way to do that than to open a show when all eyes are on LA?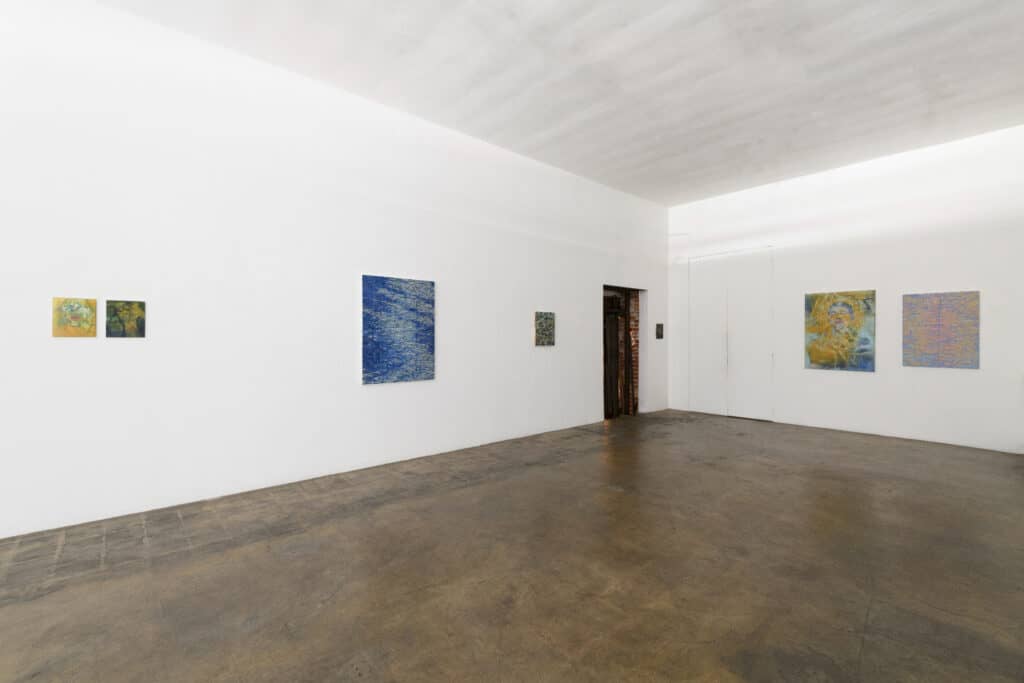 India Irving and Valeria Gemelli wanted to use the positive artistic energy that Frieze brings to Los Angeles to launch their own creative project. The pair have certainly achieved their goals, with their successful show "On Reflections" opening at the Ernie Wolfe Gallery last week. Irving, a 34-year-old LA native, is an art advisor and manages her family's restaurant The Ivy, while Gemelli, 27, lives between Milan and London working as an independent curator and art consultant for galleries and institutions. The pair met in London while working at Blain|Southern, where they first began to inspire each other to support the work of emerging artists. 
'If your work is at Frieze, you've basically already made it. As young curators, we want to give both ourselves and emerging artists a platform to showcase our work.'

says Gemelli.
'Big art fairs can be fantastic, but artists can get lost. We want people to see that there's so much yet to be discovered, and this is the perfect way to support emerging artists we believe in and share their practice with the world.'

Irving concurs.
"On Reflections" is both Imogen Allen's and Merrick Adams's first LA exhibition, as well as Allen's US debut. Featuring pastels, oils and mixed media artworks, it thoughtfully considers the ever-changing ways that humans interact with nature. With Irving and Gemelli's already international curatorial style and with Allen's practice based in London and Adams's in LA, the show takes an accessible, worldly approach to the production of contemporary art that is hard to find elsewhere. The combination of still-under-the-radar contemporary artists curated with youthful energy in a long-established gallery is a smart one, and both curators rightfully feel that the risk has paid off handsomely. 
Irving and Gemelli threw off traditional shackles when preparing their show, taking a badly-needed new approach to the practice of curation. 'We wanted the artists to have a prominent role right from the start,' says Irving. 'All aspects of this exhibition were curated in collaboration with our artists – it's important to us that their voices are heard, as well as our own.'
'Our aim is re-envision the traditional gallery model with a new way of curating,' agrees Gemelli.
For Merrick Adams, showing his art in Los Angeles was a dream come true.
'Having the opportunity, especially during Frieze week, to get my work in front of so many incredible people has been one of the most fulfilling experiences of my life. I grew up in Virginia and always wanted to show my work in Los Angeles. My paintings are very layered and tactile, so in-person viewing has always felt essential to me.'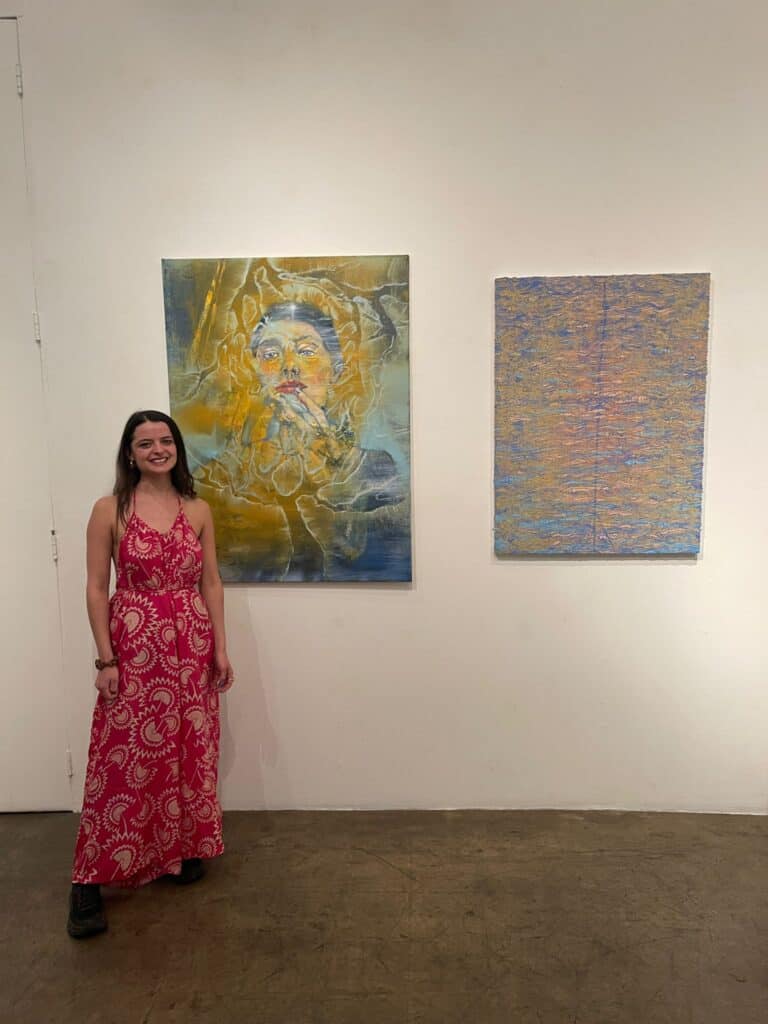 Imogen Allen was also thrilled to be exhibiting in the city.
'To be showing in LA as part of "On Reflections" has been the most incredible chance for me – having my first international show and US debut is such a beautifully momentous thing. I am so grateful for the pairing of mine and Merrick's work for this show. We were both joking that it looks like we have shared a studio for years, the conversation between us is so clear.'
On Reflections: Imogen Allen & Merrick Adams curated by Valeria Gemelli and India Irving is on view at Ernie Wolfe Gallery until March 12, 2022.
For further details and appointments contact info@erniewolfegallery.com.
Categories
Tags