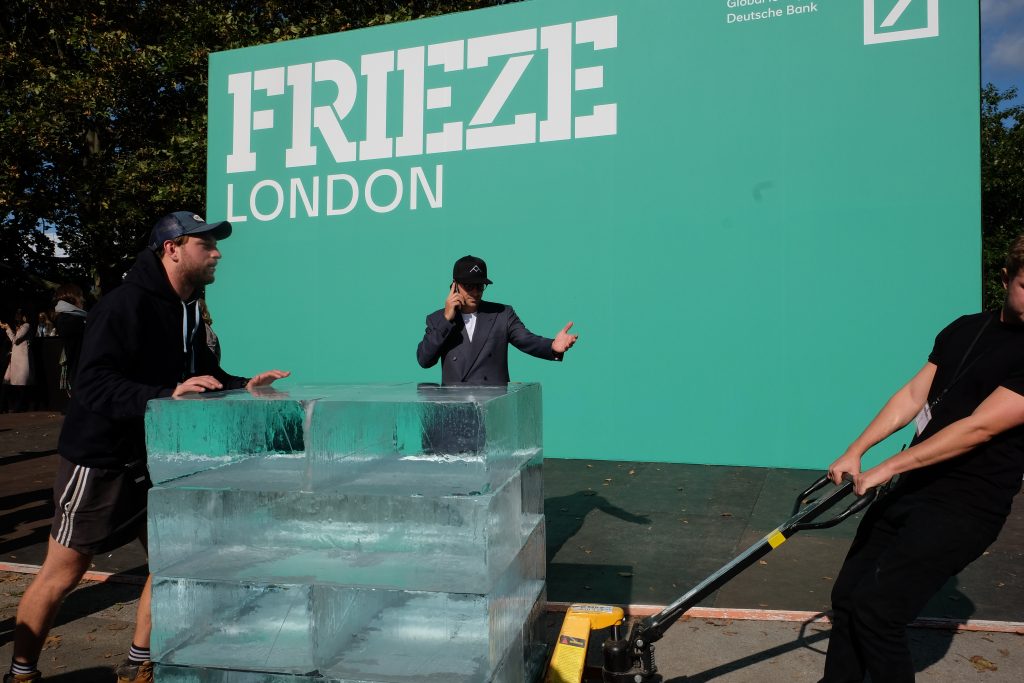 photo: Giorgiana Theiler www.giorgianatheiler.com
The 2019 edition of Frieze London opened yesterday with its VIP Preview, attracting major collectors from around the world looking to purchase valuable works by internationally recognized artists, exhibited by some of the best dealers in the art world. As much a place for the sale and purchase of Contemporary art, as it is for social and political discourse, the fair provided the perfect backdrop for an unexpected intervention by Contemporary artist, Massimo Agostinelli, whose environmentally-charged work, FREEZE, confronted fairgoers with two blocks of ice deposited in separate locations in and around Frieze London. The thought-provoking stunt is meant to draw awareness on glacial impermanence, the climate crisis and our own fragile state of existence.
Recent reports show that some glaciers are melting 100 times faster than expected, with ocean levels rising an estimated 19 inches by 2050, turning portions of coastal cities to underwater ruins. Reminiscent of the environmentally-focused installations of Olafur Eliasson and the organic and fleeting sculptures of Andy Goldsworthy, FREEZE is Agostinelli's most provocative and daring project yet.
After weeks of planning, the artist cunningly deposited two ice sculptures: the first, a massive block measuring 1.2m x 1.2m, placed in front of the fair in Regent's Park and the second, a chiselled "XX", that was discovered among the exhibiting galleries. While both ice works in FREEZE urgently point to the looming climate crisis and confronts fairgoers about the enormous actions needed to make a change, Agostinelli's "XX" work is reflective of the 2.0 degree tipping point before we cannot undo what has been done to our climate. Known for his surprise art fair disruptions, Agostinelli's absurdist and pointed works have become a ritual at art fairs all over the world. This is Agostinelli's fourth consecutive art fair intervention, beginning in 2017 with The Bin, a trash bin on which he wrote the words "la plus belle," French for "the most beautiful," a move, no doubt, Marcel Duchamp would approve of on the 100th anniversary of his iconic readymade, The Fountain. Since then, Agostinelli has used the art of intervention to inject the classically formal art market with spontaneity, wry humour and astute observation.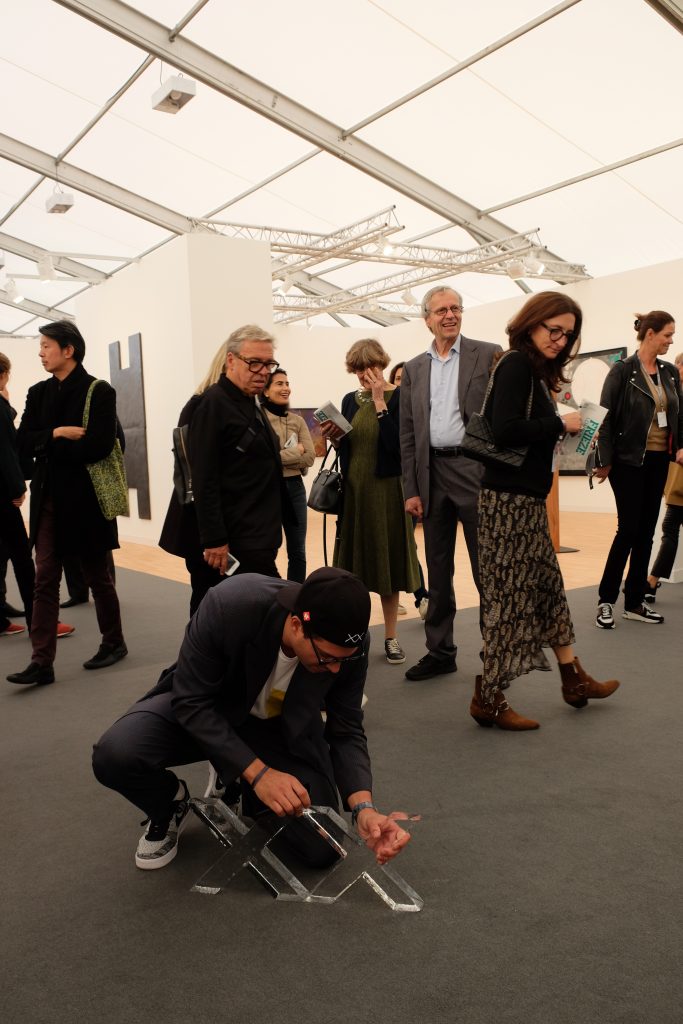 photo: Giorgiana Theiler www.giorgianatheiler.com
Frieze London was purposefully chosen by Agostinelli for the site of FREEZE because of its status as a hub of high net-worth and influential individuals, many of whom hold the financial and political power to make a major difference. At the time of FREEZE's installation, it is reported that we are less than 12 years away from being able to reverse some of the effects of climate change. FREEZE's ephemeral pieces aim to disrupt a weekend of lavish art sales, with a visual reminder about the fragility of our environment and its dire need for change.
Agostinelli urges,
"I want each person who witnesses 'FREEZE' to stop and take a moment to realise that once the ice is gone, it's not coming back. Remember this moment, don't ever forget it. If we fail to recognise that the next generation are inheriting what's left behind, all is lost. We have the power but must use it correctly and the time to do so is right now."
About The Artist
Massimo Agostinelli is an Italian-American, London-born artist from New York. Agostinelli graduated from Webster University and specializes in many mediums including drawing, painting and printmaking. He is known for incorporating found objects and innovative technologies into his performance art installations. Agostinelli now lives and works in Switzerland.
Categories
Tags