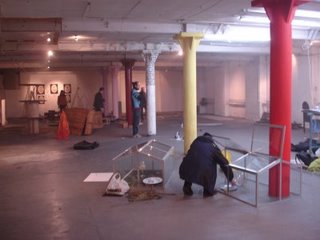 IMPROMPTU 5-22 March 2009 Fri-Sun 12-5pm
Private View: Thursday 5th March 6-10pm 5-10 March – East Festival | Artists in conversation – Saturday
7th March, 1.30pm.
Artists:
Luke Brennan,Simon Head,Rob Kesseler,David Murphy,Jonas Ranson,Christina Mitrentse
Schwartz Gallery introduces IMPROMPTU the first exhibition in a
series of projects initiated by Schwartz Projects, a new exhibitions strategy which seeks out dynamic and more flexible models of exhibition-making in line with current debates about curatorial practice.
The instigating premise for IMPROMPTU stems from acritical reaction to the first five exhibitions at Schwartz Gallerywhich followed more rigid exhibition-making practices. The 'group show' model has been re-worked by the absence of any concrete theme for IMPROMPTU, a month-long pre-exhibition period in the gallery made available to the artists to use as a studio and by the fact that the artists have largely never before met.
These strategies contest a multitude of ingrained practices surrounding the organization and staging of a group show such as the relationship between the artists, the manifestation of their practice which will in this case unfold in real time in the space, the role of the project's curator and ultimately the role of the gallery as a 'holder' of and 'presentation vehicle' for contemporary art.
Notions of organisation in society, institutional control and the production and consumption of 'culture' are thus brought to the fore and re-evaluated. The gallery becomes a 'lived environment' in which artists and curator improvise their own respective practices in response to the evolving group dynamic. The practice
of separating ideas and activities into distinct categories is tested in a taxonomical blurring that draws many accepted communication models into question.
A summary of the artists' studio-time activity can be found at http://schwartzprojects.blogspot.com/The following information is meant as a guide to each artist's respective practice and does not necessarily constitute a
statement of intent for the work developed as part of IMPROMPTU:
Categories
Tags