Tabish Khan the @LondonArtCritic picks his favourite exhibitions to see right now in Mayfair. Each one comes with a concise review to help you decide whether it's for you. Those looking for more shows should check out last week's top 5 where all are but one exhibition remains open.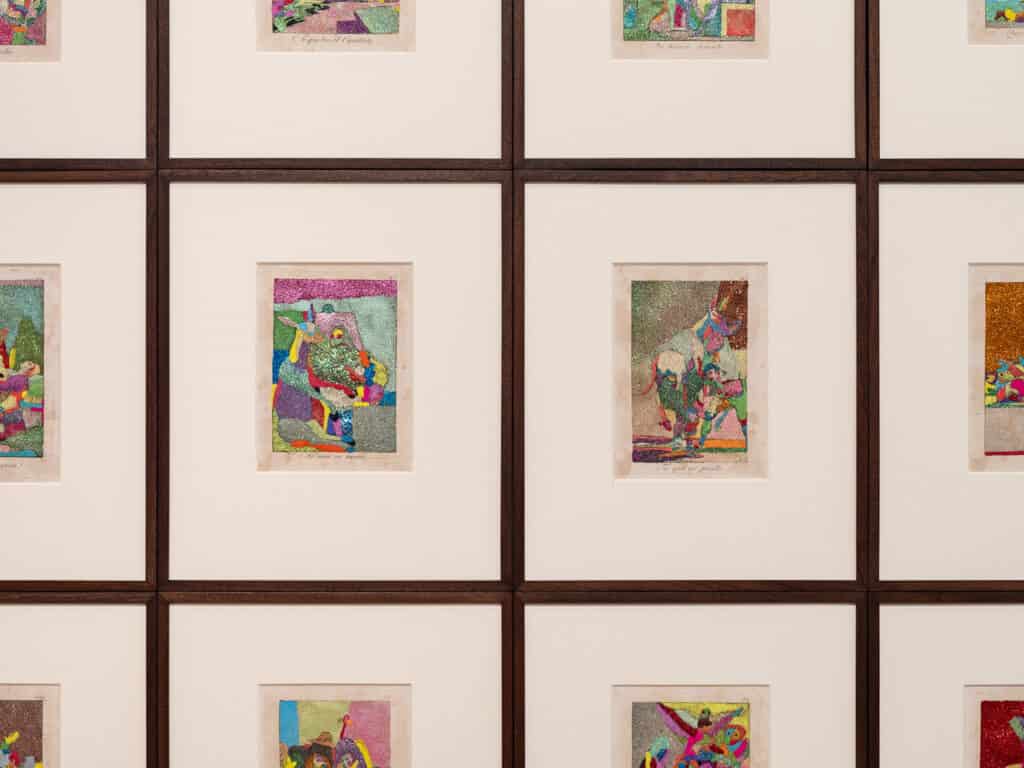 Bad Manners @ Luxembourg & Co
Why make an artwork from scratch when you take another artist's work and modify it? That's the theme in this show where the Chapman Brothers took a series of Goya's disasters of war etchings and gave them a colourful makeover, or a Martin Kippenberger where he bought a Gerhard Richter and turned it into a table, which reduced its value. Working in collaboration with Jake Chapman it's an embodiment of Picasso's quote that every act of creation is first of all an act of destruction. Until 15 May.
Barbara Walker: Vanishing Point @ Cristea Roberts
If there is a black figure in the Old Master paintings in Western art they are most often a servant or slave, and placed in the corner. Barbara Walker takes these marginalised figures and centres her work on these figures by literally whitewashing the white figures out by embossing them so they are visible if you look closely but less so than the adjacent black figures. It's a powerful revisiting of art history. Until 23 April.
Sarah Meyohas @ Nahmad Projects
Pop on an augmented reality headset and watch as birds fly around and land on a piano in front of you. It's an impressive immersive work that's at the centre of the exhibition of an artist who also has her own cryptocurrency 'Bitchcoin' and photographic works that play with our perceptions by using mirrors to create an infinity effect. Until 29 April.
Francis Bacon: The First Pope @ Gagosian, Davies Street
It may seem excessive to dedicate an entire gallery space to one work but that's easily forgiven for this stunning Francis Bacon painting that sucks you right in when housed in this darkened space. This is the first of his pope paintings that would go on to form a huge part of his work and a rare chance to see a work that's been housed in a private collection until now. Until 23 April.
Leonardo Drew @ Goodman Gallery
Using wood to create abstract sculptures that look like charred cities to me, I've always been a fan of Leonardo Drew's work. He has taken it a step further at Goodman Gallery with a wall of sculptures made from wood, paper and tree trunks to make a diverse collection that contains blocks of colour or thin slices of wood jutting out, where we can envision our own cities within the abstract pieces. Until 23 April.
Bad Manners image ©Jake and Dinos Chapman. All Rights Reserved, DACS 2022. Photo by Damian Griffiths. Bacon image © The Estate of Francis Bacon. All rights reserved. DACS 2022.
Categories
Tags