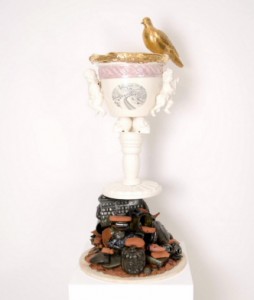 16 October – 15 November Private View: 15 October 18.00
FERREIRA PROJECTS are pleased to announce The Rotten Fruits of Labour – an exhibition of new sculptural work by British artist Ryan McClelland.
McClelland opts for what he describes as a Zombified means of artistic production to create his intricate ceramic works, subverting the language of decorative arts into his own ridiculous Frankenstein-like creations.

McClelland's works are wry comments on our notions of cultural value. A myriad of stylistic and ideological contradictions, his intent is to deride the notion of the intellectual fine arts being the exclusive purveyors of good taste by employing a punky nihilism and conscious primitive approach alongside a more polished element in his work, mischievously setting up contradictions and tensions that engage the viewer.
He presents totemic monuments to the modern 'use once and destroy' culture in which we live. On first inspection the viewer is seduced by magpie-esque lashings of glaze and lustre of these unique bastardised re-workings of opulent ceramics. Only on closer inspection is the viewer poked in the eye by the detritus used to construct his kitchy re-workings of baroque objects. Many of the works grow like a tree on a landfill site, from scatological slagheaps and cracked ornaments sitting next to household waste to create complex foundations of works.
Below the sheen there is something rotten and sinister that permeates throughout the gallery. McClelland's pragmatic practice uses a Midas touch to elevate the discarded to a truly decadent level of art. In turn operating as both an environmental cry to arms and a wider questioning of our cultural values.
Categories
Tags