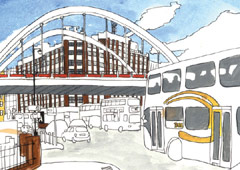 17.01.09 – 14.02.09 Private View: 16.01.09 18.00
Kiely is known for his output of iconic prints and drawings of familiar London cultural symbols, which frequently contain hidden visual puns and elements. In this exhibition Kiely will be creating a series of paintings of familiar localities in and around the Shoreditch and City precinct using predominantly watercolours. This departure from print and drawing offers Kiely the opportunity to further develop and master a new medium.
Kiely will also produce an interactive cityscape wall drawing with an emphasis on visual play. The large-scale drawing will be based on the landscape of the Shoreditch area to create a dialogue with the local community. It will incorporate hidden details, inviting the viewer to interpret and reinterpret the drawing as they locate them.
Kiely states: "London is in a constant state of flux. Since Roman times the city has been built and rebuilt time and time again. These days the buzzword is redevelopment and I find it fascinating what happens to forgotten parts of London when people put their minds together. What I like about redevelopment is the concern for preserving what is there while adding something completely new that changes the space forever".
I intend to capture this redevelopment in its tracks, before the scenes become as well known as the Kings Road, Carnaby Street and Portobello Road. I want to catch these places with their pants half down."
Frank Kiely is an Irish born Artist who lives and works in London. After graduating from the Royal College of Art in 2002, he has exhibited widely in Britain, Europe and the USA.
Kiely will also be offering an Artist's Talk about his work and a workshop aimed at school students regarding his practice.
FERREIRA PROJECTS
Categories
Tags