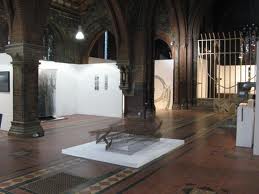 Exhibition dates: Saturday 6th till Sunday 14th July Exhibition times: Daily 1-6pm or by appointment
Opening reception: Friday 5th July 6-9pm
The Florence Trust Summer Exhibition opens this week on Friday. Its a chance to see great work from some up and coming artists.
Artists: Jo Ball, Alex Carmichael, Ryan McClelland, Nadege Meriau, Christian Newby, Lisa Slominski, Frederick Sorrell, Marianne Walker, Alexandra Wilk .
About The Florence Trust
Housed in an inspiring Grade 1 listed Victorian church the trust provides the opportunity to work for one year with a small group of carefully selected artists, pushing the boundaries of their work and exploring new ideas.
The Trust offers an exceptional experience well beyond the normal provision of studio space with access to our networks, individual career support, and extra opportunities. For many artists, their period with us has been a turning point in their careers.
We also have a gallery space that is open to the public for exhibitions, events and by appointment.
The Florence Trust is a registered educational charity and is grateful for donations.
Categories
Tags