A major new site-specific work by Chris Ofili was unveiled at Tate Britain. Spanning three walls, Requiem pays tribute to fellow artist Khadija Saye and remembers the tragedy of the Grenfell Tower fire. It offers a poetic reflection on loss, spirituality and transformation.
Chris Ofili met Khadija Saye in May 2017 when they were both exhibiting work in Venice. One month later, Saye died in the Grenfell Tower fire. Memories of their meeting had a profound impact on Ofili, which helped him find a path to create the mural Requiem. The finished work opens to the public today following private viewings for Saye's family and the Grenfell community earlier this month.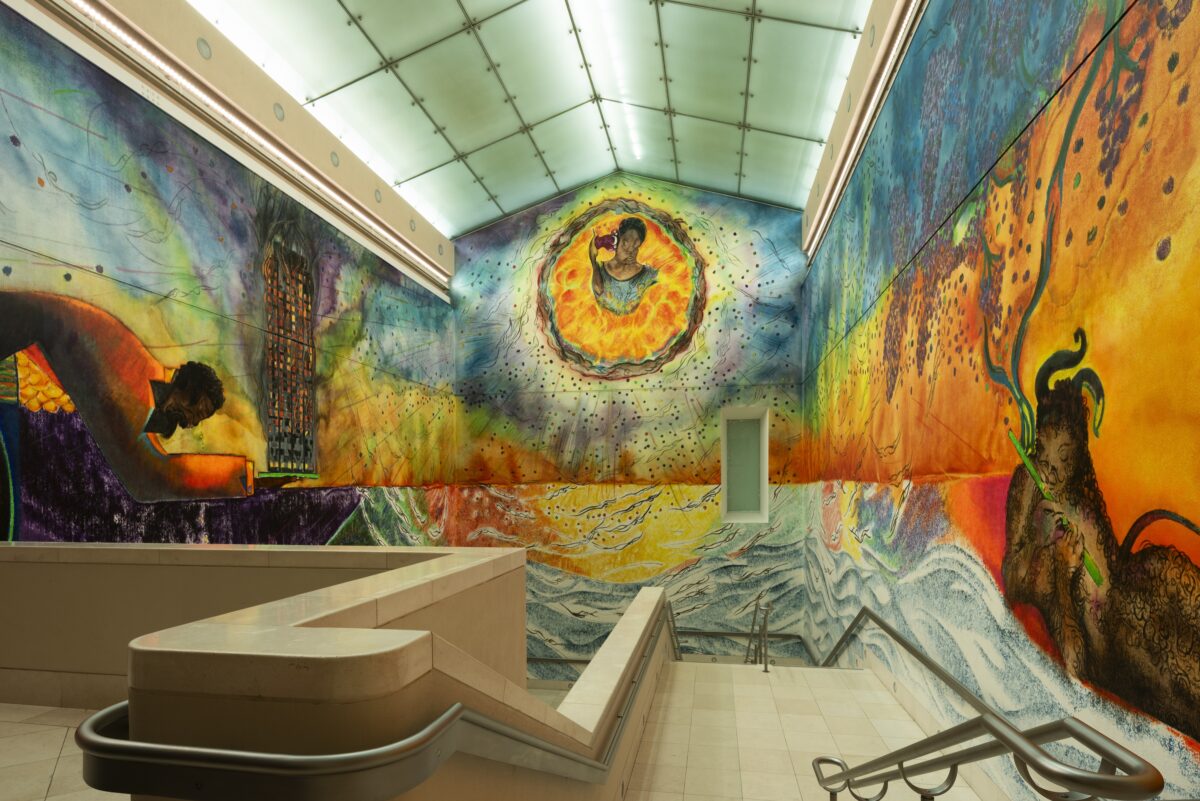 Requiem is a journey through an imagined landscape of giant skies with vast horizons and flowing water, unfolding in three chapters. The left-hand wall depicts a bowing figure representing a prophet or witness. He holds the burning tower as though conducting a ceremony of loss and his tears fall into an ocean of despair. Khadija Saye is shown at the centre of an energy force high up on the middle wall. Her pose is drawn from her work Andichurai 2017, a screenprint of which is also on display at Tate Britain. The Gambian incense pot she holds symbolises the possibility of transformation through faith. To the right is a paradise-like landscape of hope and peace, where two mythical beings make music under the shade of a tree. The entire composition is united by water, representing collective grief as well as connecting Venice, London and Ofili's home in Trinidad.
When making this work, the artist recalled the feelings he had when he made No Woman, No Cry in 1998 as a tribute to Stephen Lawrence and his mother Doreen. For Ofili, 'a statement of sadness was manifested in No Woman, No Cry. That feeling of injustice has returned. I wanted to make a work in tribute to Khadija Saye. Remembering the Grenfell Tower fire, I hope that the mural will continue to speak across time to our collective sadness.'
Chris Ofili's Requiem and No Woman, No Cry and a screenprint of Khadija Saye's Andichurai are on free display at Tate Britain from today.
Requiem is located above Tate Britain's north staircase and will be in place for 10 years. It follows on from the previous commission for this space, David Tremlett's Drawing for Free Thinking, which was in place from September 2011 to February 2023.
Tate Britain, Millbank, London SW1P 4RG  tate.org.uk/visit/tate-britain
About
Chris Ofili (b.1968) grew up in Manchester and currently lives and works in Trinidad. He studied at the Tameside College of Technology, graduated from the Chelsea School of Art and Design in 1991 and the Royal College of Art in 1993. He is one of the most acclaimed British painters of his generation, having built an international reputation for the visually, intellectually and spiritually rich nature of his work. In 1998 he became the youngest artist to win the Turner Prize and he went on to represent Britain at the 50th Venice Biennale in 2003.
Khadija Saye (1992–2017) was an artist and activist raised in London, living and working at her family home in Grenfell Tower. Growing up in a dual faith household, Saye's relationship with spirituality and her Gambian heritage profoundly shaped her artistic practice. She was chosen to exhibit her work in the Diaspora Pavilion at the Venice Biennale in 2017, for which she created a series of photographic tintype self-portraits, Dwelling: in this space we breathe, of which the work Andichurai is part. One of the tintype works is now in Tate's collection. Screenprints of the series are currently on display at Tate Modern in the exhibition A World in Common.
IntoUniversity is a charity which runs local learning centres in disadvantaged neighbourhoods supporting young people to realise their ambitions, develop vital skills and achieve their academic potential. Khadija Saye received support and encouragement there for over ten years. Khadija Saye Arts at IntoUniversity was founded in 2019 by Nicola Green and IntoUniversity. It aims to address the lack of diversity in the UK Arts and Cultural Sector, providing opportunities for young people to learn about a wide range of creative studies and careers. MORE bit.ly/khadija-saye-arts
Categories
Tags