In the Black Fantastic is a magical, fantastical exhibition featuring 11 contemporary artists from the African diaspora; Nick Cave, Sedrick Chisom, Ellen Gallagher, Hew Locke, Wangechi Mutu, Rashaad Newsome, Chris Ofili, Tabita Rezaire, Cauleen Smith, Lina Iris Viktor and Kara Walker.
The exhibition is curated by Ekow Eshun, author and former director of the Institute of Contemporary Arts. Eshun has conceived a unique and engaging journey through Afrofuturism, African folklore and mythology, infused with a Sci-Fi edginess. Sculpture, painting and photography are juxtaposed with video installations to create an immersive experience. Some of the featured artists, such as Wangechi Mutu, create fantastical parallel Universes or reimagine mythology and folklore, while others reflect on the dark legacy of colonialism and more contemporary issues such as the murder of George Floyd and the injustice of racism.
Suspended from the ceiling in the first room of the exhibition are huge black chains which, upon closer inspection, are made from plaster casts of arms, inter-locked and forming a sort of human ladder. The sculpture by American-artist Nick Cave is titled 'Chain Reaction' and can be traced back to the chain gangs of the enslaved people, and the horrific legacy of slavery.
Nick Cave's surreal 'Soundsuit' sculptures greet visitors to the exhibition, unmissable in their vibrant colours and alien-human hybrid forms. Upon reading the wall text it becomes apparent that the figures are a reaction to police brutality in the USA in 1991, when police attacked Rodney King in L.A. Cave created the 'Soundsuits' as a form of sculptural bodily disguise, which conceals gender or race, and they are decorated with a cornucopia of Showgirl sequins, Carnivalesque headdresses and African fabrics.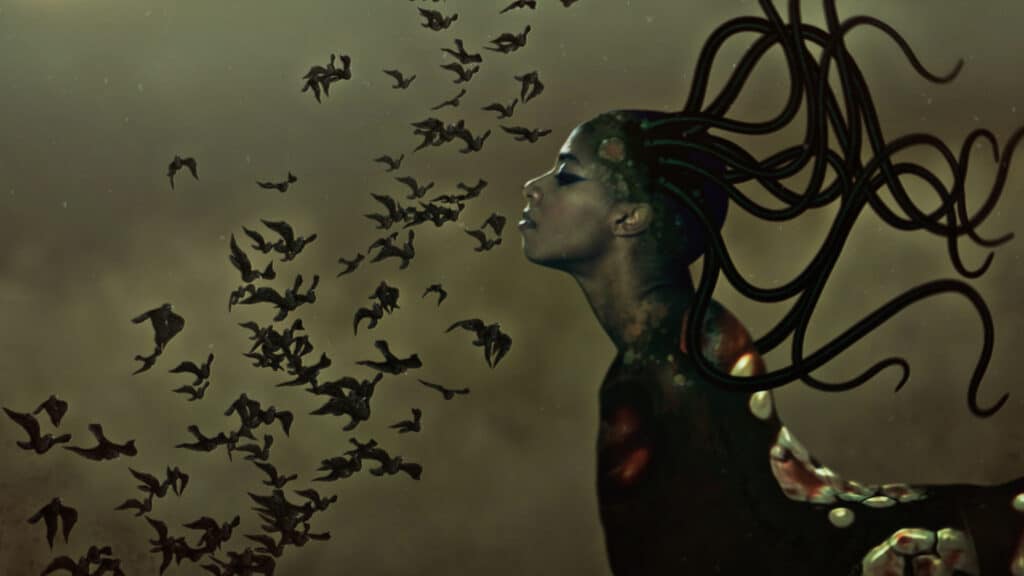 I visited the Hayward Gallery on a scorching hot day during the July heatwave in London, where the temperature was hotter than Morocco or Dubai, with climate anxiety at the back of my mind after reading the news coverage of forest fires in Europe where the mercury was hitting 40 degrees. So, it felt really relevant to watch Wangechi Mutu's apocalyptic film 'The End of eating Everything' (2013), featuring a serpent-headed woman (musician Santogold) swimming through an underwater scene of sea creatures and detritus, as a metaphor for the grotesquery of humankind's overconsumption. Santogold represents earth at the end of time. Mutu conceived the 8-minute animated video as a cinematic version of her collages and sculptures, which are also exhibited in the exhibition.
Following on from Wangechi Mutu's mesmerising installation is a red-walled room dedicated to the self-portraits of Liberian-British artist Lina Iris Viktor, which combine photography, performance and painting overlaid with gold leaf paint and jewels. In one powerful image from her series 'A Haven. A Hell. A Dream Deferred' (2018), Viktor poses as the Libyan Sibyl of Greek Mythology who prophesised the slave trade. Viktor's most striking image of a Goddess-like figure with a golden sun behind her head, is blown up and pasted on the wall of the Southbank Centre, as captivating as a Sun God.
A room is dedicated to the Guyana-born artist Hew Locke, whose magnificent sculptural installation 'The Procession' I recently saw at Tate Britain (it's there until 22 January 2023). At the Hayward Gallery, Locke is presenting a group of figures mounted on horses, which are at once menacing and majestic, a mixture between the Four Horsemen of the Apocalypse and a Carnival procession. Locke's artistic practice refers to the violence and control of colonialism, which was very much evident in the colonial architecture of Guyana during his childhood.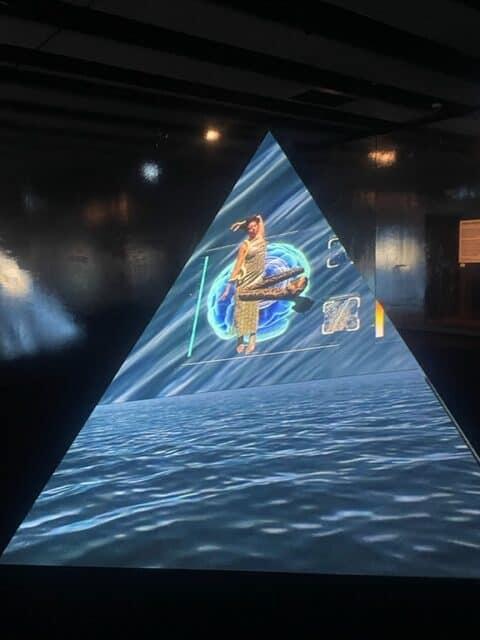 I was mesmerised by Tabita Rezaire's projection mapping installation 'Ultra Wet – Recapitulation' (2017), which is projected onto a pyramid structure housed within a silver-walled room. The video has a voiceover talking about the healing powers of individuals and the energy of women. Mystical powers of the pyramid are explored, and real-life footage is interspersed with Sci-Fi visuals and a beautiful Goddess-like black woman dancing with a serpent.
American multi-media artist Rashaad Newsome explores black and queer sexuality with 'Build or Destroy', video art made in the style of an MTV music video, featuring a trans CGI figure voguing NYC-style, with a burning urban scape as a backdrop. The gallery dedicated to Newsome's work also features photocollage portraits and a plinth covered in a velvety patterned material, upon which a black figure wearing red gold stilettoes lies, extending their leg seductively in the air.
The magic continues on the 2nd floor of the exhibition, where Chris Ofili and Ellen Gallagher have adjacent gallery spaces dedicated to paintings that reimagine or implode classical mythology.
Chris Ofili revisits the Greek myth of Odysseus and Calypso in sculptural and painting form, transporting the protagonists to his home country of Trinidad, and depicting his Odysseus as a black man in an ecstatic embrace with Calypso. Ellen Gallagher's dreamy paintings of silver figures depicted drifting underwater mask a dark origin story, for they are rooted in the Drexciya mythology, which told of the unborn children of slaves being thrown into the Atlantic.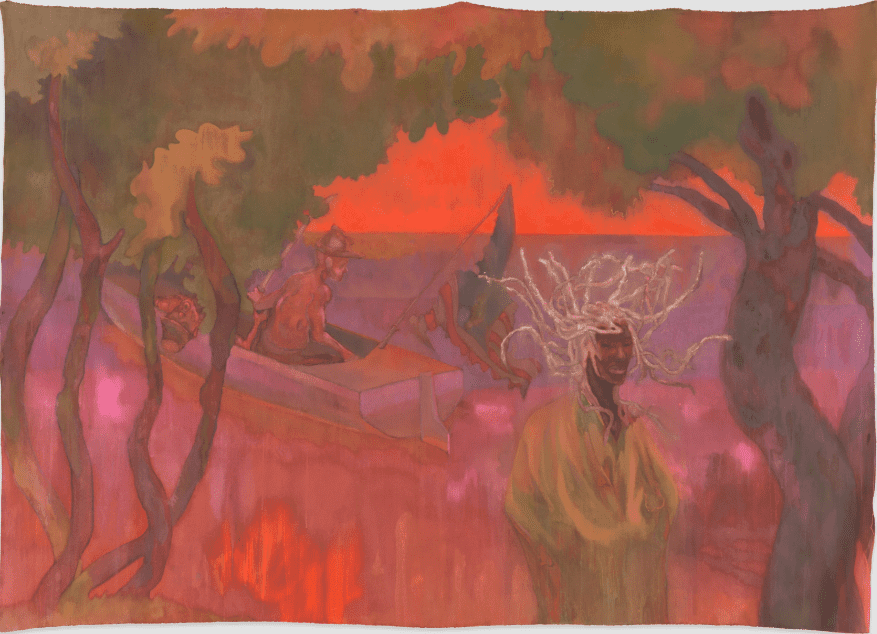 Philadelphia-born artist Sedrick Chisom portrays a futuristic mythology in his paintings, notably 'Medusa Wandered the Wetlands of the Capital Citadel Undisturbed by Two Confederate Drifters Preoccupied Poisonous Vapers That Stirred in the Night Air', a Sci-Fi title for a dystopian vision of a future world where all people of colour have left the earth, which is a scorched landscape destroyed by global warming. The palette of flaming reds is a metaphor for the world heating up irreversibly.
In her book 'What white people can do next: from allyship to coalition', Historian and Author Emma Dabiri explains that "white people" are not the problem in the fight for racial justice, but the invisible cloak of "whiteness" that promotes a "deadly temptation to feel a biological sense of superiority."
She asks: "How do we hold people accountable for wrongdoing and yet at the same time remain in touch with their humanity enough to believe in their capacity to be transformed?" We should all ask ourselves that question, and a visit to 'In the Black Fantastic' is vital if we want to experience a different worldview from the biased, blinkered images of art history that are often rooted in colonialism and racism and learn from our mistakes to make a better future for humanity.
On 30th and 31st July, the Hayward gallery are hosting Ellah P Wakatama x Space Afrika x Alistair MacKinnon in the Purcell Room at Queen Elizabeth Hall, a cross-arts event forming part of the In the Black Fantastic programme. The event will include live readings of texts on African folklore and Afrofuturism by Chigozie Obioma, Chinua Achebe and Afia Atakora, selected by Editor and literary critic Ellah Wakatama. The event will also feature musical duo Space Afrika, presenting a newly commissioned score. The event will take place against a backdrop of digital landscapes created by visual artist Alistair MacKinnon.
For more details go to: southbankcentre.co.uk/ellah-p-wakatama-x-space-afrika-x-alistair-mackinnon
Categories
Tags