Tabish Khan the @LondonArtCritic has picked five exhibitions you can physically see in London. Each one comes with a concise review to help you decide whether it's for you. Exhibitions may require appointments to be booked ahead of visiting so please do check before visiting. For more exhibitions see last week's top 5 exhibitions to see in London in August and his top 7 artworks to see from outside:
Khadija Saye: In this space we breathe @ 236 Westbourne Grove
Artist Khadija Saye tragically died in the Grenfell tower fire. Not far from that site her works are being displayed on the outside of a building so we can see what a talented photographer she was. Using herself as the subject of her work, there's a lovely intimacy to her photos and they're now visible for us all to see. Until 7 August.
THE END by Heather Phillipson @ Fourth Plinth, Trafalgar Square
The latest fourth plinth artwork is a giant dollop of whipped cream with a cherry on top. It's being feasted on by a giant fly and a drone seems to have lodged itself in it. The drone isn't dead as its rotors are still spinning and we can tap into a live feed and watch ourselves being monitored. It's all a bit bonkers and tricky to get to grip with what's its saying, but then so are the times we live in. Until Spring 2022.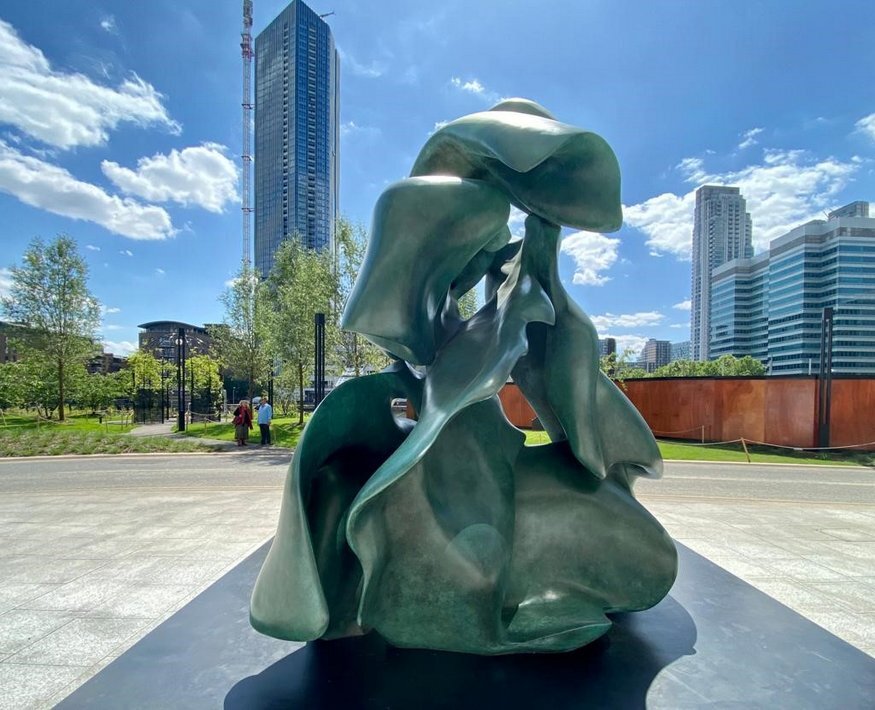 Helaine Blumenfeld: Looking Up @ Canary Wharf
It's like a sheet has been caught in the wind and then frozen in bronze or marble. These beautiful abstract sculptures by Helaine Blumenfeld are spread across the Canary Wharf estate and they are a beautiful addition to the area. With smaller versions of the works located within 1 Canada Square. Outdoor element until 31 Jan 2021.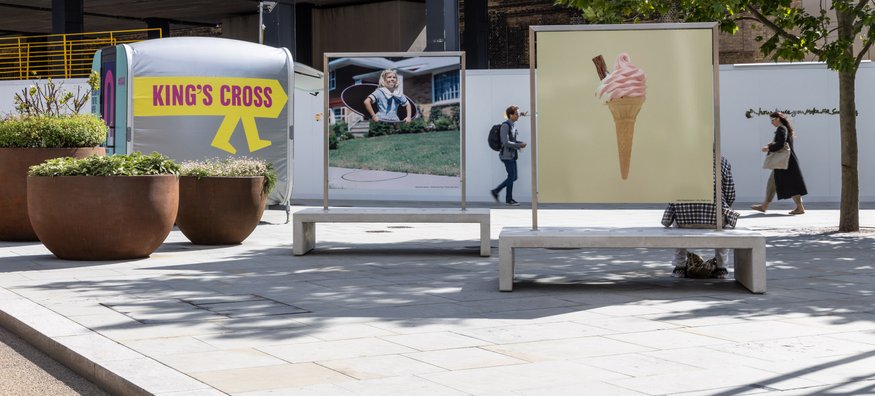 Games We Play @ King's Cross, organised by The Photographers' Gallery
King's Cross just got a lot more playful with these artworks placed across benches outside the station, from summery vibes of Luke Stephenson's ice cream that we're all craving to the surreal photos by Weronicka Gesicka where people have literally lost their heads. Until 1 October. 
Sophie Ryder: Crawling @ Berkeley Square
If you go down to Berkeley Square today you're in for a big surprise. A giant human hare hybrid crawling along on all fours by Sophie Ryder. Where is it going and is it playful or creepy? Decide for yourself with this larger than life sculpture. Until 4 October.
Khadija Saye photo by David M. Benett/Dave Benett/Getty Images for Eiesha Bharti Pasricha. Fourth Plinth photo credit: David Parry/PA Wire. Games we play image credit: John Sturrock. Sophie Ryder image courtesy Hignell Gallery.
Categories
Tags