Tabish Khan the @LondonArtCritic has picked five exhibitions you can physically see in London. Each one comes with a concise review to help you decide whether it's for you. Exhibitions may require appointments to be booked ahead of visiting so please do check before visiting. For more exhibitions see last week's top 5 exhibitions to see this summer and his top 7 artworks to see from outside:
Inedible Harvest: Natural Selection @ San Mei Gallery
It's said that billions of pounds worth of fruit and vegetables go uneaten as they don't look good enough to go on supermarket shelves. This exhibition aims to lionize these misfits by creating casts out of these 'wonky' pieces of fruit and veg. It's the perfect message for the time given we're all trying to come back from lockdown to lead more sustainable lives. As an added bonus the works are very affordable and I snapped one up for a tenner. Until 10 August, free.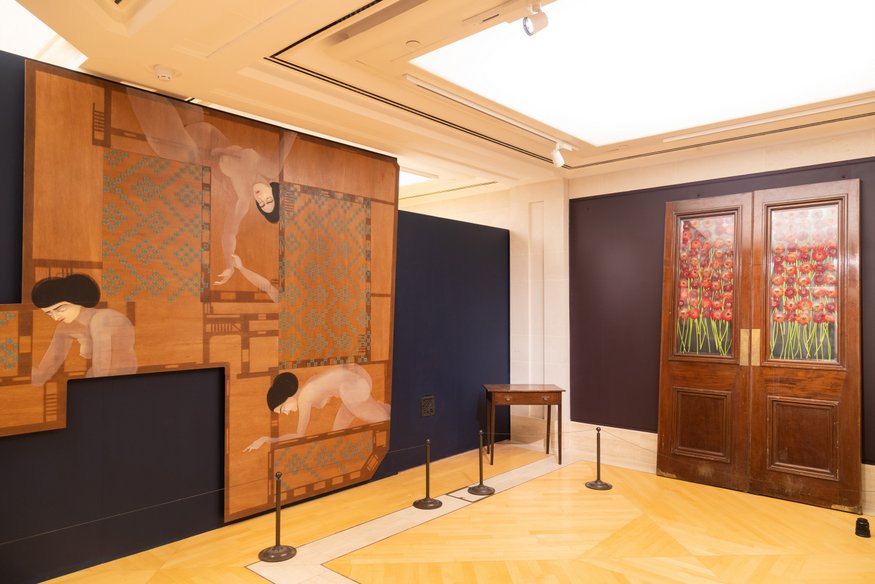 Enchanted Interior @ Guildhall Art Gallery
Look back in art history and the gilded cage is a recurring motif – the idea of a woman kept confined within an opulent environment, whether it be in harems or gazing longingly out of windows. This exhibition charts the evolution of this them from the Pre-Raphaelites to contemporary works, like those of Maisie Broadhead that show a woman's hands bound by the pearls around her neck. It's an exhibition of beautiful works highlighting an important theme that should be left in the past. Until 30 August, admission charge.
Mushrooms: Art, Design and the future of Fungi @ Somerset House
From the culinary to the trippy, we have many associations with mushroom. But how do artists and other creative take on these fungi? Carsten Holler has them spinning around in a fun kinetic installation while actor Luke Perry was buried in a suit that sprouts mushrooms. There are some fascinating uses for mushrooms and inventive artworks inspired by them, including a sprouting font that you can watch grow before your eyes on screen. Until 13 September, pay what you can and ticketed.
Portraying Pregnancy: From Holbein to Social Media @ The Foundling Museum
From the early days of classic portraiture where pregnancy was often hidden to Demi Moore and Serena Williams posing naked and pregnant on the cover of Vanity Fair, the depiction of pregnancy has changed significantly. This exhibition charts that evolution from an anatomical model of a pregnant mother with removable parts to the sculpture of pregnant Alison Lapper that adorned the fourth plinth. Until 23 August, admission charge.
Radical Figures: Painting in the New Millenium @ Whitechapel Gallery
Figurative painting is one of art's oldest genres and here we have ten contemporary artists ensuring it's still going strong. Strongest of all are the works of Daniel Richter where refugees appear caught in a glare of a supernatural light as they float on an ocean and Michael Armitage as a nude woman appears at the feet of several men — a victim of public shaming. Until 30 August, admission charge. 
All images copyright artists and gallery unless otherwise stated. Mushrooms image courtesy of the Armitt Trust. Foundling image copyright Tate. Radical figures image © Michael Armitage. Photo © White Cube.
Categories
Tags