A major exhibition celebrating the life and work of the legendary German-Australian photographer Helmut Newton (1920-2004) will open in A Coruña, Spain this autumn.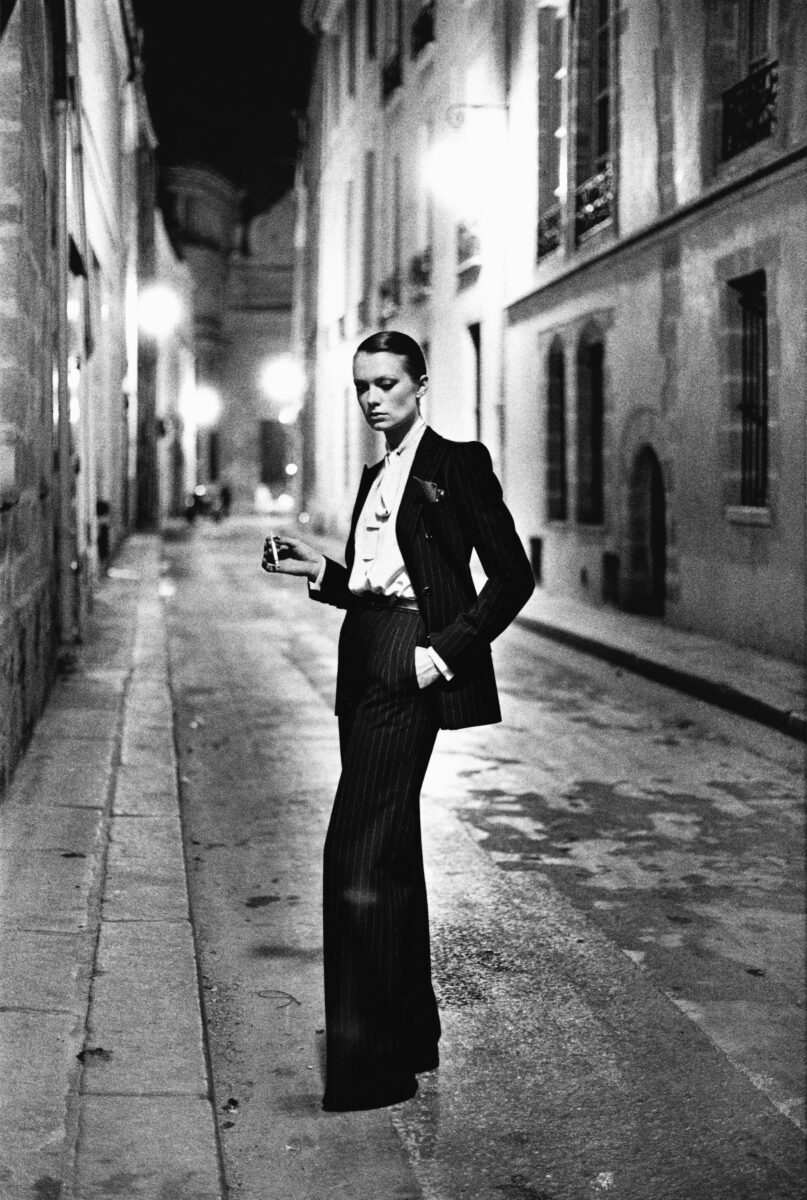 The exhibition is the third presented by the Marta Ortega Pérez (MOP) Foundation and follows successful exhibitions devoted to Peter Lindbergh and Steven Meisel. Helmut Newton – Fact & Fiction is created in close collaboration with the Helmut Newton Foundation and will be curated by Philippe Garner, Matthias Harder, and Tim Jefferies.
During the course of a career spanning six decades, Helmut Newton came to be regarded as one of the world's leading photographers. A prolific image maker and genuine visionary, he continues to prove a major influence on modern photography and visual art today.
The exhibition will tell the story of the man behind the work with a series of videos showing Newton at work and in conversation; personal images providing insights into his childhood, career and partnership with his wife June; and further documents, posters, cameras and equipment, props, intriguing artefacts, and memorabilia.
The curation of fashion and style images epitomises Newton's bold and unapologetic visual language, including his iconic 'Big Nudes' and memorable portraits of a range of exceptional personalities championing empowerment and self-expression – among them Andy Warhol, David Bowie, Margaret Thatcher, Charlotte Rampling, Elsa Perretti, Daryl Hannah, Jerry Hall, Naomi Campbell, Yves Saint Laurent and Karl Lagerfeld
As a counterpoint to his famous fashion and style imagery, Newton's examples of less well-known 'landscapes' will be showcased in the exhibition – the highly atmospheric images of places that resonated for him, from Paris to Los Angeles, Monte Carlo to Berlin, Vienna to Las Vegas, which also reflect the very special atmosphere of the exhibition's location in A Coruña.
Marta Ortega said:
Helmut Newton is one of that celestial band of photographers whose images are instantly recognisable as their own. Newton's own great revolutionary act was to utterly change the ways in which women were portrayed in the pages of glossy magazines. Here were women who enjoyed style and fashion, who enjoyed the power and splendour of their bodies, women who were elegantly seductive and untouchable. His photographs were not only of his time but far ahead of his time – he spectacularly set the scene for those photographers who followed him.

To be able to work with photographers whose picture-making I have long admired is a great privilege. I do so not simply with the ambition to enrich the cultural life of A Coruña, but also in the hope that future generations of image makers will find their own inspiration in the work of these remarkable photographers.
The Marta Ortega Pérez (MOP) Foundation is defined by three guiding passions: fashion, photography and A Coruña. The Foundation's inaugural exhibition Peter Lindbergh: Untold Stories (2021) attracted an audience of over 100,000. Its second exhibition Steven Meisel 1993 A Year in Photographs built on that success, attracting more than 130,000 visitors.
Funds raised from its exhibition programme have enabled the Foundation to create an artist-led education programme designed to promote a deep understanding of each master photographer's work. The 2022/2023 programme involved 9,000 students and 300 teachers from 93 education centres across Galicia.
Helmut Newton – Fact & Fiction, 18th November – 1st May, A Coruña helmutnewton coruna.com/en
About the artist
Helmut Newton (1920-2004) Born in 1920 in Berlin as Helmut Neustädter to a Jewish family, Newton expressed an early interest in photography. In 1936, he started to work as an apprentice to portrait and fashion photographer Yva (Elsie Ernestine Neuländer-Simon) in Berlin. Nazi oppression forced Newton into exile. He fled Germany in December 1938, landing in Singapore where he found work as a photographer at a local newspaper. He was interned by authorities in Singapore and sent to Australia, where he served in the army for five years and became an Australian citizen. His name was changed to Helmut Newton in 1946.
In 1947 he met actress June Brunell, who posed as a model for him, and the two married one year later. It was not until the end of the 1950s that Newton returned to Europe with his wife and started shooting for British and French Vogue, and other fashion titles through the 1960s. His breakthrough came in the 1970s, primarily thanks to the striking photographs he was given licence to produce for French Vogue.
His growing success consolidated with his first solo exhibition in 1975, at the Nikon Gallery in Paris. A year later, his first volume of photographs 'White Women' was published.
Over the course of his career spanning six decades, he would go on to exhibit worldwide and was featured in a considerable range of magazines and numerous monographs. Newton became an iconic fashion photographer recognised for his radical, edgy, and, at times, racy subject matter inspired by sources that included film noir, Expressionist cinema and surrealism.
Moving from Paris to Monte Carlo in 1981, he continued to travel regularly and for many years he and June would spend winter months in Los Angeles. He died in 2004 after suffering a heart attack at the wheel of a Cadillac in Los Angeles. Among other honours, Newton received the German Kodak Award for Photographic Books, a Life Legend Award from Life magazine, and an award from the American Institute for Graphic Arts.
A celebrated and respected photographer, Newton was awarded The French «Grand Prix National de la Photographie»; the «Officier des Arts, Lettres et Sciences» in Monaco; the «Das Grosse Verdienstkreuz» from the Federal Republic of Germany; and a commendation to «Commandeur de L'Ordre des Arts et Lettres» from the French Ministry of Culture.
Like Norman Parkinson, Richard Avedon, and Irving Penn, Newton became one of the most influential and talented photographers shooting for Vogue. Perhaps his biggest supporter and promoter was his wife June, who established her own career as a photographer under the pseudonym April Springs. Newton's work has been exhibited and published worldwide. The preservation and presentation of his work is managed by the Helmut Newton Foundation in Berlin, established by Newton himself in 2003.
Categories
Tags