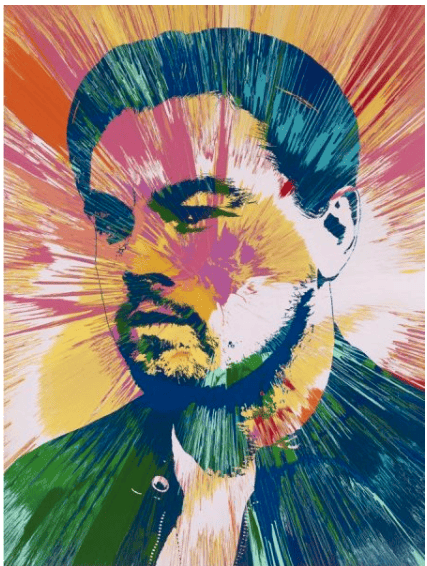 A portrait of Leonardo DiCaprio painted by artist Damien Hirst based on his spin paintings has sold for more than £1m at a charity auction. The painting was created in 2016 and was signed by both DiCaprio and Hirst.
Early this year Hirst released his Beautiful paintings where buyers were given the opportunity to choose their own combination of colours, styles, shapes, sizes, and mediums to generate their own unique spin paintings either physically or as NFTs. The collection realised $20 million in sales.
The Damien Hirst Leonardo Di Caprio spin painting portrait was sold at the amfAR gala in Cannes, France, on Thursday (25th May) to raise money for Aids research.
The artwork was bought for €1.2m (£1.04m) and was donated by collector Christian Levett, who said on Instagram he purchased the piece at a party of DiCaprio's in St Tropez in 2016 which was organised by DiCaprio's previous art advisor Lisa Schiff who has herself been in the news recently for a series of fraudulent art sales.
About the artist
Damien Hirst (born 7 June 1965) is an English artist, entrepreneur, and art collector. He is one of the Young British Artists (YBAs), who dominated the art scene in the UK during the 1990s.
Since emerging onto the international art scene in the late 1980s, Damien Hirst has created installations, sculptures, paintings, and drawings that examine the complex relationships between art and beauty, religion and science, and life and death. From serialized paintings of multicoloured spots to animal specimens preserved in tanks of formaldehyde, his work challenges contemporary belief systems, tracing the uncertainties that lie at the heart of human experience. See More 
Categories
Tags