Anselm Kiefer – Finnegans Wake' is the culmination of an epic trilogy of exhibitions that Kiefer has made for White Cube Bermondsey, which began with 'Walhalla' (2016) and was followed by 'Superstrings, Runes, The Norns, Gordian Knot' (2019).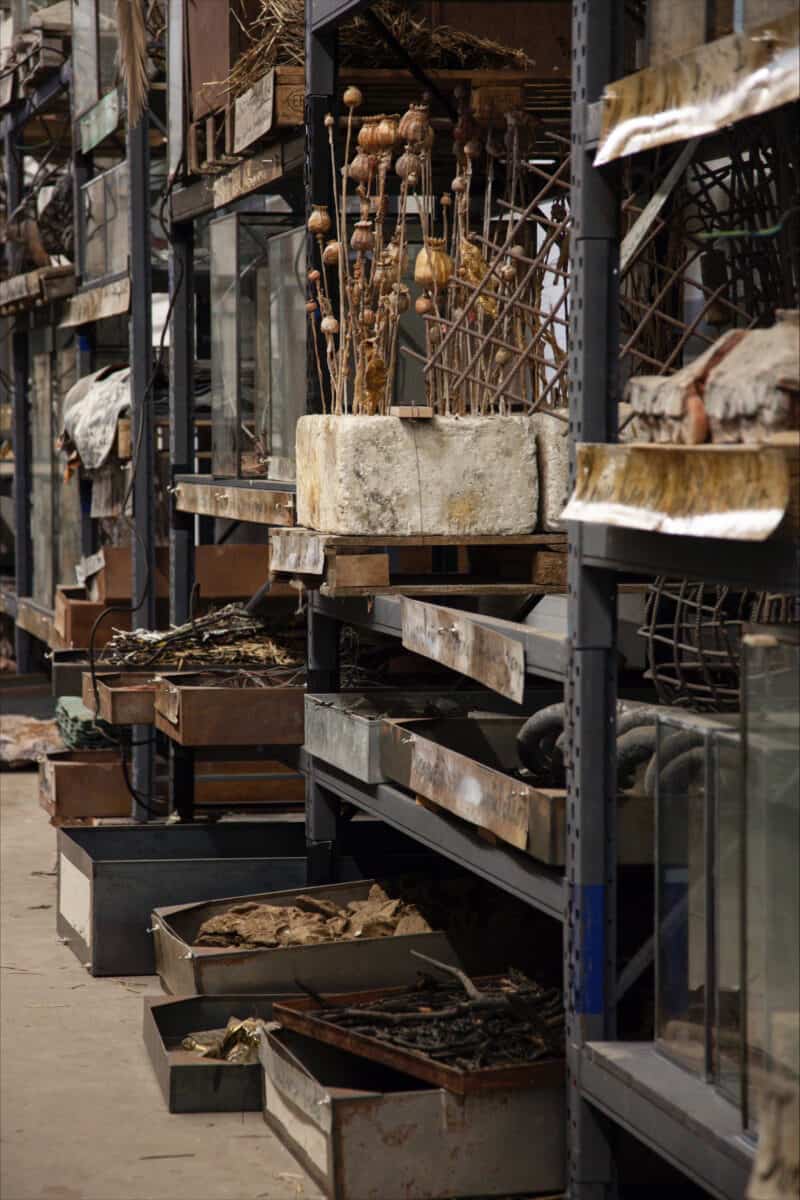 New paintings, sculptures and installations will radically transform the galleries in a testament to the artist's long-standing fascination with James Joyce's literary masterpiece, Finnegans Wake (1939).
Kiefer was profoundly impacted by Finnegans Wake when he first encountered the novel as a young man. Over the subsequent fifty or so years, Joyce's epic work of fiction has never strayed far from Kiefer's mind, to the extent that he often sees Finnegans Wake in parallel to his own investigations and struggles. The greatest similarity being the position of both the artist and writer within a historical trajectory that moves both forwards and backwards.
Inscribed throughout the various installations are quotes from the book written in the artist's distinctive script. Echoing the oscillating quality of time that comes to bear on the novel's structure, Kiefer's work actively dismantles and resurrects Joycean language. In Kiefer's world, as in the novel, there is no apparent end or beginning, but rather a constant cycle of death and regeneration – the great existential themes that have long pervaded the artist's work.
The exhibition coincides with a solo presentation by the artist at Château La Coste, France, running from 9 June – September 2023.
Anselm Kiefer, Finnegans Wake, 7th June – 20th August 2023, White Cube Bermondsey
About the artist
Anselm Kiefer's prolific output has resulted in a body of work comprised of painting, installation, sculpture, printmaking and photography which often incorporates symbolic, primal materials such as lead, clay and ash. One of the most important European artists of his generation, he examines, uncompromisingly, historical themes and, the legacy of recent European events. Drawing on literature, politics, religion and philosophy, Kiefer often revisits particular subject matter or imagery, creating work that resonates with the notion of history as one continuous cycle.
Anselm Kiefer was born in Donaueschingen, Germany in 1945 and has lived and worked in France since 1993. He has exhibited widely, including solo shows at Franz Marc Museum, Kochel, Germany (2020); Couvent de la Tourette, Lyon, France (2019); Astrup Fearnley Museum, Oslo (2019); The State Hermitage Museum, Saint Petersburg (2017); Albertina Museum, Vienna (2016); Centre Georges Pompidou, Paris (2015); Royal Academy of Arts, London (2014); Tel Aviv Museum of Art (2011); Rijksmuseum, Amsterdam (2011); Louisiana Museum of Modern Art, Humlebaek, Denmark (2010); Grand Palais, Paris (2007); Guggenheim Bilbao, Spain (2007); San Francisco Museum of Modern Art (2006); Modern Art Museum of Fort Worth, Texas (2005); The Metropolitan Museum of Art, New York (1998); Neue Nationalgalerie, Berlin (1991) and The Museum of Modern Art, New York (1987). In 2019 Kiefer was awarded the prestigious Prize for Understanding and Tolerance by the Jewish Museum in Berlin, and in 2017 he was awarded the J. Paul Getty Medal. In 2007 Kiefer became the first artist since Georges Braque 50 years earlier to be commissioned to install a permanent work at the Louvre, Paris. In 2009 he created an opera, Am Anfang, to mark the 20th anniversary of the Opéra National de Paris. In November 2020, Anselm Kiefer unveiled a new series of work for the Panthéon in Paris, including a permanent installation comprised of six vitrines, as well as two monumental paintings which are currently on loan. Together with a composition by the French contemporary composer Pascal Dusapin, it forms an ensemble of new works commissioned by President Emmanuel Macron. This marks the first time since 1924 that such a commission has been effectuated for the Panthéon.
Categories
Tags