Tabish Khan the @LondonArtCritic picks his favourite art exhibitions to see in London over Easter. Each one comes with a concise review to help you decide whether it's for you.
Emily Gillbanks: Temporary Sitters @ JD Malat Gallery
If you watch people on the Underground, everyone is in their own world and that's what Emily Gillbanks captures so perfectly in her paintings with people absorbed in devices or newspapers. The gallery has gone all out creating a Tube platform aesthetic downstairs and even creating the press release in newspaper form to accompany these excellent paintings. Until 8 April.
Weird Sensation Feels Good: The World of ASMR @ Design Museum
Time to get interactive and find out what sound or touch gives you the feels by delving into the world of ASMR. Is it scrunching objects, watching videos of dog grooming, listening to the shipping forecast or watching a robotic tongue dripping saliva that make you feel all tingly? Find out in this playful and experimental exhibition. Until 10 April, ticketed.
Haroon Mirza: ||| @ Lisson Gallery
Time to live more harmoniously with nature as Haroon Mirza has brought an ant colony and fungi into the gallery, with a film on the same topic. There's also electronic equipment generating the frequency of 111Hz that's designed to make us feel calm and meditative. It's a sensory exhibition that's brimming with ideas. Until 8 April.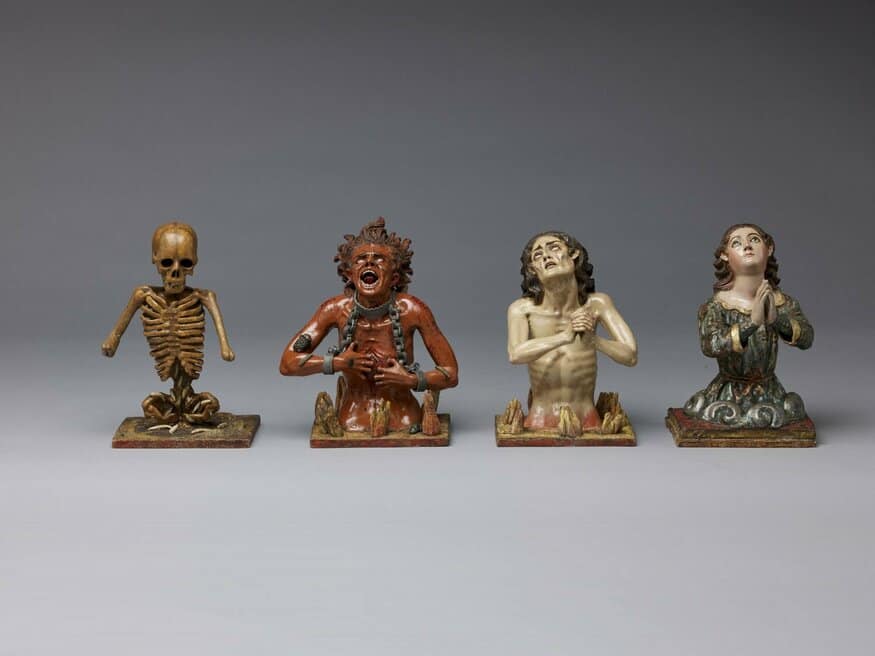 Spain and the Hispanic World @ Royal Academy of Arts
Spanish art history show Celtic, Jewish, Christian and Islamic influences – plus from all the countries that it colonised. A highlight is the evocative mimi sculptures of souls in heaven, purgatory and hell by an Ecuadorean artist. It's great to see this collection of brilliant objects that tells of a Spanish history that isn't just white and Catholic. Until 10 April, ticketed.
Zayn Qahtani: Angels in Purgatory @ Vitrine
Zayn Qahtani takes on the myth of the Nephilim, angels cast out of heaven for immorality and who some believe still live among us. She tells the story of this myth through figurative paintings in elaborate frames that both feel contemporary and with nods to narrative Renaissance paintings. Until 8 April.
All images copyright gallery and artist. ASMR photo: Ed Reeve. Royal Academy photo courtesy The Hispanic Society of America.
More exhibitions to see in London over Easter
Categories
Tags