Centre Pompidou × West Bund Museum Project have opened "The People of Tomorrow," an interactive installation created by the Fashion icon & esteemed French artist Jean-Charles de Castelbajac.
The new interactive installation creates a world of symbols & signs which lead the visitor on a journey of discovery where you experience fully the artist's colorful & poetic world.
Today's creativity is tomorrow's motivation, "The People of Tomorrow " is a gift from the artist to awaken and stimulate everyone's innate artistic sensibility. The young people of today are the future of the world tomorrow, the exhibition aims to resonate with all those who are still young at heart!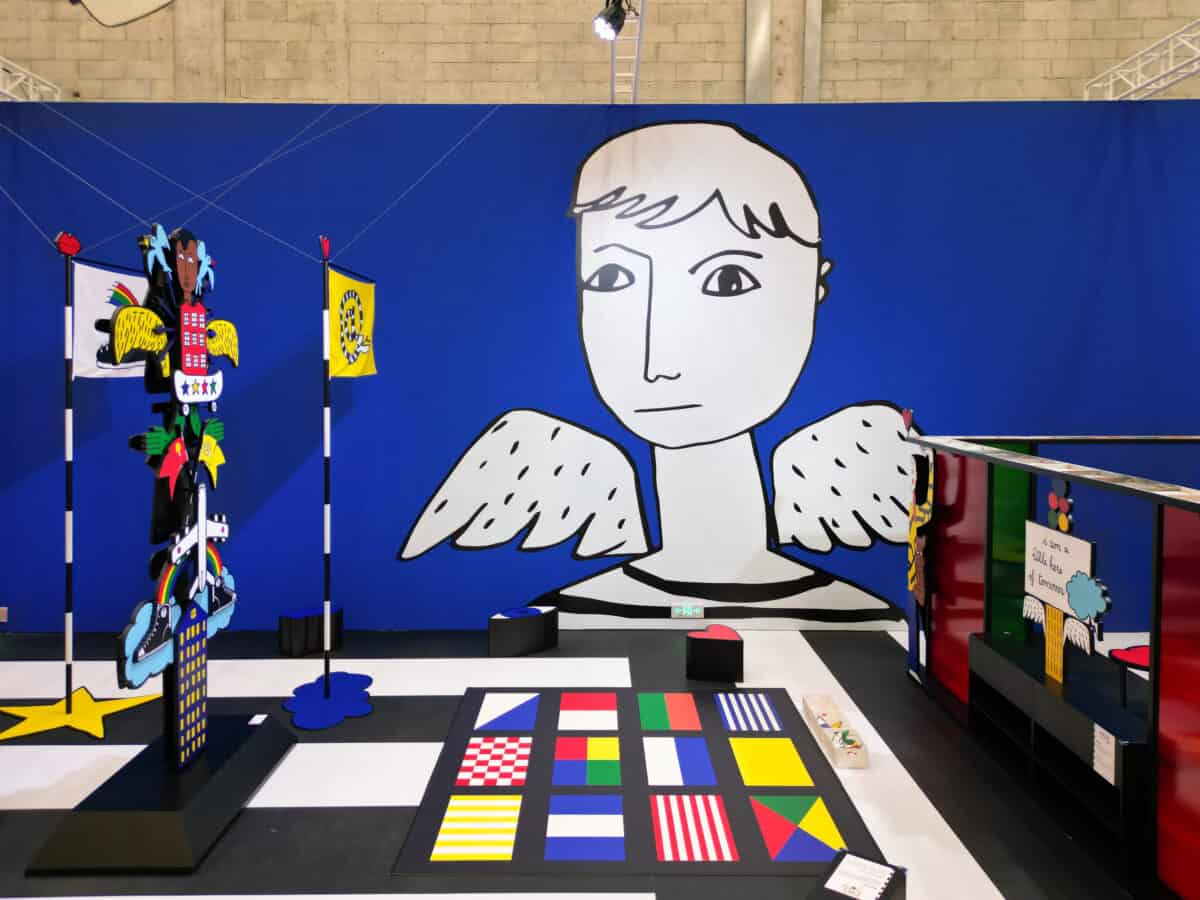 Born in 1949, Jean-Charles de Castelbajac is one of the early figures that spearheaded the crossover between fashion and art, smashing the boundaries between the two in the 1980s. His clothes were designed as performing sculptures and living paintings (tableaux vivants). He experimented with textiles by creating clothes from everyday items such as cloths, sponges and pieces of waxed canvas. He often displaced disciplines to hybridise them: fashion, ancient and contemporary arts, domestic materials, flags, music, etc.  Jean-Charles de Castelbajac has built an artistic form of writing that is composed of signs, symbols and colors, a "poetic system" of drawings that appeals to emotions and memories. His work is"popular", in that it addresses everyone, without rank or limit. In a creative career spanning half a century, Jean-Charles de Castelbajac has collaborated with a variety of pop artists from Andy Warhol to Keith Haring and has designed costumes for pop icons like Lady Gaga, Katy Perry and Beyoncé.
I have always been fascinated by the science of symbols: vexillology, the study of flags, heraldry for coats of arms and hieroglyphics. In my drawings as a child, I summarized and condensed my emotions into signs and symbols: a rainy cloud for sadness, a crown for a reward or a hand for giving. I created a language of universal symbols. To translate the signs into a language and understand it, it has to be deciphered like a rebus of emotions. As I was thinking about the project, I had the idea of presenting an installation composed of a world of symbols for the people of tomorrow, who are the children of today.

Jean-Charles de Castelbajac
The artist hopes to stimulate people's artistic sensibility and draw their attention to the most powerful signs of our times. He intended to utilize such an element, merged with magic, to open up an immense universe both chromatic and poetic to the audiences. Flags, totems and emblematic colors from his work echo those of the Centre Pompidou x West Bund Museum Project, forming 8 educational interactive devices based on signs, symbols and universal language. The exhibition invites all those young at heart to search for the magical key to retaining their childhood authenticity. As a special edition of the exhibition's first showcase in China, the artist has also created an exclusive "Guardian" image for West Bund Museum, hoping to imbue Chinese children and adults with the courage to face the future, keep the peace, and to protect and guard their inner hearts.
Centre Pompidou × West Bund Museum Project Present "The People of Tomorrow" an Interactive Installations Exhibition by Jean-Charles de Castelbajac – August 31st, 2023, West Bund Museum
About the artist
Jean-Charles de Castelbajac, French fashion designer and artist, marked by constraints and deprivation during the eleven years he spent in boarding school, developed a sense of subversion and a creative energy that was guided by poetry, play and colour.
In 1967 when living in Limoges with his mother, he met Dada artist Raoul Hausmann who introduced him to the expressive value of poor materials. The following year, Jean-Charles de Castelbajac began to make jackets out of his old boarding-school blanket. Very quickly he was equally inspired by contemporary arts music, flags and advertising to begin to create his first garments. "I never wanted to make fashion garments. I chose fashion as the medium for my art." In 1978 he created the Jean-Charles de Castelbajac fashion house.
His garments are designed both as performative sculptures and tableaux vivants. Ranging from Arte Povera to Figuration Libre, including Supports/Surfaces, conceptual art and Pop Art, the artist is inspired by artistic movements to construct a plastic expression consisting of signs, symbols and colours. His attraction for Street Art led him to create chalk drawings in the streets of the cities he traverses.
Strokes, words and primary colours (blue, red, yellow) represent the common thread, from the 1970s to the present day, of an expression that is timeless (primitive and contemporaneous), joyful, protean and manifest. Biography: written by Julie Crenn
FADmagazine 60 seconds with Jean-Charles de Castelbajac 
About West Bund Museum
Located in the Shanghai Corniche in Xuhui District, West Bund Museum is one of the core public cultural institutions that make up the famed West Bund Cultural Corridor along the Huangpu River Waterfront.Designed by renowned British architect Sir David Chipperfield, West Bund Museum first broke ground in 2017 and has been officially open to the public since 2019. In the inaugural year, the Museum joined hands with the Centre Pompidou for an unprecedented cultural partnership.
With cultural exchange between China and the world as its mission and visual art, performance art, New Media art, and contemporary design as cultural throughlines, the collaboration between West Bund Museum and Centre Pompidou, with its disciplines of architecture, audiovisual experimentation, music, film, visual art, is forming an ongoing dialogue productively and vibrantly. From here and on, West Bund Museum will continue to be on the conceptual and structural frontiers of art museums, pushing the boundaries of traditional institutions, and is dedicated to being an open, inclusive, and public cultural center multi-disciplinary.
About Centre Pompidou × West Bund Museum Project
In the same perspective, the Centre Pompidou and the West Bund Museum signed a Memorandum of Understanding in 2017. It was taken as the highest-level cultural cooperation project between China and France, and was included in the Joint Declaration between the People's Republic of China and the French Republic in 2018. And in 2019, it opened to the public at the special moment of the 70th anniversary of the founding of the People's Republic of China and the 55th anniversary of the establishment of Sino-French diplomatic relations.
Over a five-year period, through the collaboration, the Centre Pompidou and West Bund Museum will have cultural programming whether in terms of museum exhibitions, seminars, performing art, educational activities or cultural outreach, with the aim of cultural and artistic exchanges between China and France. The semi-permanent exhibition and feature exhibitions will be presented to the public at the West Bund Museum in Shanghai; while at the same time several significant Chinese cultural and artistic projects with representative significance will be exhibited at the Centre Pompidou in Paris.
Categories
Tags