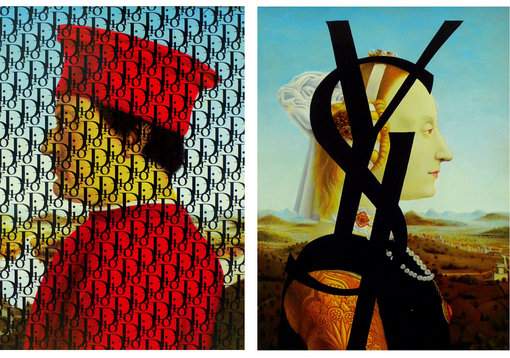 Jean-Charles de Castelbajac, Yves Droite Yves Gauche, Diptych, 2008, Oil on canvas
This event takes place at Sketch, 9 Conduit Street, London, W1S 2XG
Paradise Row is delighted to invite you to our second all-singing, all-dancing, award-winning, salon extravaganza…
An all star cast for the evening:
A display of selected paintings by Jean-Charles de Castelbajac,A poetry reading by Amanda Eliasch,
A rendition of songs by Anthony Haden-Guest,A performance by The Archimboldo Singers,
Live music performance by Minna Nygren and Harriet Rock,A performance by Ella Du Cane, Hannah Hewetson and Holly Waddington,DJ set by Shezad Dawood and The Junkettes
Jean Charles de Castelbajac
Throughout his ground breaking career as a fashion designer, Castelbajac has employed a strategy of "cultural hijacking" – the appropriation, recycling and synthesis of images, signs, symbols and styles from both popular culture and high art to create still newer designs and visions. In keeping with his openness to the ever-shifting world of contemporary visual culture, Castelbajac has collaborated with artists including Keith Haring, Jean-Michel Basquiat Andy Warhol, Bettina Rheims and Loulou Picasso.
www.paradiserow.com
Amanda Eliasch
Amanda Eliasch is a photographer, editor and poet. She recently finished a book "Cloak and Dagger Butterfly" which promises to be as alluring and exquisite as her female-scented photographs. For our soirée, Amanda will introduce us to her poetry, a sneak-peak of her latest book.
www.amandaeliasch.com
Anthony Haden-Guest
Who better to read us his songs than master raconteur Anthony Haden-Guest, who'll delight us with his irreverent humor and personal spark so inimitable to anything he writes, draws or speaks. We can also ask him about "The Real Life of the Art World", or about "Disco and the Culture of the Night"… not that we are interested… but they are an insight for his more recent published books.
www.anthonyhadenguest.com
The Archimoldo Singers convene occasionally and have recently begun performing in public.
Minna Nygren
Minna Nygren performs and composes modern and traditional Finnish folk music, accompanying a crystal voice with a traditional Finnish harp called "kantele". In Finland, she worked in jazz and experimental improvisation with some overlap in folk, however, more recently she has discovered a tradition of songs and stories that are almost forgotten. She is working at excavating the aural culture of this distant Suomi civlisation to discover what it means to us today.
www.myspace.com/minnanygre
Harriet Rock & Her Two Hands
"A whiskey and cigarette soaked voice…singing because she has to, for if she doesn't, where's the sense in her world…" – Harriet Rock is a pale young lady with red lips and a voice like a hurricane, who doesn't really need an accompaniment, but if she has to have one, a guitar or keyboard is more than enough for Her Two Hands. A powerful voice discharges and makes the ceiling tremble, envelops you in warm embraces and takes you right to her lyrical core, finally you understand "the sense of her world…"
www.myspace.com/harrietrockandher2hands

Ella Du Cane, Hannah Hewetson & Holly Waddington
Artists Ella Du Cane, Hannah Hewetson & Holly Waddington occasionally collaborate on acts of performance and intervention. A humorous but rigorous take on expectation, appearance and image projection, they instigate group activity involving movement, display and drastic dressing up.
Shezad Dawood
Paradise Row's own Shezad Dawood will delight us with a selection of his old school records.
www.paradiserow.com/
The Junkettes
The Junkettes started on their quest to celebrate emerging music in Madrid, their hometown, playing the best in underground sounds to a deeply gratified crowd. But still unable to sate their appetites for British music, the Junkettes ladies are now relocated to London, hitting the best parties with their uncompromising selection of sounds.
www.myspace.com/thejunkettes
Categories
Tags