Snow didn't stick all winter in NYC but at least the city finally saw some — twice this past week, seasonal relief punctuated by spring days between. Though hardly suppressed, the new season is breaking through like sprouts from thawed soil. With it, a new crop in the cycle of gallery exhibitions. Enlivened by flurries, Vittoria Benzine made it out to a string of openings — and assembled these five new shows on view to see. Each comes with a concise review to help decide whether it's for you. A number of exhibitions from her last roundup remain on view, save for Joani Tremblay closing this week, as will Chiharu Shiota's monumental "Signs of Life" at Templon, which has seen lines around the block.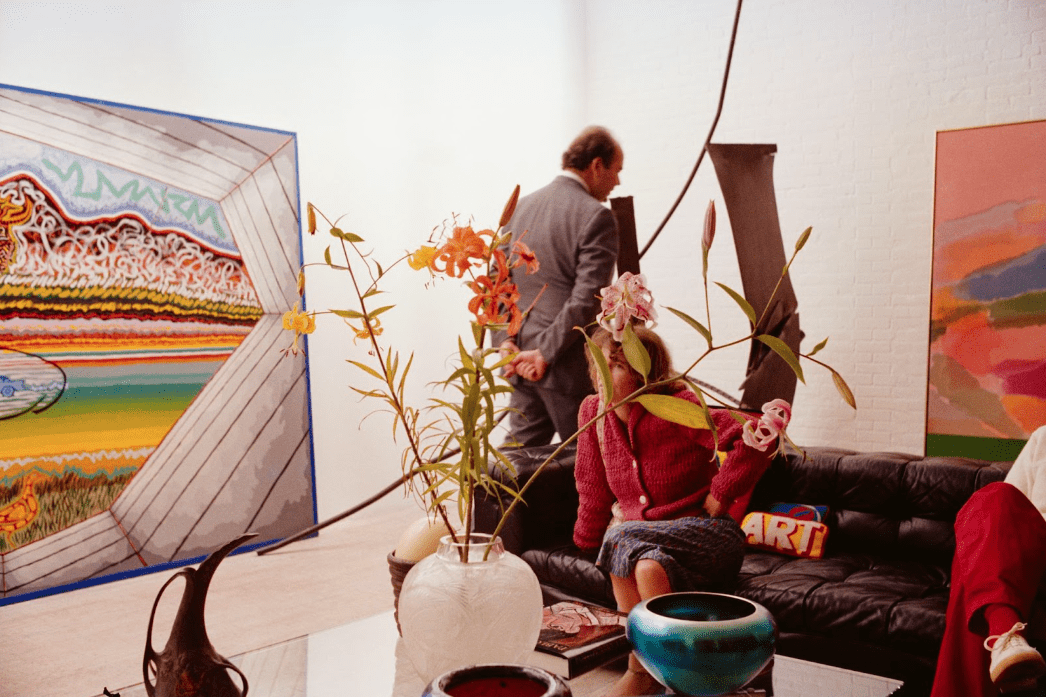 NYC-born photographer Tina Barney returns for her first solo show with Kasmin since the pandemic. Barney grew up between here and the ritzy Watch Hill summer community in Rhode Island. She started practicing photography in Sun Valley, Idaho circa Winter '76, years after she began collecting photos. Her style evolved into impeccably staged scenes, but in lockdown Barney returned to archives of her earliest 35mm negatives, unearthing intimate scenes from her circle celebrating and interrogating the American dream as real — and infinite. These relics animate the walls with spectacles like an all-floral bedroom and frosted drinks cradled by faceless men in suits. Love is the real luxury here though, where teenagers play ball with the kids while adults unwind in a snowy mountain hot tub. Through April 22.
Two years since the NFT boom, some still don't know what that tech does. Blockchain, web3, A.I. — these distinct yet related emerging technologies get lumped into a subconscious stew with stock from collective notions of "near range future." It tastes more like a weather report than potentially the sickest creative event since the big bang. Through art, creation, humans remember we can create our worlds. We do, even if we don't mean to. This group show by Aleksandra Artamonovskaja illustrates subtleties like "perception, impermanence, obscurity, and memory" in interconnected new media, per the show's release, "plotting a collection of points whose coordinates satisfy a given relation" between all eight artists. There's true audience interaction, amongst the generative artworks. Through April 15.
Actual painting also has tricks up its sleeve. Unabashed authenticity of a formidable wattage overtakes this simple single room gallery behind a sleek glass facade on the Lower East Side. Agencies, as approaches or consciousnesses, intermingle. Physics reigns where paint piles up in watermarks, maybe a birds eye view of the real counter beneath. The artist's own hand — his will — drawing the eye into always deeper colonies of activity, carving and smearing. But unseen forces persist, above all. Cohen obsesses over the old masters, and learned from the talents of late mentors like painter Edla Cusick and multidisciplinary Colombian creative Knox Martin, who this show's title honors. Through April 8.
Salman Rushdie was at this opening. As was New York-based artist Ford Crull based on that headline photo — hi Ford! But Italian artist Francesco Clemente's latest work is meant best for precisely this setting: a pristine room with a bench at its center. From there, over a dozen works of uniform size, style, and palate surround the viewer, presumably searching for the compositional details between each piece at their own pace — and drawing their distinct conclusions from it. Rich blue pigments and gold leaf on panel lend a purposeful visual pleasure, "a sort of sublime defiance of the dark times in which we live, a retort to their unrelenting illusions of 'progress,'" per the press release. Through May 20.
Brooklyn-based sculptor Blake Hiltunen marks his debut at Kapow gallery with shattered mirrors and cherubim — putti, if we're getting technical — all rendered in ranging hues and finishes, bronze at all their bases, sometimes nickel plated or combined with plaster. Given the nature of mirrors there's no right way to see these, it's a 'you had to be there' situation. Except maybe for the black mirror, one of many aesthetic marvels amongst this show. Even though they're shattered and corroding, shininess persists. You will accidentally catch your reflection. So, what does that mean? Through March 25.
Categories
Tags