5 Must See Shows in NYC Right Now- Every time Brooklyn-based art writer Vittoria Benzine returns to New York City, she feels like an animal rolling around in its nest to get the smell back on it. A whole new batch of shows opened across the city these past weeks, and a few really solid ones remain on view. She surveyed the scene to present these five for your radar. Each comes with a concise review to help decide whether it's for you. If you want to see in small part what Benzine has been recovering from, take a look at our roundups from Felix and Frieze art fairs.
Hiroaki Konaka, Tatsuya Matsushita, Taishi Shingu & Takura Suzuki: Subjective Surreality @ NowHere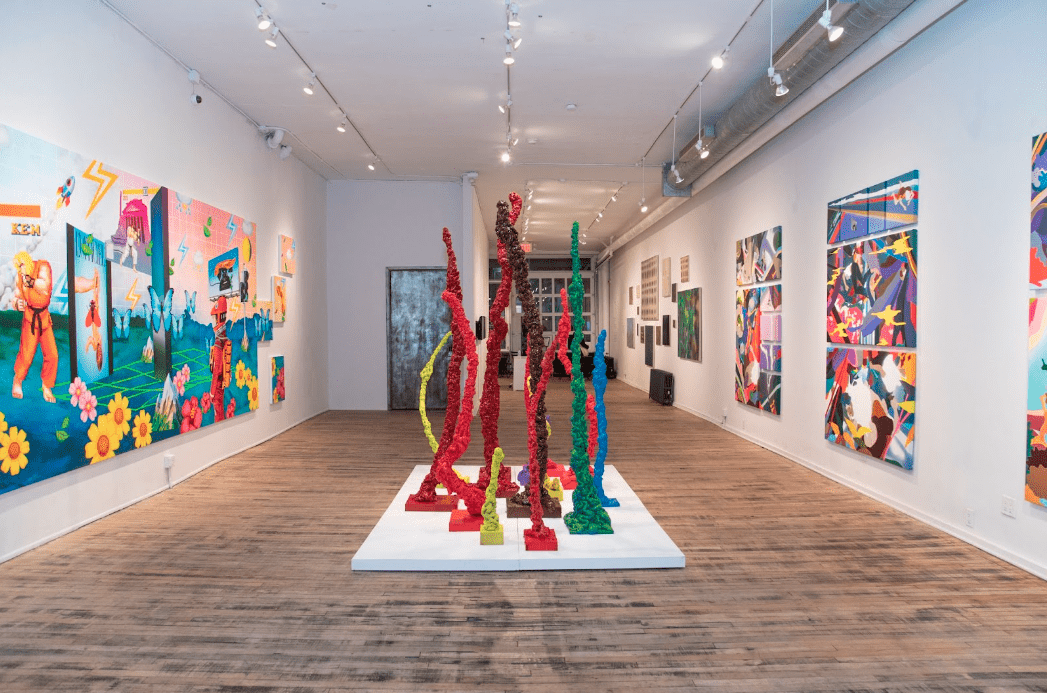 NowHere goes above and beyond for every exhibition, but their latest offers an especially vibrant treat for the senses. The young SoHo gallery focuses only on Japanese artists working in New York City. This time, they've curated a tight show of subjective worldviews from four artists whose practices join around play — and diverge around approach. Hiroaki Konaka opens it all on a dreamy note, sustained at the center by Tatsuya Matsushita's tactile "Forest," accented with shocks of phosphorescent color and complementary concepts by Taishi Shingu and Takura Suzuki.
Plus, they have a working cafe, a mean latte, and refreshing pound cake, always. Through April 2nd.
Joani Tremblay: Intericonicity @ Harpers
When I was younger and going to Lutheran church to play hand bells or light candles before service, I'd sometimes sit in the choir pit and wonder if there was something wrong with me. I was suspicious God didn't talk to me like other people, felt maybe I was faking religion. Sometimes I still feel like that about art too, but not standing surrounded by these paintings. Here, I definitely felt something talking but without words. None of these places fully exist. Tremblay makes sure of that in several steps of her creative process. Maybe that's part of what makes them work the way they do. Through March 11.
Hew Locke: Listening to the Land @ PPOW
I got another visceral feeling looking at light streaming into British sculptor Hew Locke's "Jumbie House 2," a model of an abandoned plantation house featuring staggering detail and precarious engineering. But the real center pieces of this show are suspended in the front room — massive ships, among the most fraught symbols of human history, adorned with an obvious labor of love that could raise necessary questions to progress through horror and healing. Locke's latest isn't about the past, though. The artist grew up in Guyana. Now the country's grappling with the imminence of an oil boom. Like this show, just another place place where climate change, colonialism, and culture intersect. Through April 1.
Metric on a Torus @ Klaus von Nichtssagend
First I need get this out of my system: Topology is so fascinating to me that while poring over the working notebooks on display here I thought to myself "I would really like to date a topologist" and then I thought "wait, I already did that." People say *~art and science are the same~* all the time but when you get into certain kinds of math, the level people think on, you realize art and science are the same because they're abstract divinity made real. This compact show does its damnedest to bring that profundity into broad daylight too, placing working tools (some in action) in glass tables and plotter-drawn algorithms by Vera Molnár alongside new assemblages by Howardena Pindell. Through March 25.
Loren Erdrich: In a Certain Light @ SHRINE
What's the very least you can do? The MTA gave me and 100 other people on the Bleecker Street a harrowing idea around 5:30pm yesterday. Loren Erdrich has it down to a sublime art form, though, pairing will and fate. As I stood transfixed before works on muslin-like "Dark Adaptation," I wondered how I was even seeing faces, and whether others could see them too. Bodies and features are clearer elsewhere, but "Bright Stream Blurred Hour" evokes the brain itself trying to put together what's before it. Chance, through water, plays a leading role in her rich multimedia practice. Through March 25.
Categories
Tags