A few blocks from LACMA, Interreality encompasses 15,000+ sq ft & expands on conversations
addressing the divide between digital and traditional media
Interreality, curated by artist and former Night Gallery co-owner Mieke Marple, bridges the traditional and digital art worlds through the presentation of works that span the physical-to-digital spectrum. The exhibition is produced by Steven Sacks, founder and director of bitforms gallery, and Aubrie Wienholt, founder of PR for Artists.
Following LACMA's exhibition Coded: Art Enters the Computer Age, 1952–1982 earlier this summer, conversations around technology's influence on art-making have never been more pressing and relevant. Interreality enters this discourse with an expansive 35-artist group exhibition, including Manfred Mohr's generative plotter drawings from the 1970s, in a 15,000 square feet space at Desmond Tower, only a few blocks away from LACMA, to examine how the physical and digital, once perceived as separate realities, have in fact always been and will continue to be entangled.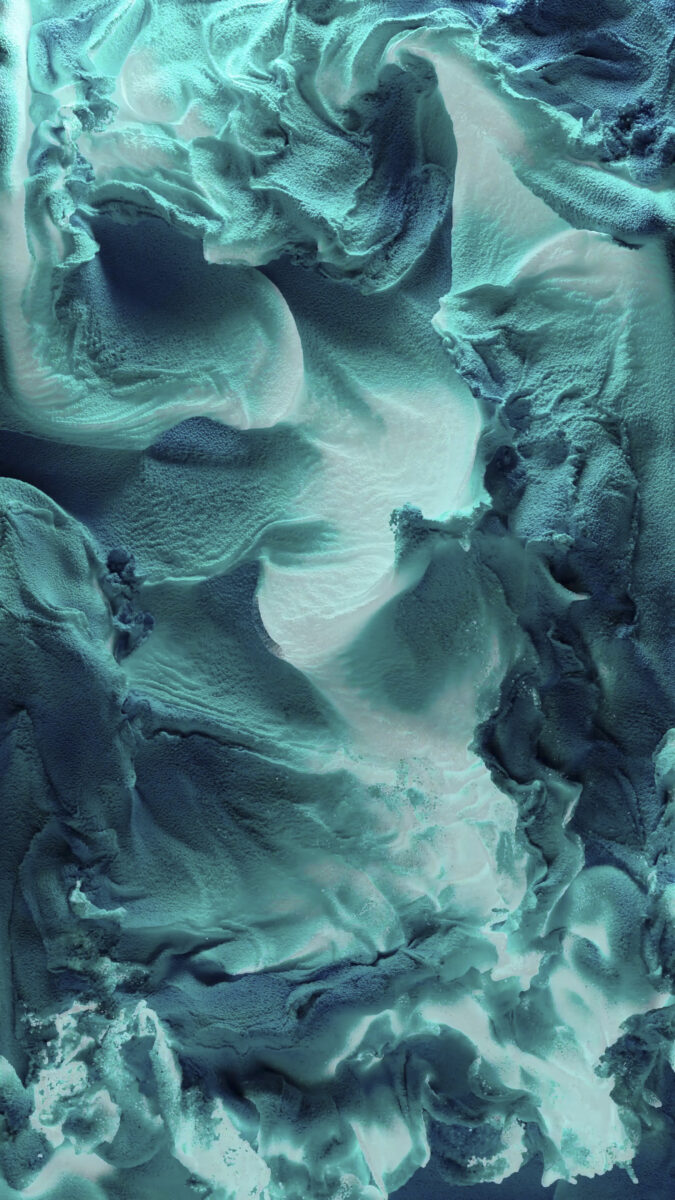 Interreality includes renowned digital artists such as pioneering artificial intelligence artist Refik Anadol (whose very popular solo show at the MoMA NY has been extended until October 2023) and established traditional artists such as Mark Flood (whose paintings respond to internet culture and whose work is in the collection of MOMA Fort Worth). The exhibition also features work by artists whose practices are heavily analog, such as Cindy Phenix, and primarily digital, such as Alida Sun in order to capture the entire physical-to-digital spectrum.
Despite Beeple's $69 million sale at Christie's and Pace's collaboration with the platform Art Blocks, there is still a disconnect between the traditional and digital art worlds—each with their own art stars, collectors, and methodologies. Interreality catalyzes the blending of these two worlds by highlighting artists whose practices bridge the physical/digital divide.
As examples, Mark Flood will exhibit a 190 x 98 in. painting of a blurred Google logo alongside Christine Tien Wang's meticulously rendered meme painting. Daniel Canogar will include Billow, a sculptural LED screen depicting abstract animations created with real-time data from Google platforms. Mieke Marple will debut her first Augmented Reality painting of a jaguar with the words "Sick Chicks Tock," which performs a hidden poem when looked at with a smartphone. Auriea Harvey will show a bronze head alongside an interactive GLTF model of the same head on an adjoining touchscreen. On opening night, anonymous artist OONA will perform "FACE GOES HERE", presenting herself as a semi-nude odalisque sculpture with a live video installation that interrogates and integrates audience gaze.
Interreality is a continuation and expansion of the work bitforms gallery and PR for Artists have been doing for a combined 28 years, presenting artists engaged with new technologies with a sensitivity to physical space and embodied experience. This shared interest between Marple, Sacks, and Wienholt sparked the idea for Interreality, which they see as the apotheosis of their varied and nontraditional art careers.
Refik Anadol | Aya | Connie Bakshi | Bradley Bell | Ana Maria Caballero | Daniel Canogar | Susan Chen | Parker Day | Mark Flood | Claudia Hart | Auriea Harvey | Tyler Hobbs | Luna Ikuta | JPW3 | Jiayu Liu | Rafael Lozano-Hemmer | LaJuné MacMillian | Maya Man | Mieke Marple | Manfred Mohr | Amor Munoz | OONA | Cindy Phenix | Lindsey Price | Ellie Pritts | Casey Reas | Adam Parker Smith | Jen Stark | Sasha Stiles | Alida Sun | David Surman | Siebren Versteeg | WAAMBAT | Christine Tien Wang | Yuge Zhou
Interreality, October 14th – November 25th, 2023, The Desmond Tower, 5500 Wilshire Blvd, L.A. Opening Reception: October 14th, 2023, 7 – 10 PM
About
Mieke Marple is an artist and writer living in Los Angeles. Marple has exhibited internationally, including in "Techno-Healing" at the Museum of Contemporary Art Zagreb and "Elan Vital" at MOCA Westport. Recent solo exhibitions include "Tarot Reckoning" and "Bed Feminist" at Ever Gold [Projects] in SF and "God is an Audiobook" at 1301PE in LA. She has been written about by The New York Times, W Magazine, The Guardian, Fortune, Elle, and Autre, among other publications. Through various charity art auctions, she has helped raise over a million and a half dollars for Planned Parenthood LA and a quarter million for prison abolitionist organization Critical Resistance. She received a B.A. in Fine Art from the University of California, Los Angeles, in 2008. Marple was co-founder of NFTuesdayLA and co-owner of Night Gallery from 2011-2016. She is creator of the Medusa Collection, a set of generative art NFTs reframing the Medusa myth. Her work is in the collection of the Museum of Crypto Art, Seattle NFT Museum, and McEvoy Family Collection. @miekemarple
About Steven Sacks, bitforms gallery
Steven Sacks founded bitforms in November 2001. It is now considered the leading gallery in the world for new media art. The gallery represents established, mid-career, and emerging artists critically engaged with new technologies. Spanning the rich history of media art through its current developments, the gallery's program offers an incisive perspective on the fields of digital, internet, time-based, and new media art forms. Supporting and advocating for the collection of ephemeral, time-based, and digital artworks since its founding, the gallery's artists are in the collections of LACMA, Los Angeles; the Whitney Museum, New York; Museum of Modern Art, New York; Tate Modern, London; the Solomon R. Guggenheim Museum, New York; the Smithsonian American Art Museum, Washington, D.C.; the National Portrait Gallery, Washington, D.C.; Center for Art and Media (ZKM), Karlsruhe; Centre Pompidou, Paris; Victoria and Albert Museum, London; Stedelijk Museum, Amsterdam; and Borusan Contemporary, Istanbul, among other institutions internationally. @bitforms
Aubrie Wienholt founded creative agency and art house PR for Artists in 2015. With an extensive background in public relations, Wienholt decided to launch her own agency and build a team from various creative fields to support individual artists with tailored campaign strategies that enable them to take their careers into their own hands. PR for Artists specializes in media relations, branding, industry networking, gallery relations, social media strategy, exhibition planning and coverage, as well as inventory management. Utilizing traditional PR techniques in the context of artist career management, the agency develops multi-tiered campaigns for various independent artists, galleries, museums and organizations.
Over the years, the agency has spearheaded successful campaigns working with a multitude of artists and institutions, notably: Tucson Museum of Art promoting artists like Olivier Mosset and Patrick Martinez, Sotheby's, The L.A. Project, Gretchen Andrew, Julio Larraz, John Simmons, Hunt Slonem, Russell Young, Yuge Zhou, and many others. @aubrie_wienholt
Exhibited.at is an online platform dedicated to sharing and preserving art exhibitions via a suite of innovative tools that includes an online and on-chain recording system, custom social content creation and unique profiles that capture the provenance behind each artwork. By enabling users to archive exhibition history, the stories and dialogues behind these shows are remembered and available for future discovery. Since launching in early 2023, exhibited.at has partnered with leading art collectives including theVERSEverse and Accelerate Art, archiving and sharing hundreds of artworks for global artists, curators and exhibitors. @exhibited.at
Categories
Tags