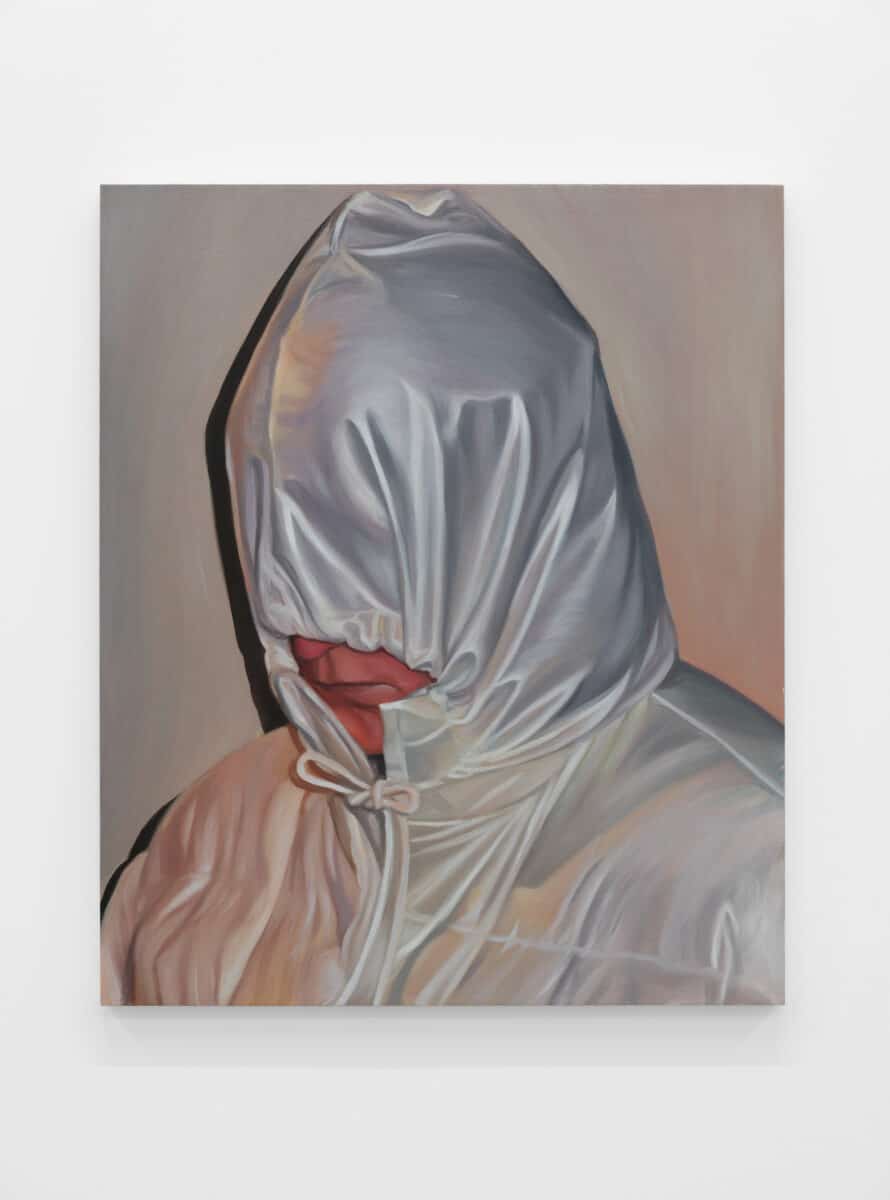 High Heels on the brink of ruin squelch precariously through muddy fields. A man conceals his entire face, almost suffocating in a painfully tight hooded raincoat. A woman scrapes her nails lovingly through a bog as if it were her lover's hair. A puffy, taffeta prom dress is regretfully trashed beyond repair. A stiletto inexplicably burns continuously in an unwelcoming flame.
This is the world of Brittany Shepherd. Or, to be more accurate, this is of the world of online fetish culture seen through her eyes. The realm of digital desire within which she operates is an economy based on libidinal longing where image sharing is the currency. Within this economy, Brittany's work plays a unique role; pictures emerge from the murk and catch her attention as if she were a watchful heron hungrily awaiting a fish. At her hand, they are immortalised and monumentalised in paint, only to be returned anew to the pond of yearning from whence they came.
For her exhibition Deliverance at London's MAMOTH, Shepherd delved deep into the fetish community known as Wet and Messy (WAM), a distinct and largely British phenomenon that seems to reflect back the repressed desire that lingers beneath the stiff upper lip. Heels sodden in mud at the Henley Regatta or a drunken student bearing a soiled gown at an Oxbridge May Ball spring to mind. These moments are not intrinsically erotic in life or as an image. Yet, their circulation speaks of a deep obsession with the disordered, excessive, uncontainable dirt of life's unpredictability. Or perhaps, it's a desire to enjoy imagery of such things from the sterile distance of a digital screen, while sitting clean and crisp in an all-white Patrick Bateman-style living room. The fact is, we cannot know as these images live within an anonymous, online realm reachable only at a distance of zeros and ones.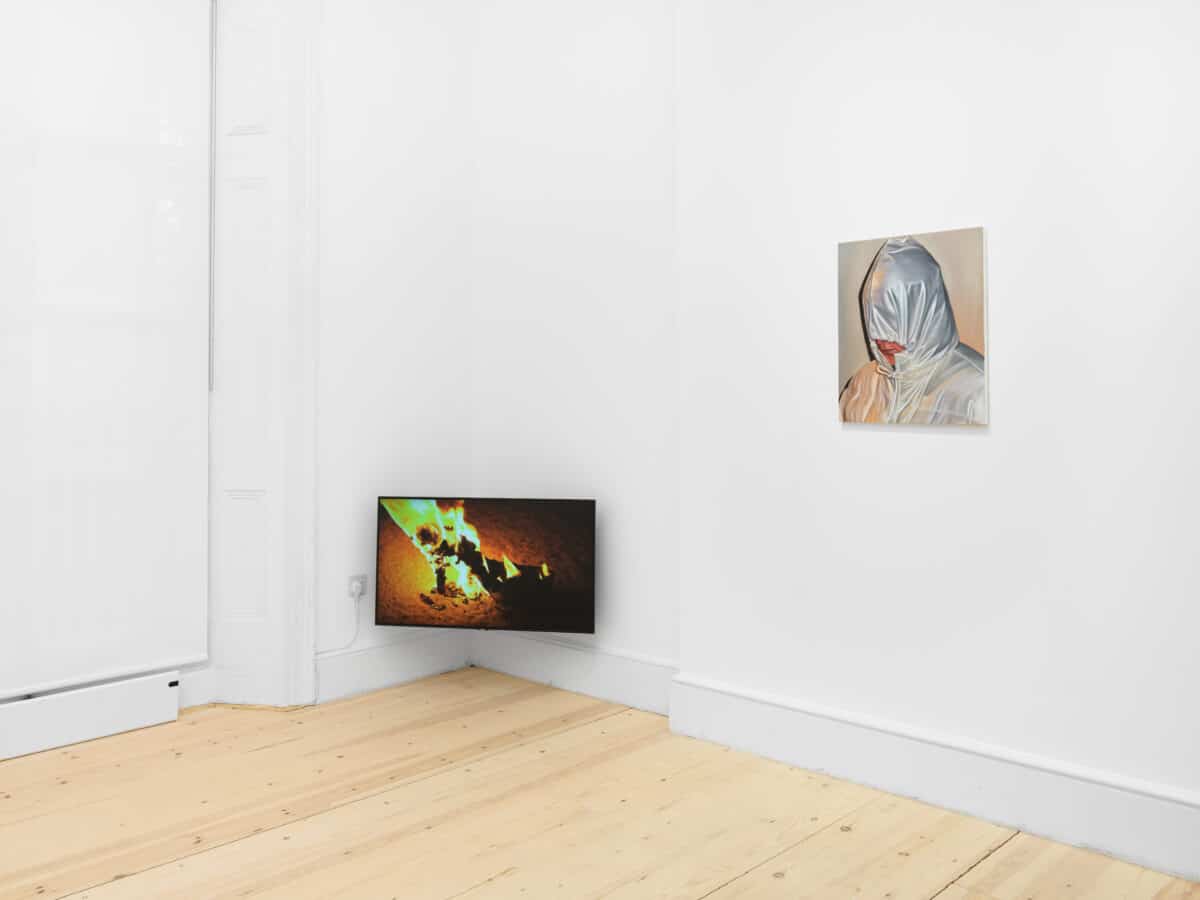 Shepherd tells me she sees the show as site-specific in that the materials, rendered in such expert detail that they feel visceral and almost audibly squelch at the viewer, reflect on British culture and moreover, on our weather – raincoats, mud, even custard drench the canvases. Her concurrent show Sub Rosa at ln Lieu, Los Angles evokes a much more Hollywood, old-glamour-gone-wrong, high heels and fake boobs kind of sexy/not so sexy at all. What interests me about this, is the idea that we desire geographically. Shepherd found many images using the hashtag MAC – deployed as a code for Wet and Messy because of its affination to the British raincoat brand Mackintosh.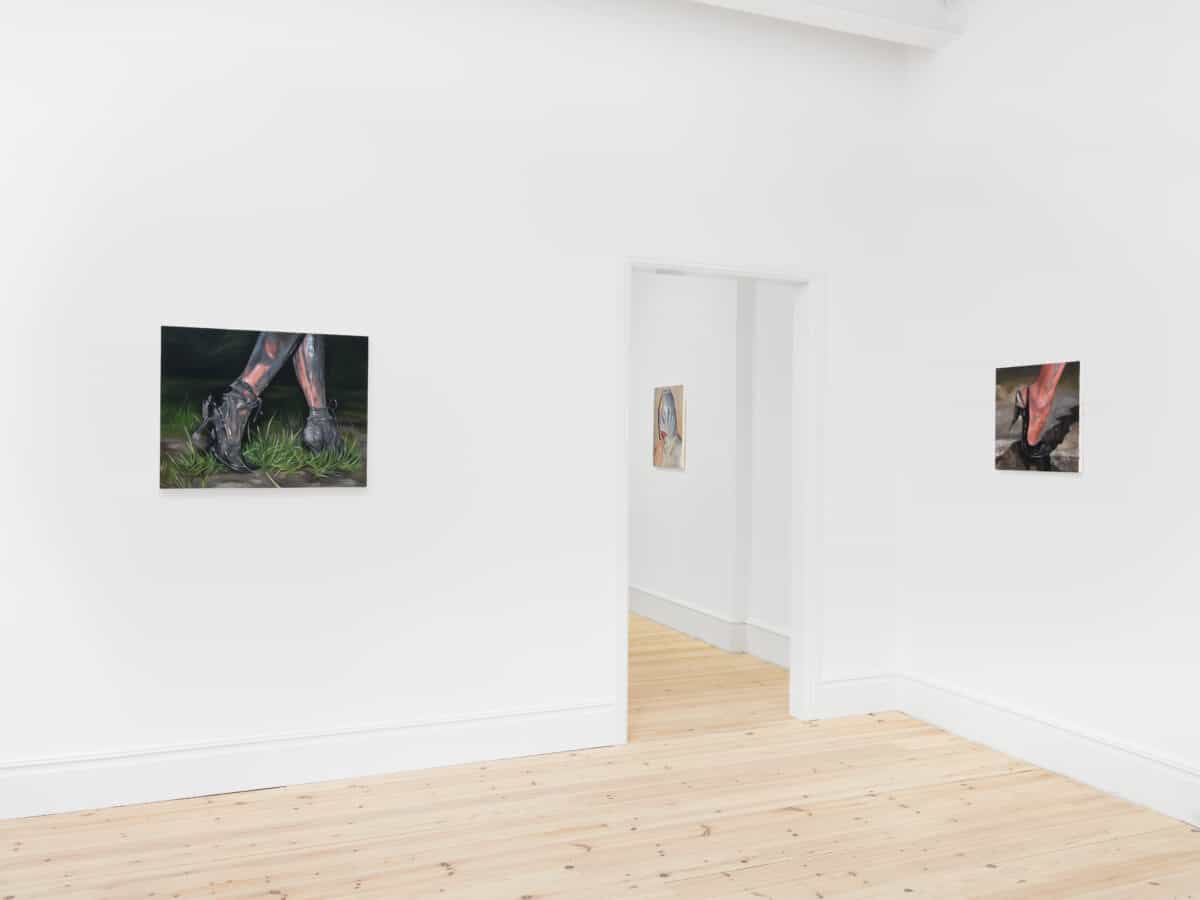 It is this insight into a community foreign to many which lends Shepherd's work the perfect amount of sincerity and inwardness. She isn't looking at fetish from the position of an outsider, she is no anthropologist observing with the intention of categorising, organising, or reserving judgement. Shepherd is a participant and her images are, foremostly, a practice in preserving media that is increasingly precarious as digital censorship and capitalistic colonisation of the internet, a once free realm of exploration, takes over. Platforms that were a sexy, sweaty, writhing free for all, such as Tumblr and Onlyfans, have been restricted and boundaries have been drawn (by whom?!). Shepherd notes that she previously found much of her content on Pinterest, but recently images, including those merely depicting mud on clothing or spillages of foodstuffs, are increasingly being determined too risqué and removed. Interesting to think that, in order for someone to come to the judgement that something is too sexy for a certain platform, they themselves must be seeing the sex appeal held within it…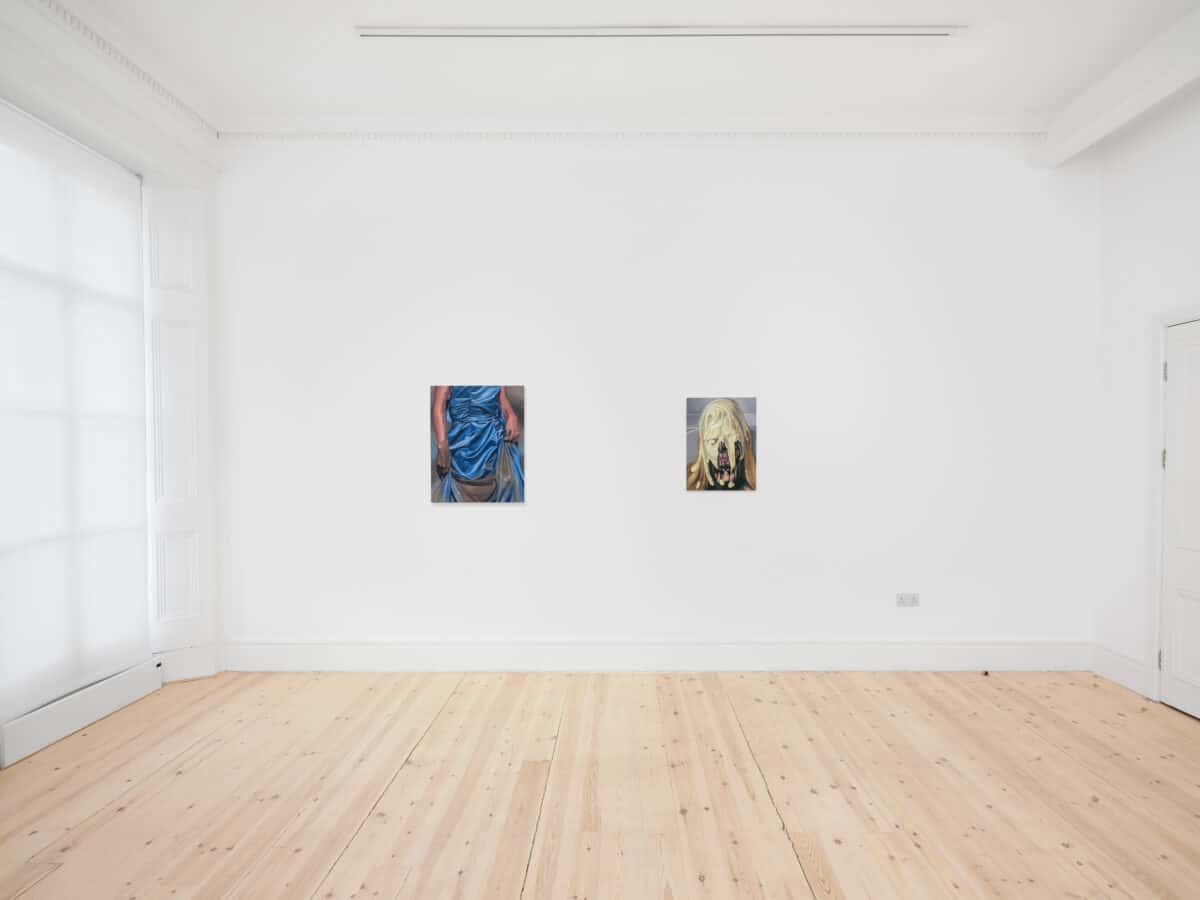 Shepherd takes her participation in this economy of desire beyond just appreciating images and circulating painterly renders. The act of her painting is Wet and Messy in and of itself. While she walks me around the gallery, she describes her hands covered in brown paint as she captures the essence of mud upon the canvas in her studio. Her account alone is erotic, and the ideas of excess and slippage are preserved on the sides of her canvases, which line the walls deliberately unframed, untidied, and unruly.
It is for this reason, that I find the video piece on show, tilted Penance, less effective. As a fond admirer of Shepherd's work and a huge fan of the exhibition (can you tell..), I admit it is overall deeply effective, multifaceted, and unmissable. The video, however, unlike the canvases, denies slippage, accidents, and wetness. It keeps these images trapped within their home – the screen. The painting does so much for me because of the act of reimagining, the affection, and attention that is imbued into the canvas with every brushstroke. Video work, though of course a complex and worthwhile medium, doesn't have the haptic intimacy that this show thrives on.
The ultimate power of Brittany Shepherd's work is its ability to tap into a place of pleasant discomfort in the viewer. To find her paintings outrightly sexual feels vulnerable, yet in so many ways, they are. In her own sincere participation within this subcultural world, as an artist-cum-fetishist, Shepherd gives us permission to get a bit turned on. She lifts the veil and breaks the fourth wall that a screen provides, inviting us to be present in a space with others and our, uncomfortable, subconscious, and secret desires.
Brittany Shepherd's solo-exhibition Deliverance runs at MAMOTH (3 Endsleigh Street, WC1H 0DS) until the 29th of October 2022.
Find out more about Brittany Shepherd: www.brittany-shepherd.com | @shrittany
About the Artist:
Brittany Shepherd (b. 1988) lives and works in Toronto, ON. She received a BFA from Ontario College of Art & Design University. Shepherd is presenting a concurrent solo exhibition at In Lieu, Los Angeles, CA Previous selected exhibitions include 'Waltz of the Mired', tilling, Montreal QC, 2021; 'Façades', at Bunker 2 as a part of Scotiabank Contact Photography Festival, 2018; 'Not Too High, Not That Low', Division Gallery, Toronto, 2018; Solo exhibition, Roberta Pelan, Toronto, 2016; 8-11 Gallery, Toronto, 2016; Cooper Cole Gallery, 2016; Site-specific window vinyl at 8-11 Gallery in Toronto Two- person exhibition with Abby McGuane, 2016.
Categories
Tags