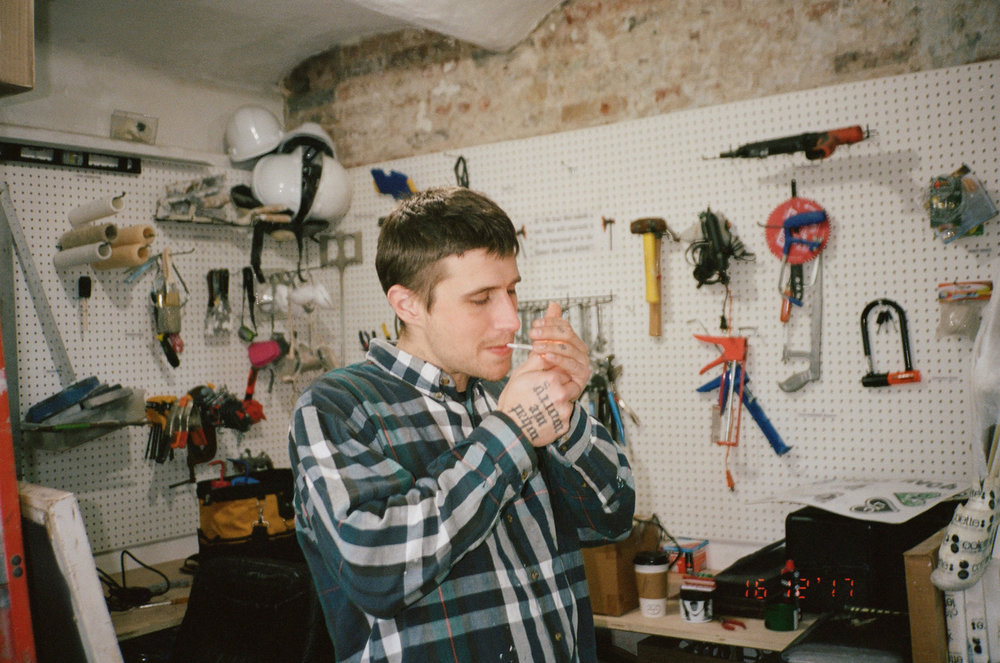 Dylan Kraus is a most unlikely monk. He wears giant North Face coats and camo, has tattoos like tendrils across his arms and neck, and is distractingly good-looking; boyish, blue-eyed, pillowed lips. And yet when I speak to him I'm not met with someone surly or aloof, but instead, Dylan is endlessly excited, gushing away in a gummy Ohio accent. Our conversation is more like a download, a waterfall of information in which Dylan describes to me the view of trees outside his window, tells me about Sufi poems from the thirteenth century, explains his love of birds, his connection to nature. I can't help but be surprised, winded by his enthusiasm.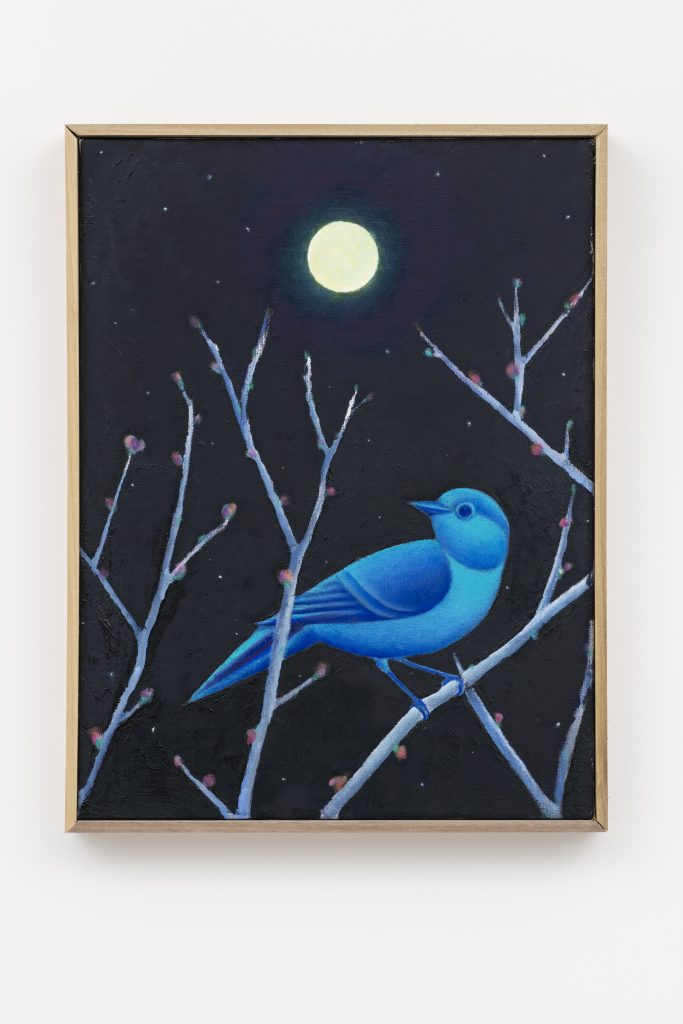 Maybe it speaks more to my assumptions than to Dylan himself, but a lot about him is unlikely. That someone so immersed in the metropolis of New York could speak so reverently of nature, or someone who could so easily walk the well-trodden path of masculinity chooses instead to make delicate, philosophical paintings. Yet Dylan is all about the secrets behind things, the strange patterns that elude us, so this should come as no surprise.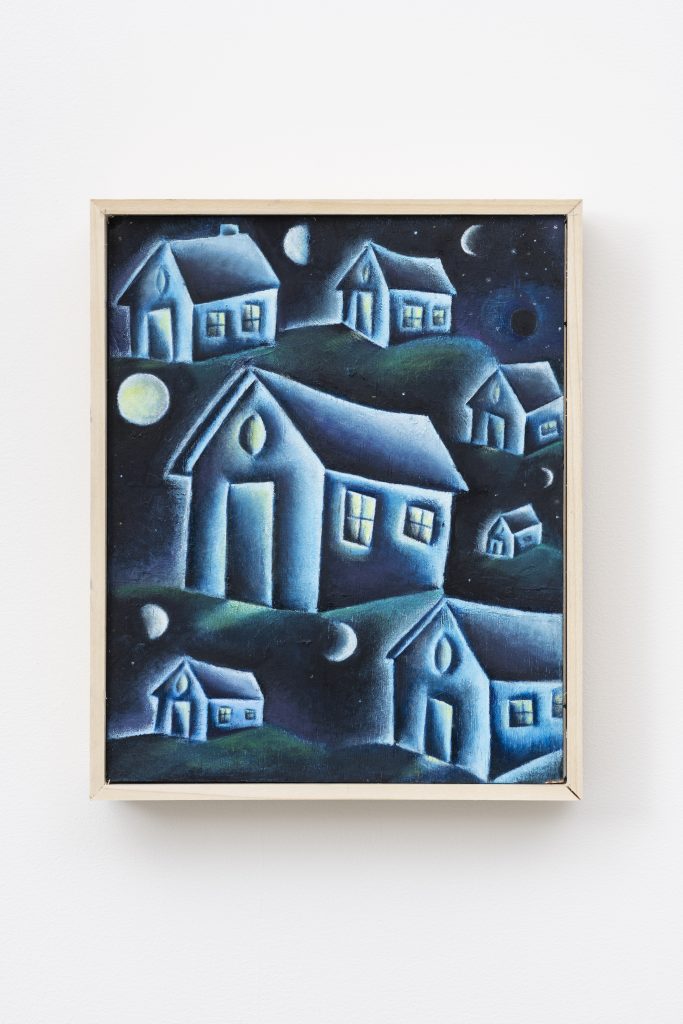 Dylan makes small, lap-sized paintings – 'home-scale', he calls them. There's a humility to his work in this sense, in that open-faced presentation of figurative painting. Twelve of his most recent works are currently on show at Mamoth Gallery, a new three-storey space in Euston, as part of his first UK solo show titled 'That Which Reveals Itself to Whom it May Concern'. And here is where it gets more complicated; despite their seeming simplicity, there are secrets hidden here for those who can find them (for whom it may concern). Dylan works in sequences and symbols – hands, birds, moons – and says that 'the motifs are like easter eggs that I put into the work and people can notice them… everything is intentional, [it all] speaks of a higher language'. He doesn't tire of explaining these motifs, for Dylan they are the heart of the work, this other language that simmers below the surface.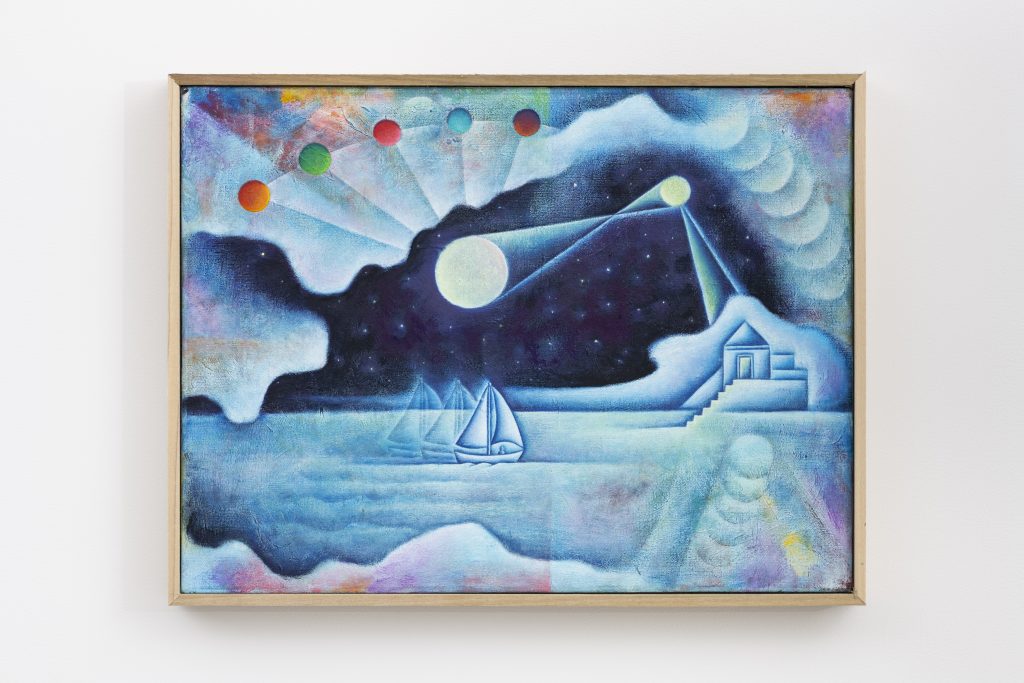 'That's really what the title of the show is about – you can see it as a pretty bird painting, which it is, but then things may reveal themselves to you deeper and deeper and deeper' Dylan says, 'that's a real law of the universe, that things have extra layers'. Walking around the show, I try to imagine what it must be like to see the world like that, to see not birds but omens, to see moons that triple and dilate, to see the song of the universe in every small thing. AS is often the case with art, it is the artist's vision that confounds you, how they have come to see this same world anew. When I confront Dylan with this question of what he is seeing that most of us don't, he says that 'I'm not special, anybody can enter these places,' but I beg to differ; not everyone can see such depth in things, or most of us choose not to. Dylan's work does not strive for knowledge, doesn't seek a method or tools, but its mode is of patience, of sitting with mystery and letting it unfold. This is the monkish about him.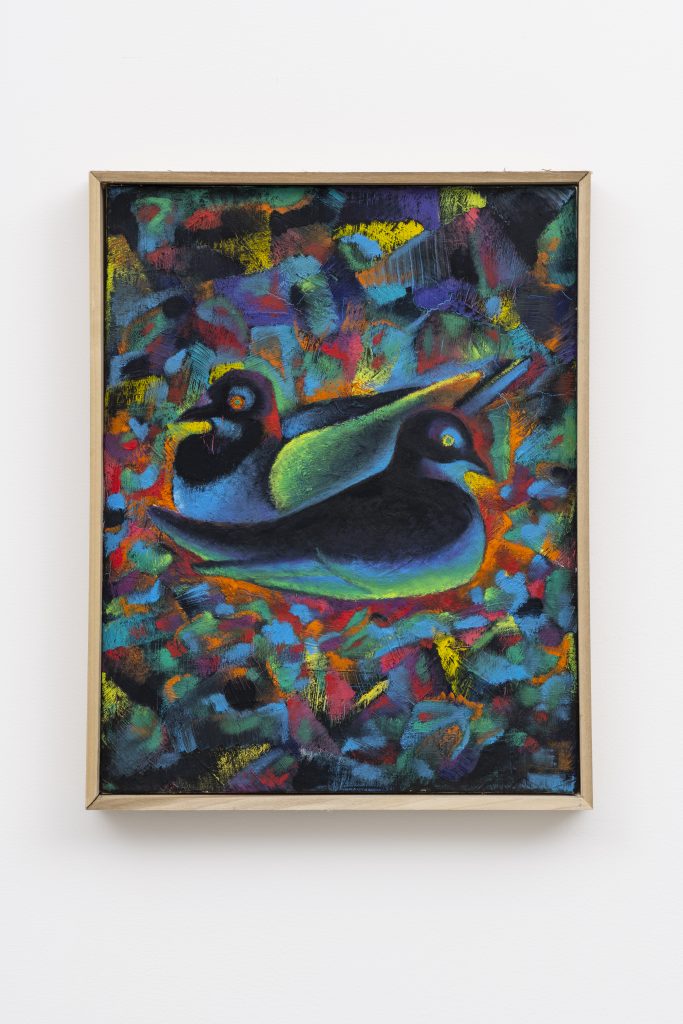 As well as monks, I think of witches. The paintings are titled like fables, serialised around the room – 'Moon City' 'Seven Houses' 'Valley of Love' – and there is almost a femininity to them, in their material finish of deep blues and luminous silvers, the occult undertones. But Dylan sees no contradiction between the sensitivity of his art and the way that he looks and presents. Of his childhood, he says that 'I feel like I was really lucky growing up learning certain things like vulnerability, strength, how to stay emotionally soft and not just develop a shell' so his works are a kind of rebellion, a tapping into an emotional and spiritual language that men in Western culture are so often denied. 'I want to represent these ways of being soft and awake and challenging the more base notions of what a male growing up in society is' he says, so that something male, something strong, can be a bird that looks to you like an angel, or a field that sings like gold. It is comforting to be told, especially by someone who could so easily have won the game of masculinity, that that game is broken and that what matters is something deeper.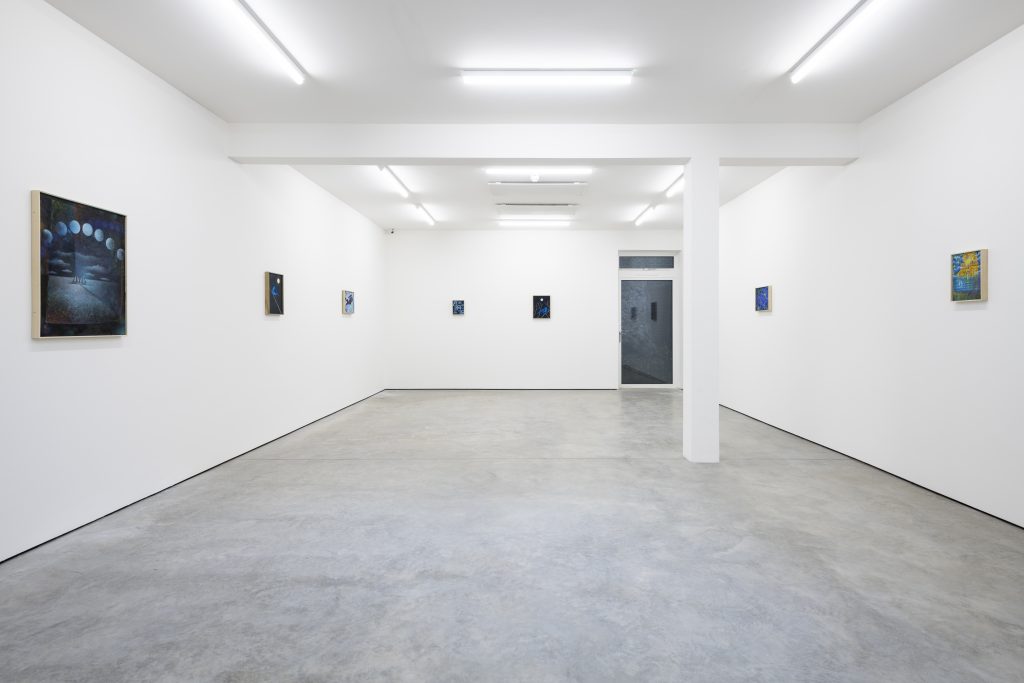 So in a time when emotions feel at once too much and simultaneously diluted, when everything is 'not that deep' but still stings so hard, Dylan's paintings remind us of the magic of things, of the depth we can see if we only allow ourselves to. 'Really I think the most important thing to understand about my work is that everything outer is applied inner' he says, so the paintings remind us that there is no need for striving, that everything we seek is already here. 'I'm interested in imagining the universe as one giant mechanical, crazy machine all these things moving in perfect harmony to each other' Dylan says, and it's a comfort to rest in the cerulean sleep of his paintings, to try to trust that there's an order to it all.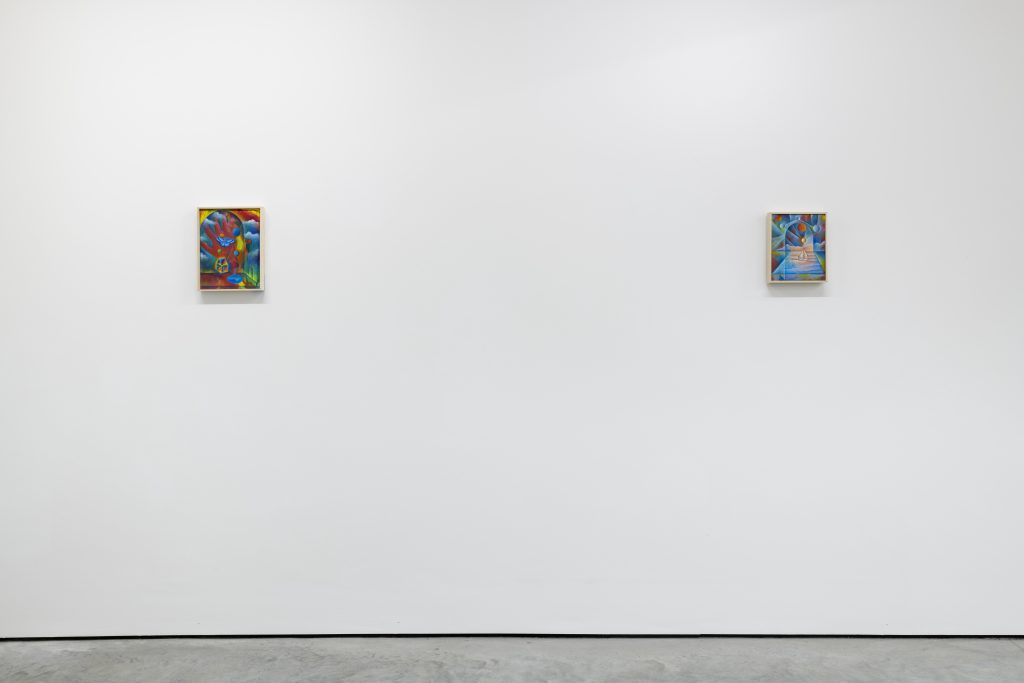 'That Which Reveals Itself to Whom It May Concern' by Dylan Solomon Kraus is on show at MAMOTH Gallery until 17 November. @dylan3_14159265359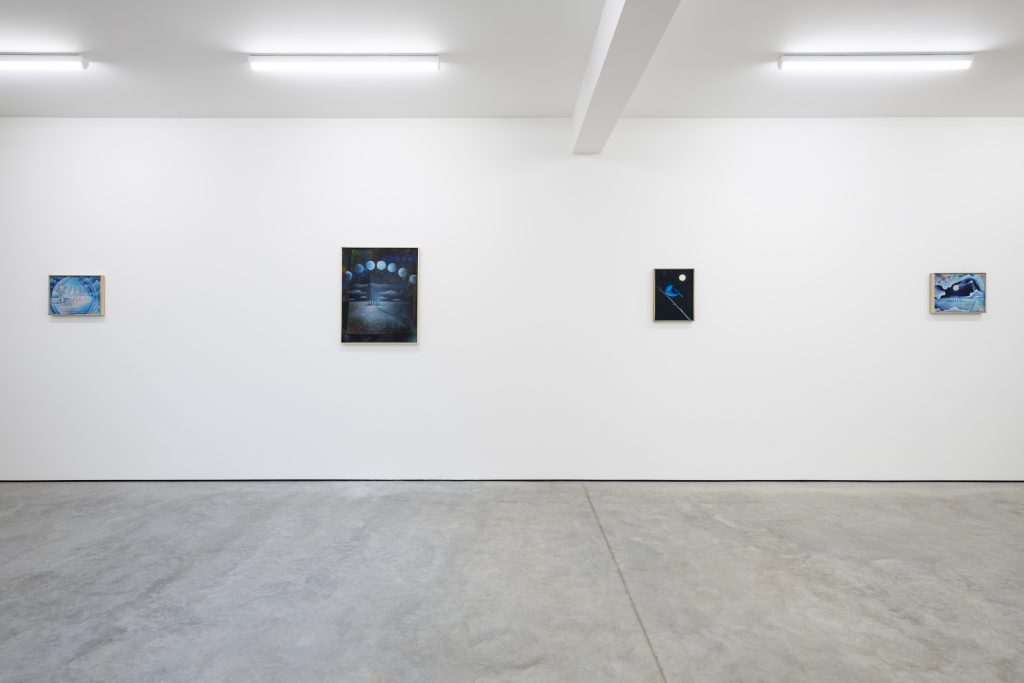 Categories
Tags