The British Art Fair 2022 opened yesterday and continues to Sunday, October 2nd. Below are six artworks that caught our eye and hopefully will help you navigate the fair in an interesting way.
Founded in 1988, British Art Fair is the only fair dedicated to Modern and Contemporary British Art.  Britain's leading dealers exhibit paintings, drawings, prints and sculptures covering all the important artistic movements of the past 100 years: from the early modernists to the YBAs to contemporary art. Most of the great names of 20th century British art are represented:  David Bomberg, Lucian Freud, Elisabeth Frink, Terry Frost, Barbara Hepworth, David Hockney, L.S. Lowry, Henry Moore, Paul Nash, John Piper, Bridget Riley and Graham Sutherland alongside contemporary names such as Grayson Perry, Banksy and many others of the 21st century.  Much of the work is privately sourced and fresh to the market and dealers keep work back for the fair. The result is a boutique event of the highest quality.
The fair on staged throughout three floors of Saatchi Gallery in Chelsea. New events this year include: SOLO CONTEMPORARY, a curated platform where ten cutting-edge dealers each show the work of one contemporary British artist; an exhibition of works by the artist William Johnstone, highlights from the Ingram Collection of Modern British Art; A showcase of contemporary Scottish artists selected by the Royal Scottish Academy and an auction in aid of British Art Fair's 2022 charity, WaterAid.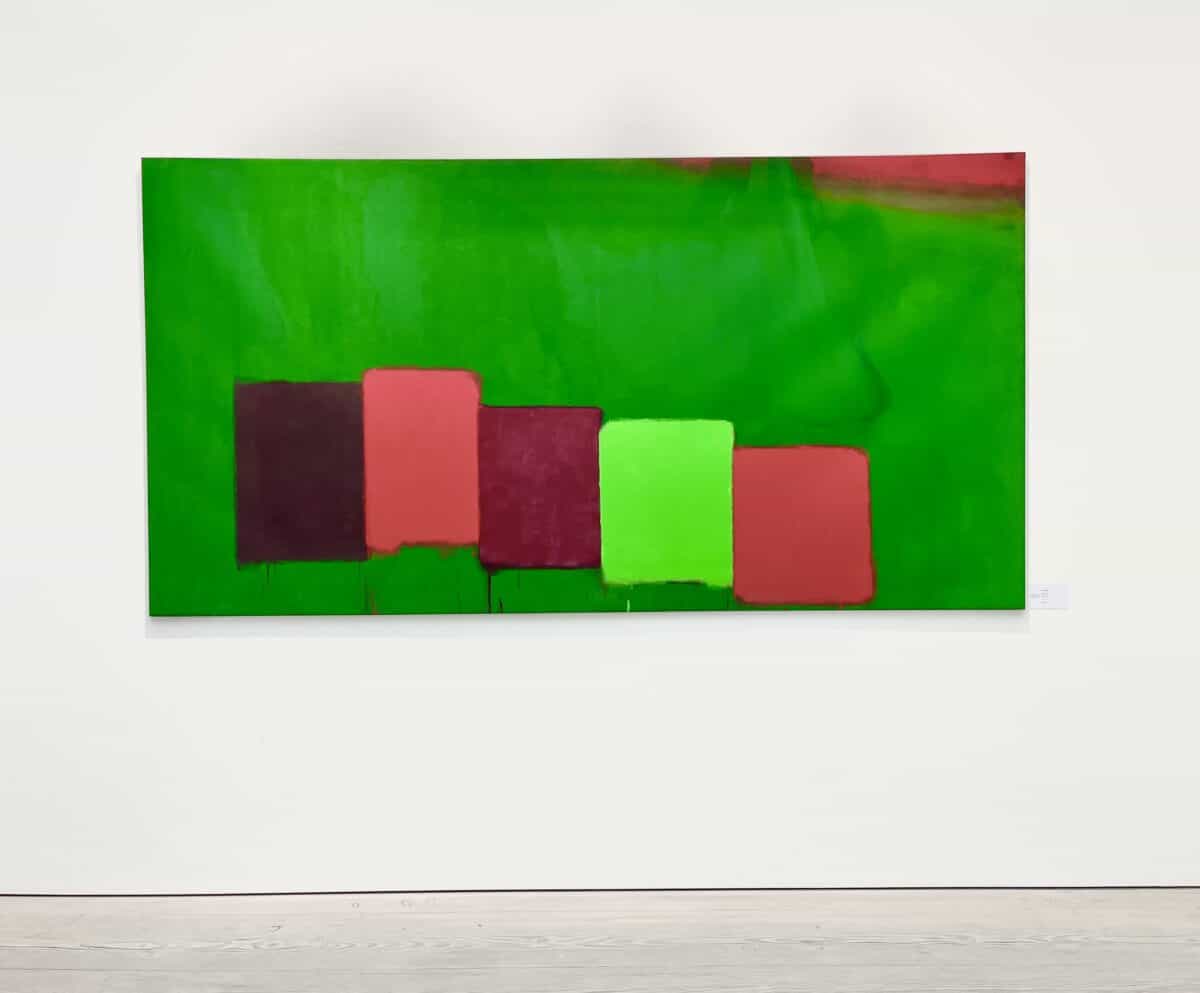 1 John Hoyland, Untitled 1965, Acrylic on Canvas, 170 x 333cm presented by BLOND Contemporary
John Hoyland RA (12 October 1934 – 31 July 2011) was a London-based British artist. He was one of the country's leading abstract painters.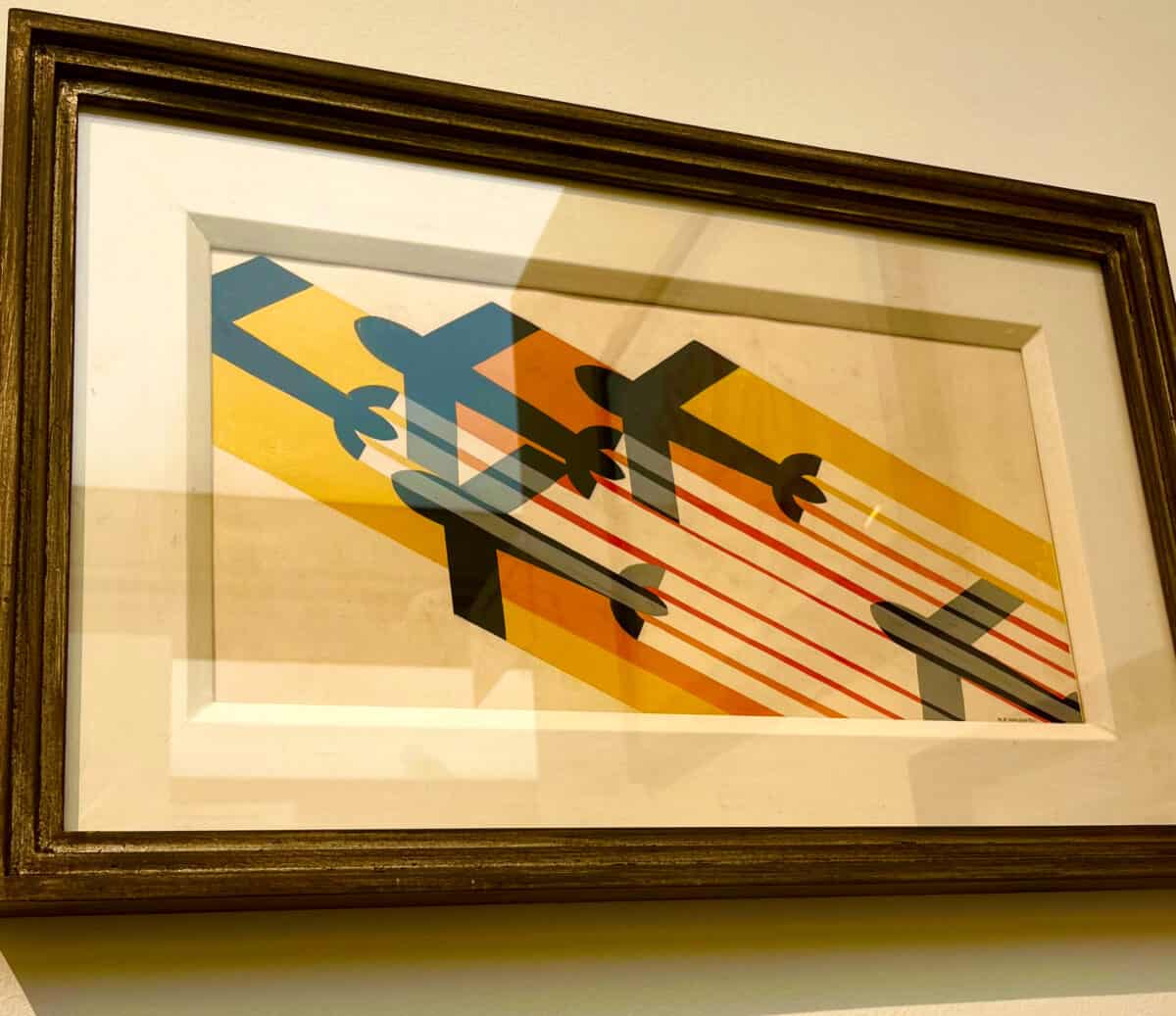 2 Albert Edward Halliwell (1905-1987), Five Aeroplanes in Flight, Gouache over pencil, 30 by 45cm. Presented by Moore – Gwyn Fine Art Modern British Painters
Albert Edward Halliwell was born in 1905 and was primarily influenced creatively by the 1920s. Key artistic developments that had been established in the earlier part of the 20th century continued to be worked on during the 1920s and 1930s. At this time the careers of many inspiring and pioneering artists began to flourish, yet at the same time there was an atmosphere of reflection and sombreness following the horrors of the First World War. Significant shifts in politics were happening worldwide, and Marxism took a strong grip as an ideology within artist groups and communities. Due to its cultural significance, Surrealism spread as an philosophy on an international scale, and became the leading theme of the pictorial arts in the 1920s. The Bauhaus movement developed during this time and focused on a unification of all modes of art, working towards the idea of the 'Gesamtkunstwerk'. The liberal politics of the Weimar Republic in Germany enabled this movement to blossom and flourish and develop further.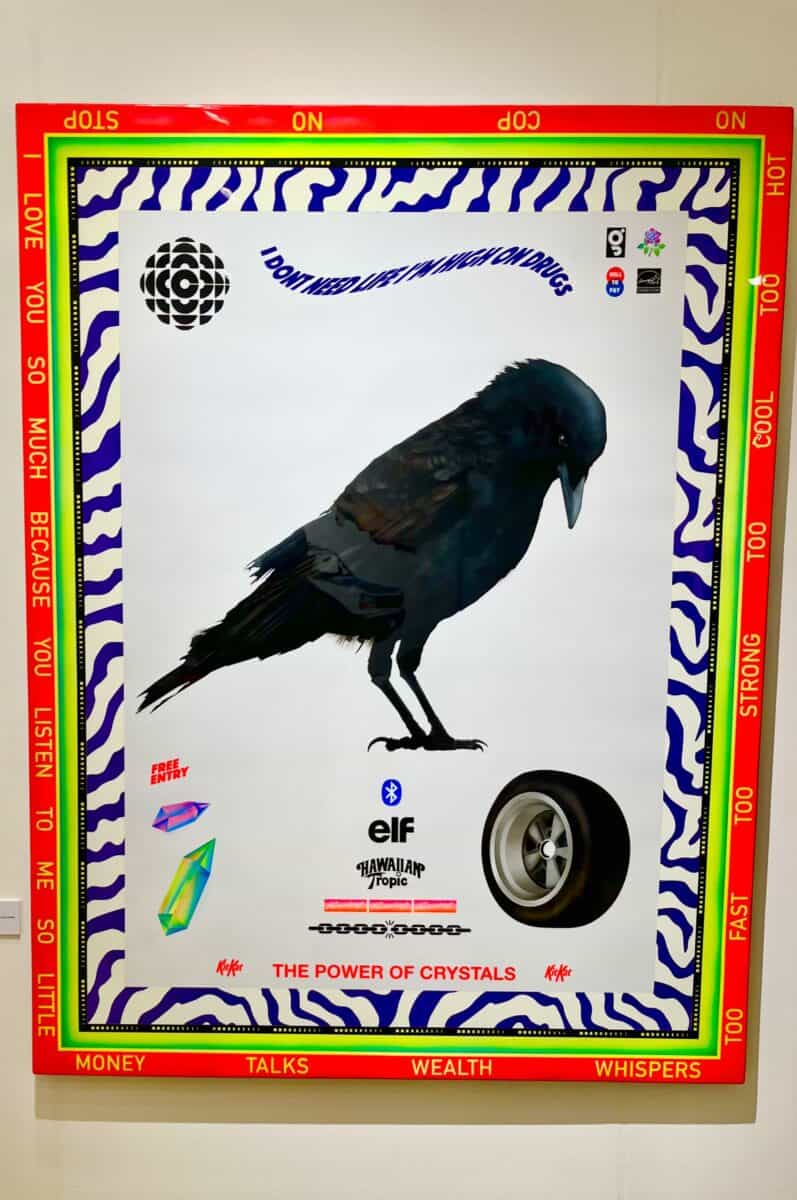 3 DSC, I Love You So Much Because You Listen To Me So Little, 2022, 1600 x 1320 Fiberglass with polyurethane. Presented by HM Electric.
Death Spray Custom's genius is his ability to hand-make one-off pieces that masquerade as mass-produced, 'factory-made' items. Everything about DSC's execution is unconventional. A self-taught painter but not in the classical sense. He has committed years, blood, sweat and tears to perfect his craft. His work involves high risk where mistakes cannot be manipulated or embellished with the brush. He has one shot to get it right the first time, every time, there is no room for error. Finish is everything.
DSC's striking and unique visual style, inventive use of wit and social commentary set him apart from his peers. His work is cunning and ironic with a reputation that now effortlessly connects the world of fashion, art and extreme sports. @deathspray
4 Hannah Lim, Petal Parasol Snuff Bottle, 2022, Polymere clay gloss, chalk, jesomite.
Presented by Royal Scottish Academy
My work develops in response to my cultural identity and experience. As a person of mixed Singaporean and British heritage both my research and practice has come to engage with the colonial connotations of the relationship between the East and the West. These connotations are most evident in themes such as Orientalism and its relationship to Chinoiserie; an 18th century aesthetic trend in which elements of Chinese design were recreated in relation to European aesthetics and tastes. I attempt to re-imagine and reclaim ideas and designs associated with the Chinoiserie, which have in the past had problematic colonial undertones. Cultural designs are shared as opposed to appropriated, it is no longer about one culture being moulded to the demands of another. 
I create furniture-like structures that are ornamental but also functional. These are usually flat-packable and when assembled are often anthropomorphic in stature and shape. These objects are culturally coded, they reference an aesthetic trend that saw the appropriation of Chinese design as a result of Britain's colonial conquests however they are also playful and peculiar, their creature- like bodies depict them as having a life of their own. @hannahlim
5 Susie Hamilton (1950 – present) Antique Time, Acrylic on canvas, 148 x 208cm Presented by Paul Stolper.
My work focuses on figures in wilderness. This wilderness may be literal (the arctic) or metaphorical (the superstore) but both can be arenas for transformation. I paint in thin veils of acrylic which burst boundaries and destroy contours to suggest mutation and deliquescence and show figures as stretched, pulverized, unstable, vulnerable. Such mutation is not just change within the human but beyond it, with figures grotesquely or uncannily turned into humanoid, hybrid things or into blots, cells, messes, silhouettes and, especially, abstract shapes. The representational overtaken by abstraction is important to me, partly because it feels like an extreme way of challenging the figure's identity but also because it is a way of showing the familiar tipping over into the unfamiliar, of reaching a point where the recognizable gives way to unnamed shapes. Before finding out what an object is, I like the sensation of an obscure but intriguing presence that reminds me of something as yet unlabeled. It dramatizes and contrasts two ways of seeing – in terms of names or of nameless shapes. It is an attempt to get behind the familiar to a sensation of menace or mystery. @susie9hamilton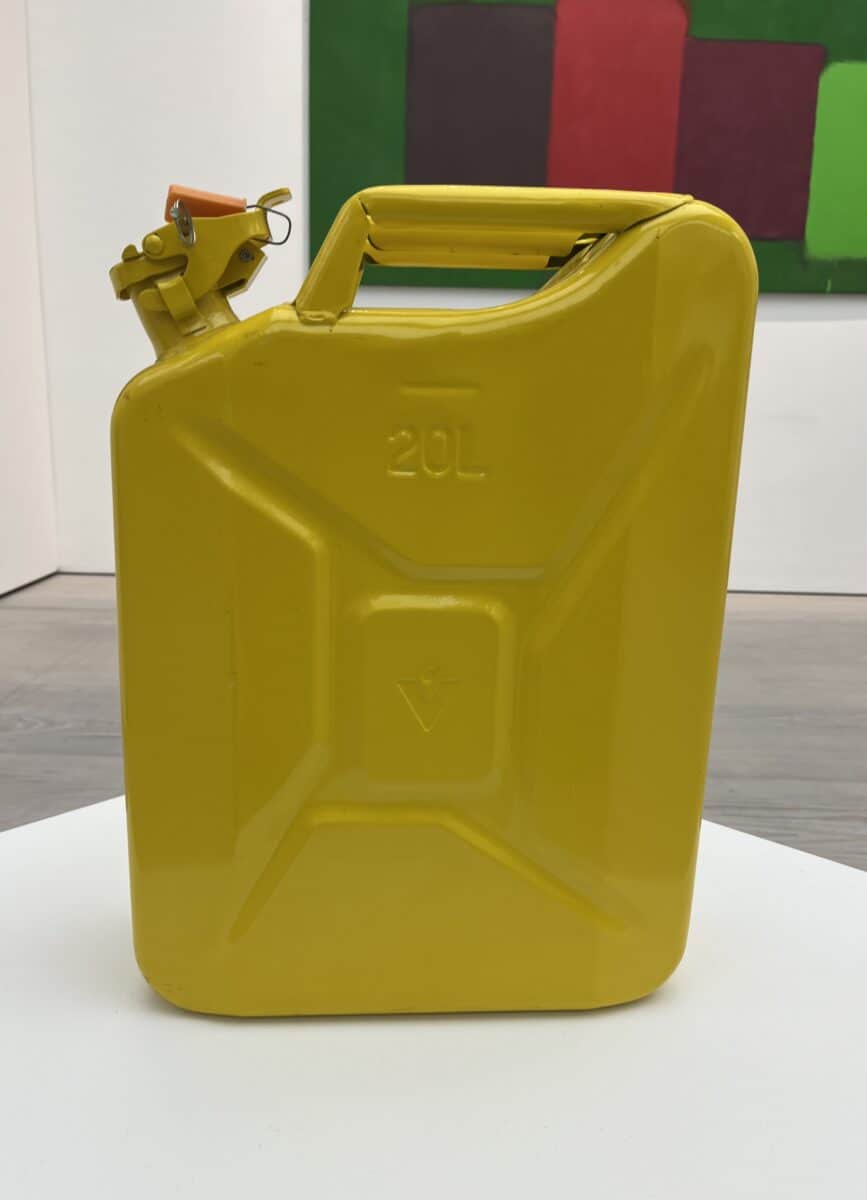 6 Adam McEwen, Jerrycan Diesel 2007, Steel Can Filled with Diesel Presented by BLOND Contemporary
Adam McEwen is a contemporary British artist whose Conceptual pieces fall between painting, sculpture, and installation. His most famous works might be his obituaries written for living luminaries—Jeff Koons and Kate Moss among them—subverting his prior work as author of these announcements. The black-and-white prints echo the layout and sentiment of real journalism, yet McEwen's fictions offer alternative views of celebrity. "An obituary is a narrative of someone's decisions…. And in a sense it's optimistic, and in another sense it's impossible, and that's like making art," McEwen has said of the series. Born on February 9, 1965 in London, England, McEwen received a BA in English literature at Christ Church College, Oxford University, before studying at the California Institute of the Arts in 1991. Currently living and working in New York, NY, the artist transforms ordinary objects, such as ATMs and air conditioners, and ideas through inventive use of materials, typography, and presentation.
British Art Fair, 29th September – 2nd October 2022, Saatchi Gallery, Duke of York Square, King's Road, London SW3 4RY www.britishartfair.co.uk
Categories
Tags