The artworks include specially created pieces by British artists and celebrities including Boy George, Rankin, Ben Okri and Rosemary Clunie for WaterAid's 'Art of Change' secret auction launching this week. The collection, curated in collaboration with Hidden Gallery, features climate-themed works to raise awareness of the devastating impact of climate change on vulnerable communities' access to clean water.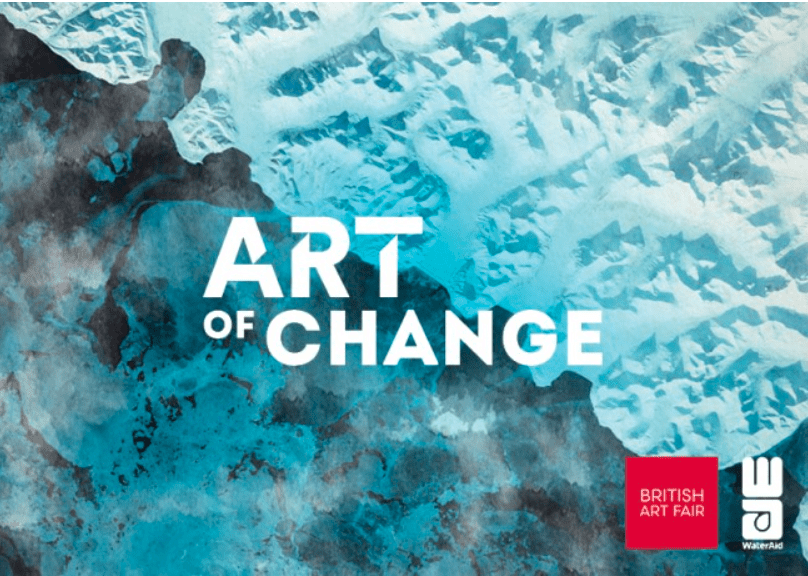 Held during British Art Fair, at London's Saatchi Gallery which runs from 29th September – 2nd October, this is no ordinary exhibition, as none of the art in the auction is labelled with the artist's name. Without knowing who created each prize piece, bidders are invited to use their artistic instinct to potentially make the buy of a lifetime.
Climate change is the single most important issue we face today and it is  essential that we all consider the impact of everything we do in the light of it. For British Art Fair 2022, we are pleased to support WaterAid's vital work in combatting the devastating consequences of the climate emergency in the 'Art of Change' auction. Bid high!

Gay Hutson, Co-Founder and Director, British Art Fair
The British artists featured range from celebrities and household names to emerging talent. All the artists involved are kindly donating from between 50% to 100% of their sale to WaterAid, helping to bring clean water to everyone, everywhere.
The artworks exhibited are by the following artists: Ben Okri & Rosemary Clunie collaboration, Boy George, Carolyn Trant, Carrie Reichardt, Damien Hirst, David Hockney, Giles Deacon, Haseebah Ali, Henry Ward, Heywood & Condie, Jessica Albarn, Jonathan Barnes, Julian Wild, Nettie Wakefield, Pure Evil, Rankin, Rowena Easton Sir Peter Blake and The Connor Brothers.
The climate crisis is a water crisis, from too much to too little, it's now an emergency. This year alone we have seen how the changing climate is having devastating effects on the world. 

Addressing this, is a daunting task. That's why it's so important we think about supporting sustainable adaptation. By contributing to Art of Change and supporting the vital work WaterAid do for communities on the ground we can ensure we are one step closer to fighting against the climate crisis.

Rankin
One in ten people worldwide do not have clean water close to home. With extreme weather causing more droughts and floods, it's becoming even harder for the most vulnerable communities to access clean water, which is affecting women and girls the most as the burden of collecting water for the family often falls upon them.
The climate crisis is the biggest threat of our lifetime, and art is an amazing way to highlight the issue, share thoughts and ideas and bring emotion across. Art stimulates creativity of the mind, which is what we need to address the global change that is on our doorstep – and is impacting vulnerable communities across the globe.

Working in partnership with the British Art Fair we are so pleased to have curated these incredible pieces, all highlighting the devastating crisis happening to our people and planet currently. This year we have seen heatwaves, floods, droughts, hunger and disease outbreaks. Water, either because there is too little or too much of it, is at the centre of the climate crisis and therefore must be at the centre of our climate fight.

Tim Wainwright, WaterAid's Chief Executive
WaterAid's 'Art of Change' auction will be located in a dedicated area on the second floor of London's iconic Saatchi Gallery.
Visit in person at British Art Fair or place your bids at wateraid.org/uk/artofchange 
About WaterAid
WaterAid is working to make clean water, decent toilets and good hygiene normal for everyone, everywhere within a generation. The international not-for-profit organisation works in 28 countries to change the lives of the poorest and most marginalised people. Since 1981, WaterAid has reached 28 million people with clean water and nearly 29 million people with decent toilets.
For more information, visit our website wateraid.org/uk, follow us on Twitter @WaterAidUK, @WaterAid or @WaterAidPress, or find us on Facebook, LinkedIn or Instagram.
• 771 million people in the world – one in ten – do not have clean water close to home.[1]
• 1.7 billion people in the world – more than one in five – do not have a decent toilet of their own.[2]
• Around 290,000 children under five die every year from diarrhoeal diseases caused by poor water and sanitation. That's more than 800 children a day, or one child every two minutes.[3]
• Every £1 invested in water and toilets returns an average of £4 in increased productivity.[4]
• Just £15 can provide one person with clean water.[5]
1. WHO/UNICEF (2021) Progress on household drinking water, sanitation and hygiene 2000-2020. Joint Monitoring Programme. Geneva: World Health Organisation.

2. WHO/UNICEF (2021) Progress on household drinking water, sanitation and hygiene 2000-2020. Joint Monitoring Programme. Geneva: World Health Organisation.

3. WaterAid calculations based on: Prüss-Ustün A, et al. (2019). Burden of Disease from Inadequate Water, Sanitation and Hygiene for Selected Adverse Health Outcomes: An Updated Analysis with a Focus on Low- and Middle-Income Countries. International Journal of Hygiene and Environmental Health. vol 222, no 5, pp 765-777. AND The Institute for Health Metrics and Evaluation (2020) Global Burden of Disease Study 2019. Seattle, WA: University of Washington.

4. World Health organization (2012) Global costs and benefits of drinking-water supply and sanitation interventions to reach the MDG target and universal coverage

5. www.wateraid.org
 
Categories
Tags