The question of art and aesthetics is one that has been debated by philosophers throughout the last 2000 years.  We recognize it most readily when we encounter paintings and sculptures; However, there are many more occasions where we experience it in architecture, stunning jewelry, or creative furniture.
Montblanc pens are renowned for their exquisite designs, outstanding finishes, and great performance. They are, to pens, what the Louvre is to museums; the creme de la creme.
But can Montblanc pens be considered art? 
There is certainly a case to be made for this opinion. Let's wear our jury hats and explore some supporting arguments, shall we?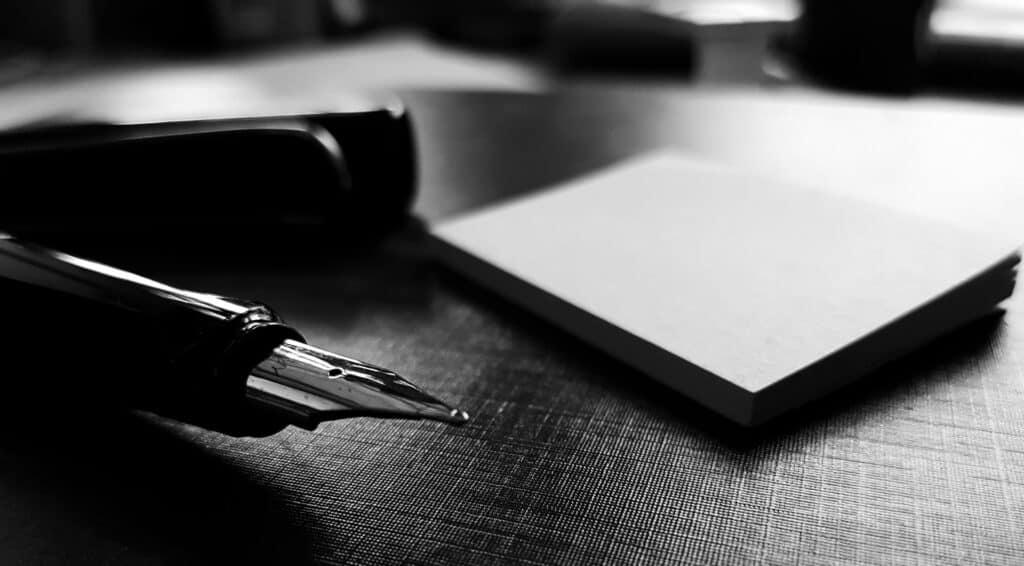 The Designs
Most fountain pen enthusiasts attest that words barely do Montblanc pens any justice. Holding one and experiencing its smooth lacquered resin barrel or putting it to paper to see its 18k gold-plated nib at work simply sparks a deeper appreciation for their designs.
However, even from a catalog, the designs of Montblanc fountain pens embody a sophistication and timelessness that you can not ignore.
The gold-plated trims and clips punctuate the cigar-shaped barrels particularly well. They help break the monotony of single-colored Mont Blancs like the Meisterstück and bear a deeper artistic significance in models like the Mont Blanc Limited Edition 1597.
The cigar shape of the barrels equally stands out due to its smooth flow and weight balance. It bulges in the right places to offer a generous grip and tapers off just enough towards the tip and the nib to give the pens beautiful silhouettes.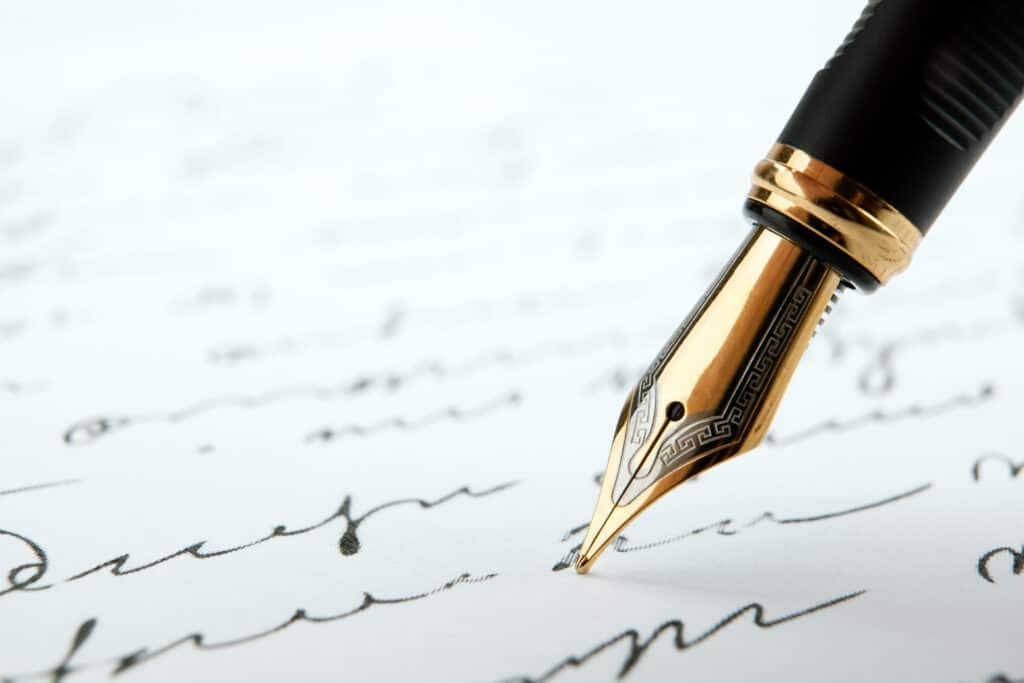 Craftsmanship 
We can all agree that most forms of art are a labor of love and patience. Montblanc fountain pens certainly live up to this. 
It takes 35 steps to make a single Mont Blanc nib and 70 steps to assemble and test it. Most of the work is done by hand to ensure that every detail is fine-tuned to perfection. 
Moreover, the crafting of nibs is only one part of the pen-making process. Other parts like caps, mostly for limited editions, often bear engraved details that require just as much painstaking diligence. 
Admittedly, this may not take the 4 years it took to paint the Sistine Chapel. However, the attention to detail and the level of skill it takes to pull it off are right up that alley.
Inspiration
The Montblanc pen franchise dates back to 1908. This lends the brand the advantage of an incredibly rich heritage which it builds on by incorporating modern touches.
The Montblanc Writers Edition William Shakespeare fountain pen is a particularly great example of this. It was launched in 2016 but its design blends old and new ideas to pay homage to William Shakespeare's quill and his timeless contribution to the arts. 
Its unusual octagonal cap represents the William Shakespeare Theatre while its multi-colored body represents the flags that are hoisted in the theatre during different types of plays. The cone ring also signifies his memorable works like 'Romeo & Juliet', 'Hamlet', and more. 
Simply put, this is a brilliant case of one form of art inspiring the creation of another. Quite the feat, right?
If Shakespeare is not your cup of tea, Montblanc reckons that perhaps nature may tickle your fancy. Most of its fountain pen caps feature a white hexagonal shape inspired by the awe-inducing cap of Mont Blanc in France. 
The Montblanc Starwalker collection, on the other hand, comprises platinum-accented pens that have a one-of-a-kind blue-tipped cap. This is inspired by the picturesque view of the earth that astronauts get from space. 
So, while many of us stare at nature and turn it into art through paintings, photography, or drawings, Montblanc has found a way to do that through fountain pens.
Exclusivity and Authenticity
Painters like Rembrandt and Van Gogh are known for leaving signatures on their work. The signatures serve as a mark not just of ownership but authenticity too.
Similarly, if you take a close look at any authentic Montblanc fountain pen made after 1991, you will find that the clip ring is engraved with a serial number while the underside of the clip may be engraved with 'Pix'.
These signature details, in true artistic fashion, fully blend into the design and are almost invisible to the naked eye. 
Value
Montblanc pens cost a pretty penny. So, it is understandable that you may be hesitant to invest in one.
However, before you put away your wallet, consider that the value of most Montblanc fountain pens appreciates over time. More so if you own a limited edition (in mint condition)  that is no longer available in shops. 
These top-tier writing instruments are also made using premium materials like chip-resistant precious resin with gold or platinum-plated trims. Most of the gold-plated nibs further have a rhodium-coated in-lay. 
In other words, this brand of fountain pens can stand the test of time with some basic care just like antiques and other classic gems.
A Splash of Color
A play of colors and polished finishes are a primary feature amongst Montblanc pens and it's easy to see why they are so important.
A black Meisterstuck, for example, is a solid choice for anyone that prefers a classy laid back design. Nevertheless, it is far from boring because the contrast of well-polished black lacquer and gold trims give it character. 
On the flip side, if you enjoy more colorful tones, designs like the Patron of Art Editions feature more vibrant color palettes and amazing pattern work. 
The Meisterstück Calligraphy Solitaire is equally coveted for its lovely gold leaf and burgundy color variations.
Final Word
If nothing else, the Montblanc range of fountain pens proves that art can take different forms. It would thus be a disservice to pigeonhole it to a handful of mediums when we can enjoy it in all its fluidity. 
So, whenever you are ready to start collecting, or if you simply need a Montblanc fountain pen, you can begin your journey on the various fountain pen stores which display their gorgeous designs on shop streets and on their websites.
Categories
Tags